Appreciation All Around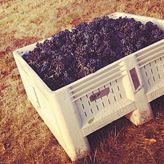 by Hilary Berg, OWP Editor
Thanksgiving is all about tradition. Whether it's turkey roasted in the oven until golden brown or deep-fat fried in the garage — cooked until fire trucks arrive — each family has its own preferences for the treasured holiday.
One tradition shared by many — and argued by none — is the simple giving of thanks around the table. Before delving into the aromatic, coma-inducing meal, each person says what he is thankful for. With Thanksgiving on the horizon, I would like to go around the issue and offer my gratitude.
I'll start with the News. I am thankful for both Harry and David. The famous catalogue company headquartered in Medford has joined the wine industry, giving Southern Oregon wine a boost in its national marketing. I am also thankful to Ken and Karen Wright who have given the funds necessary to kick-start what will be a huge asset to the North Willamette Valley, the Yamhelas Westsider Trail, a rails-to-trails project that is still gathering steam and needs to raise more money to make it a reality.
This month's Value Picks offers 12 Bordeaux-style reds that anyone would be thankful for, especially at such great prices. Trust me, I was on the tasting panel, and this dozen does indeed delight.
Vine Speak as well as Associate Editor Karl Klooster's commentary discusses the glorious growing season and harvest, which deserves a lot of grapeful gratitude. The fruit was clean, beautiful and delicious — can't wait to taste the result — and the pace was unhurried, allowing my winemaker husband to be home by 8 o'clock almost every night. I am incredibly thankful.
November's Empourium features the Oregon cranberry. I am thankful for wineries like Honeywood — Oregon's oldest — and HV Cellars that give fruit wine a great name. Both have cranberry wines that will have your mouth puckering and desiring more this holiday season.
I am thankful for new wineries in Oregon, from Analemma in the Gorge to Xylem in a McMinnville basement. New, artisinal-minded wineries add to the overall success of the industry. Thanks to these new owners for their courage in following their passion.
Inside Foodstuff, it's always easy to find grateful goodies, such as dressing — as my family calls it — or stuffing; pie crafted by Pacific Pie Co. in Portland and cheese made by Briar Rose Creamery in Dundee.
On to the features … The first explores premium Pinots with price tags of $100 or more. There aren't many of these high-dollar offerings, but as Oregon continues to grow and mature, the number is sure to rise. I am grateful for this monetary momentum and appreciative to have participated in the tasting!
Last, but not least, I am thankful for Thanksgiving, the holiday shared by many and the promotional weekend in Oregon wine country enjoyed by thousands making the trip to tasting rooms across the state. Thirty years ago, a small group of winemakers in Yamhill County opened their doors during the three days following Turkey Day, not knowingly ushering in a longtime wine tradition that continues to grow and improve year after year.
To this original group and all the wineries across the state, thank you, thank you, thank you. This publication wouldn't exist without you.
From our table to yours, Happy Thanksgiving!