Picky, Picky, Picky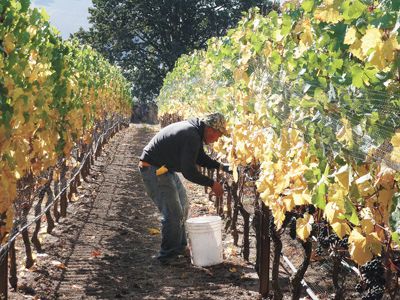 By Jessica Cortell
While I sit inside hearing the wind blow and the rain come down in torrents, I contemplate vintage 2012. Happy to know that most of the fruit is into the wineries and starting to ferment and worrying and wondering about the fruit that remains hanging in the vineyards.
Is this a bad decision to leave some blocks hanging to seek the last possible improvements in flavors, aromas and balance or is this plain foolhardiness? Is it worth the risk? When it comes to Oregon winemakers some are willing to take chances.
Will those last couple days really make a difference? The growers don't think so as they want to get the fruit out of the vineyards before the rains start. For some vineyards, these last few days might be the difference.
Interestingly, in Oregon, we typically pick Pinot Noir around 104 days after 50 percent bloom. For sites that hit 50 percent on June 30, this would put the harvest date on October 11. This happens to be the day where a large volume of fruit was picked partly because, yes, the fruit was ripe, but also a big rain storm was coming!
Stretching the hang time to at least 104 days can help ensure brown seeds and ripe flavors. This year the risk of longer hang time was high sugars — the opposite of 2011, one of the coolest vintages on record. Last year, in some vineyards, the fruit hung for up to 119 days and developed great flavors without risk of high sugars.
This vintage also broke weather-related records. The rainfall in June was one if the highest ever recorded followed by a record dry spell that started around July 1 and lasted 102 days through Oct. 11, with only a couple sprinkles not worthy of counting.
The record rainfall in June had the impact of promoting high vine vigor and poor fruitset, leading to very small clusters in some cases. The poor fruitset resulted in yields that were below average in most vineyards with some grower's reporting only 1 to 1.5 tons per acre without thinning much fruit. This is opposite of last year, where there were large clusters and high yields.
Then the record dry spell started and gradually slowed the growth and tamed the vigor. The dry days continued and many vineyards started to show signs of severe drought stress leading up to harvest. This had several impacts. On high vigor vines, it helped promote good cane lignification and fruit ripening. While on weak or nitrogen deficient vines, this caused the canopies to begin crashing before the fruit was fully ripe.
To add insult to injury, hot east winds that came with a red flag alert due to the extreme low humidity blew for about four days at the end of September and beginning of October. This exacerbated the drought stress and caused some berry shrivel. The challenge with berry shrivel is that the sugars will go up quickly but the flavors might not be fully developed and the seeds could still be green. Some fruit was probably picked before optimal due to shrivel and severe drought stress. While this occurred to some extent, it was not anywhere as severe as what happened in 2009. In cases, where people had irrigation, it was used to help offset the drying effects of the east winds in order to maintain the canopies and prevent shrivel.
The good news about the dry, hot weather is that most fruit came into the winery in great shape, with a minimal amount of shrivel and little to no botrytis rot. Last year, due to the rains in the ripening phase, rot forced the harvest date in many cases. I am crossing my fingers that the last fruit hanging out there still comes in with little to no rot.
The small clusters and short harvest window — most fruit was picked between Oct. 9 and Oct. 11 —caused many headaches with finding harvest crew and in figuring out how to get the picking done.
The picking was taking on average twice as long as last year since pickers had to pick two to three clusters to every one they would have picked last year to achieve the same weight. Crews were cherry picking the best vineyard and refusing to harvest those with low yields without higher pay. I found a strong correlation between getting migraines and the sinking feeling of waking up and finding out the picking crew was missing.
Another interesting comparison is between 2012 and 2008. If you overlay heat units, they look almost exactly the same. One difference is that 2012 finished with much higher average temperatures in the first half of October and higher evapotranspiration (water loss) rates. This resulted in some fruit shrivel and higher brix compared to 2008.
We can expect wines with good complexity as in 2008, ready to drink earlier and likely a bit more fruit forward with a rounder mouthfeel. The vintage should have good consistency in quality. Most winemakers have quiet optimism for the vintage and others are saying 2012 could be the best in history for Oregon. I can't wait to taste for myself.