Shoestring Cellar Start-Up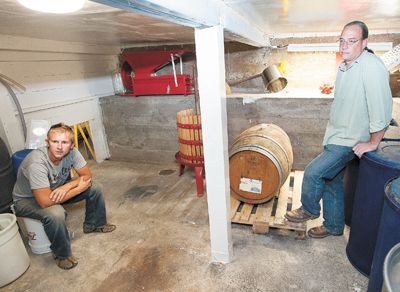 By Karl Klooster
Jason Brumley and Forrest Schaad couldn't be more serious about their goal to make seriously good, commercially sellable wine on a very small scale.
The resolution with which the partners are approaching their new venture is reflected in its name: Xylem Wines. Whereas the term "xylem" may be unfamiliar to most of us, organic biologists know it well. It is "a complex tissue in the vascular system of higher plants that conducts water and dissolved minerals upward from the root. It also stores nutrients and aids structural support by helping form the woody element in the stem."
Now, that definition is getting down to essential basics. And, perhaps not incidentally, it pretty well sums up Brumley and Schaad's approach to founding their winery. They have set up a mini-production facility that fits snugly into approximately 300 square feet of space in the basement of Brumley's northwest McMinnville residence.
A hand-operated, basket press stands ready to gently squeeze juice from the grapes. A handful of metal barrels will handle primary fermentation and four oak barrels await the task of secondary, or malolactic, fermentation and aging. Those barrels will ultimately yield Pinot Noir, Chardonnay and Riesling from the 2012 harvest. They project being able to produce about 100 cases this year.
Though their budget is obviously limited, the two energetic young men have a practical plan for a licensed, bonded winery that will be the first of its kind, at least around these parts.
They've jumped through all the legal hoops with the OLCC as well as the City of McMinnville. "The guys at the city just said to keep it low key," Jason said. In other words, there won't be any signs out front advertising that Xylem Wines are made there. Nor will there be a public tasting room. Equipment won't be left sitting around outside.
Brumley and Schaad consider this merely the modest starting point for Xylem. They intend for the brand to eventually achieve an estate status already laid out. All the fruit for their wines will come from a vineyard on land in the Chehalem Mountains that has been in the Schaad family for three generations.
Forrest's grandfather, Benjamin Franklin Schaad, began growing prunes, cherries, berries and walnuts on his farm in 1941. His son, Doug, planted winegrapes from the early to mid-1980s.
It is from the three acres of nearly 30-year-old vines his father planted that Forrest is sourcing most of the fruit for the first-ever Xylem wines. Additionally, a small amount will be obtained from an adjacent plot that Forrest began planting in 2007.
At the beginning of 2009, Jason joined in the effort. Together they have now planted more than 5,000 vines, most Pinot Noir with some Chardonnay, over five acres. Another two are scheduled for planting.
A third leg in this tiny winery's support stool is Jason Brumley's wife, Cokie Anderson. Brumley admitted that without her involvement, he couldn't have persuaded her to put a winery in their basement.
"Cokie is our financial and logistics specialist," Brumley said. "I'm confident that she'll keep us focused, organized and solvent."
From the standpoint of finances, they have already made some price projections. "The 2012 Pinot Noir comes from 30-year-old vines," Schaad said. "We're going to charge $1 per year, or $32 a bottle." Chardonnay, Riesling and a rosé will initially be in the $16 to $25 range. Projected growth is about 100 cases annually.
Though the last of the estate acreage will reach full maturity in six or seven years, the majority of the grapes will continue to be sold under contract. Still, there is the potential to eventually use everything themselves, which could be from 1,500 to 2,000 cases. That, of course, would require moving to a larger facility.
Meantime, both Schaad and Brumley are working at Cana's Feast Winery in Carlton where their education in both viticulture and enology continues.
A restaurant sommelier by training, Brumley met Schaad at La Rambla, Kathy Stoler's tapas restaurant on Third Street, where both were earning some additional income.
Brumley and his wife had moved to McMinnville from Oklahoma City in 2007. "We came here on vacation, fell in love with the place and decided to move here," he said. "Did I mention Pinot Noir is our favorite wine?"
He has since taken courses at Chemeketa's Northwest Viticulture Center in Salem, and traveled to Australia for the 2011 vintage. He currently works the tasting room at Cana's Feast.
Though raised in Seattle, Schaad came to the Yamhill Valley often over the years to visit his grandfather. His fascination with wine brought him here on his own after graduation from Washington State in 2007. He worked for his cousins, Jim and Tom Schaad, at August Cellars in 2007, then spent four years with Sokol Blosser before moving to Cana's Feast this season.
Though there is no certainty that Xylem represents the potential for a full-time job for either, there can be no doubt it is a labor of love.