Briar Rose Flowers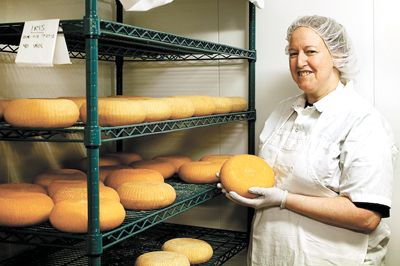 By Christine Hyatt
Sarah Marcus and Jim Hoffman of Briar Rose Creamery in Dundee exemplify the new wave of cheesemakers on the scene in Oregon and throughout the country: young, passionate, dedicated entrepreneurs with a calling to the art, science and business of cheesemaking.
Marcus handcrafts a line of fresh and aged cheeses at her newly constructed, state-of-the-art creamery located in the heart of wine country in Dundee. Hoffman spearheads the marketing efforts to restaurant, retail and farmers markets in and around Portland.
The creamery was officially licensed in December 2011, but the genesis of their dream stretches back to 2006, when both worked in the Bay Area — she, an office administrator; he, a copy editor.
Like so many in this new generation of artisans, Marcus and Hoffman have found their efforts embraced and encouraged by an established network of cheesemakers throughout the U.S. and abroad that has offered education, apprenticeships and mentoring.
Marcus' first job in cheese was behind the counter at Cowgirl Creamery in San Francisco, learning about and selling incredible cheeses from around the world.
"When I finally decided on a career in cheese, I knew I needed to develop my palate, so I got a job in a cheese shop," she said.
To further her study, Sarah worked one day a week at Cowgirl's production facility, which has been producing organic cheese in Point Reyes Station since 1997. Working side-by-side with the cheesemakers, producing Mount Tam and Red Hawk, her interest grew. When she finished her internship, she knew she wanted more.
She soon landed an apprenticeship at Ticklemore Cheese in the county of Devon in southwest England.
"I lived on the farm and worked with the cheesemakers daily," she said. "It was a fantastic experience and it sealed the deal. I knew this is what I should be doing."
Marcus' final internship was at Goat Lady Dairy in Climax, NC.
"It was the perfect icing on the cake because it taught me not just about cheesemaking but more about the business of cheesemaking," she said.
When the two decided to create their own business, they knew the Bay Area was simply too expensive to make a creamery work, so they turned their sights to Oregon.
"Cheese is the perfect complement to wine," Marcus said. "We looked at properties all over Yamhill County for several months. When we saw this place, we knew it was perfect. It was surrounded by wineries and the roads have lots of traffic. If we wanted people to buy cheese direct from us, this was the spot."
With a location just up the road from Erath, Torii Mor and Lange, the creamery sees steady traffic from winery guests seeking a bit of local flavor.
The regular weekend hours are extended during Thanksgiving weekend. Hungry travelers can quell their hunger pangs with a tasty selection of fresh and aged cheeses available at the small storefront.
In addition to a satisfying line of fresh, flavorful goat cheeses, perfect for slathering on crusty bread, don't miss one of the delightful aged goat cheeses Marcus debuted in early 2012, after the completion of her aging facility.
My favorite is Freya's Wheel, a semi-soft, bloomy rind cheese based on Garrotxa (gar-oh-CHA), a Spanish cheese from Catalonia — Ticklemore makes this type on the farm where she apprenticed in England. When aged to perfection at about two and a half months, the cheese has softened and shows nutty, earthy notes with an elegant dose of citric tang.
Marcus has also been experimenting with a washed-rind cheese called Iris and coaxes out some nice fruity flavors, notably passion fruit, papaya and strawberry. The texture is chewier and denser than Freya's Wheel, and it pairs perfectly with local Pinot Noir.
Two tasty cow's milk cheeses, Daphne and Bridgid's Cow, round out the collection and offer even more buttery notes, a definitive characteristic of cow's milk cheeses. For those with a sweet tooth, don't miss the addictive and award-winning Chocolate Goat Cheese Truffles.
Next time you find yourself traveling the backroads of Dundee, take a moment to satisfy your cheese craving with a stop at Briar Rose Creamery.