Stuffing vs. Dressing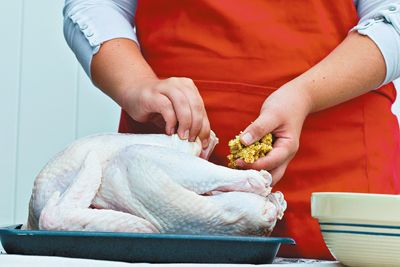 By Kerry Newberry
When I think of the holiday table, I fondly recall the toast to the year, the tribute to friends, the ebullient spirit and the post-dinner debates that often ensue over a rowdy game of Trivial Pursuit. The board game is spread out next to devoured dishes of turkey, cranberry relish, pumpkin pie and stuffing … or is it dressing?
Now, there's a culinary conundrum worth a slice of pie.
Those of the practical mind can easily settle on the black-and-white answer: The difference between the two is stuffing is cooked inside the bird, and dressing on the outside. Others claim the difference is based on place.
To determine whether geography plays a role, I decided to ask two culinary writers — one from the North, one from the South — for their take on the dressing-versus-stuffing debate. The first to respond was Rebecca Lang, author of the recently published "Around the Southern Table" and a contributing editor for Southern Living magazine.
"In the South, it's dressing, baked separately from the bird, usually in a casserole dish," Lang clarified. "Many, including me, bake it with half cornbread and half biscuit crumbs, and serve it with giblet gravy."
While there are many variations on dressings from the South, the most classic recipes feature cornbread with accents ranging from oysters and sausage to apples and raisins. In her neck of the woods, it is cooked, of course, outside the bird.
The northern perspective comes from Casey Barber, food writer and editor of the popular website Good. Food. Stories. (www.goodfoodstories.com). She adamantly proclaims stuffing — not dressing — is her absolute favorite part of the Thanksgiving meal.
"To me, dressing is something that Southerners make with cornbread and oysters," she writes. "Stuffing (whether or not it's inside or outside the bird) is what we Northerners make with lots of sage, celery and butter."
Barber admits she's heard the popular sentiment — stuffing: in; dressing: out. Although she agrees it makes sense, when it comes to long-standing family traditions, it's about custom, not contemplation.
For example, even though her dad always cooked the stuffing inside the turkey, Barber prefers a crispy pan stuffing instead of a soggy, turkey juice-infused lump. In conclusion, she cooks the dish outside the turkey but still uses the term "stuffing."
Confused? Don't be. The point is that there is no definitive answer to this bit of holiday table trivia. Whatever you call it, the time-honored dish is, without debate, at the heart of the every Thanksgiving menu.
On to the next question. Can someone please pass me the dice?
Don't have a go-to stuffing, I mean, dressing recipe? Start a tasty tradition with these variations on the classic.
FRENCH ONION DRESSING WITH BRIOCHE, GRUYÉRE CHEESE AND CIPPOLINIS
Recipe by Chef Johnny Nunn
Brasserie Montmartre, Portland
"Essentially, this recipe is like making French onion soup, sautéing the Cippolinis and folding in the brioche, sausage and cheese." Johnny Nunn
INGREDIENTS
10 Cippolini onions , peeled and quartered
1 large yellow onion, julienned
3 large cloves garlic, sliced
1 bunch thyme, chopped
1 bay leaf
1 cup Sherry
1 quart veal/beef stock
1 quart chicken stock
1 pound grated Gruyère
1 loaf of brioche, cut into large croutons
1 pound country sausage, separated into little bits
2 eggs, beaten
1 stick (¼ pound) + 1 tablespoon unsalted butter
* salt and pepper, to taste
DIRECTIONS
1. In a large saucepan, slowly caramelize the Cippolinis and cook the sausage. Remove from pan with slotted spoon and drain on paper towels.
2. With the fat remaining in pan, add bay leaf, yellow onion, thyme and garlic, and caramelize. Scrape the bottom of the pan with a wooden spoon and stir frequently to prevent burning.
3. When yellow onions are fully caramelized, deglaze pan with Sherry. Cook until alcohol has dissipated and liquid is almost fully reduced. Add both stocks and reduce by half. Allow soup to cool to room temperature.
4. Place brioche, sausage and Cippolinis in a large bowl. Gradually add soup and mix thoroughly. Season with salt and pepper to taste. Add beaten eggs and mix.
5. Grease a Pyrex dish with remaining butter; add mixture. Cover with aluminum foil; bake in 350-degree oven about 35 minutes.
6. Remove foil, sprinkle with Gruyère and return to oven for 5 more minutes. Serve immediately after cheese has melted.
RABBIT LIVER AND CHANTERELLE STUFFING
Recipe by Chef Daniel Mondok
Paulée Restaurant, Dundee
"This recipe was handed down through a group of older ladies I used to cook for back in my early career, in the late '80s. I doctored it by adding rabbit livers rather than chicken and used Chanterelles instead of button mushrooms. I also used rabbit/mushroom stock rather than just water. Of course, I added the pomegranate seeds." - Daniel Modok
INGREDIENTS
1 pint rabbit livers, cleaned and soaked in milk overnight
3 shallots, minced
½ cup minced celery
½ cup celery leaves
3 cloves garlic, sliced
½ cup butter
6 cups brioche bread crumbs, cut into cubes or torn (more rustic)
¾ teaspoon salt
¾ fresh cracked pepper
3 cups Chanterelles, roughly chopped
1½ cup mushroom or rabbit stock
½ cup chopped sage
½ cup grated Parmesan cheese
¼ pomegranate seeds
DIRECTIONS
1. Sauté shallots, celery (not the leaves), garlic, mushrooms and livers with butter. Combine with remaining ingredients. Add more stock if necessary.
2. Stuff into cavity of your bird of choice (I prefer a small young chicken), or bake in a separate dish for 45 minutes at 325˚F. Garnish with celery leaves. Makes 6 cups.
STUFFING WITH MUSHROOMS, CHARD, CHESTNUTS AND SMOKED BACON
Recipe by Chef Joshua Dorcak
Amuse Restaurant, Ashland
"This recipe was created when the Amuse kitchen was serving whole quail in the fall season. This stuffing was, and still is, a favorite because when all the ingredients are combined, it brings you into fall by its look and smell. Since this recipe has been developed, I have used it on my holiday table every year." - Joshua Dorcak
MUSHROOMS
2 pounds cleaned mushrooms
6 sprigs thyme, stems removed
3 cloves garlic, finely minced
1 tablespoon butter
CHARD
2 bunches chard (red, yellow or rainbow), de-stemmed
2 tablespoons butter
1 cup chicken stock
* salt and pepper, to taste
BACON
1 pound applewood smoked bacon (substitute any bacon)
CHESTNUTS
2 cups blanched chestnuts (often found in specialty markets)
Herbs and Seasonings
* salt and black pepper
4 tablespoons finely sliced sage
½ cup brown butter
¼ cup Banyuls or Sherry vinegar
DIRECTIONS
1. Mushrooms: Cut or tear mushrooms into bite-sized pieces. In a large skillet or cast iron pan, heat oil until smoking; add mushrooms and wait to stir once mushrooms start to brown. Stir them around and add thyme, garlic and black pepper. To finish, add butter and salt to taste.
2. Chard: Remove the stem that runs up the center of all the leaves. Place the de-stemmed leaves into cold water and wash leaves. In a salad spinner, dry the chard leaves thoroughly and reserve. To cook the chard, place a handful of leaves in a medium sauce pot. Add butter, salt, black pepper and chicken stock. Turn heat to medium and allow the chard to wilt down. Once wilted, remove from heat and shock in ice water to stop the cooking. With your hand squeeze out as much water as possible. Chop chard finely.
3. Bacon: Cut the bacon into lardons (matchsticks) and render on a low flame until crisp; drain and cool.
4. Chestnuts: Rough chop chestnuts until they are of breadcrumb consistency.
5. Assembly: Combine all ingredients in a medium bowl. Season with salt and black pepper. Use browned butter to adjust the consistency of the stuffing. (Adding 1/4 cup of Banyuls or Sherry vinegar will help bring out the flavor of the chestnuts.) Finish with fine sea salt and fresh ground black pepper. and sage. For the gourmand, add 16 ounces of foie gras diced and quickly seared. Add whole pan of rendered fat and cubes of foie gras to stuffing.