Analemma Makes Mark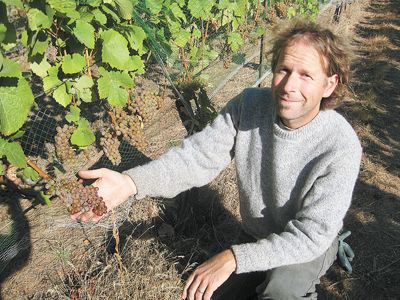 By Stuart Watson
Like many a "gen-next" winemaker, Steve Thompson came to his game through the backdoor of seemingly unrelated work, guiding bicycle tours — and the black ripple effects of the 9/11 terrorist strikes on the travel industry.
He and a group were cycling through Turkey when the Twin Towers collapsed. As a result, tour sales also fell. The company pulled back to Italy, giving Thompson time to sort through growing personal fatigue with caring for up to two dozen high-intensity types on tour.
"I was getting burnt on service," he recalls. "I thought, 'I've got to find something else to do'."
So, on a wild impulse and an interest fed by many a day biking through Bordeaux, France, he jumped into the grape harvest in the Chianti region in Italy. He loved it.
Eleven years later on a sunlit morning in the Columbia River Gorge, he is still working the harvest, but for his own grapes, for his own wines, released for three years under the Analemma label.
In between rows of the 12-acre Atavus Vineyard — sloping southward on a hillside high above the town of White Salmon, Wash. — Thompson and his wife, Kris Fade, stoop with clippers and bins beneath vines full of Pinot Noir clusters.
The leased property, formerly known as the Dragonfly Vineyard, produces Pinot Noir and Gewürztraminer. Juice from that vineyard is the only stream currently feeding their Rosé of Pinot, Gewürz and a Pinot-based sparkling, all bearing the Analemma name.
The future holds more variety when spring 2012 plantings — on four of 52 acres the couple bought near Mosier — begins to bear fruit.
"Our goal is to create wines for the Gorge that represent the Gorge, with a cool-climate selection from the Atavus Vineyard; and in Mosier, a warm-climate selection — Tempranillo, Grenache, Syrah and some offbeat, interesting stuff," Thompson says. "It won't be another Cab, another Merlot."
Makes sense. Thompson and Fade have followed a distinctly personal path to their passion. Back when winemaking was merely a notion, Thompson crossed paths in north-central Washington with acquaintances who lent him some videos about winemaking produced by the University of California Davis viticulture and enology program. Soon after, his focus turned to Walla Walla, where he became one of the first students in Walla Walla Community College's enology and viticulture program.
Surrounded by high-caliber business partners, Thompson spent time off campus learning from winemakers at Nicholas Cole, Canoe Ridge and, later with Christophe Baron at Cayuse Vineyards during a four-year stint.
"I was really inspired by his approach to Biodynamic viticulture," Thompson says. "It was instrumental and informative and challenging. The devil's in the details — it's how you do every single step. There's no room for complacency, no room for mediocrity."
He says it's a cliché that winemaking all traces to the vineyard, "but it's the truth. The plant's doing 100 percent of the work. You need to set your ego aside and not mess it up."
Thompson left Cayuse with Fade for a sabbatical in New Zealand, where both worked in its wine industry. That was where Fade got the winemaking bug, and after they returned to the U.S., they started scanning the Northwest for the ideal place to put down roots.
Friends suggested the Gorge. They also told the couple about the 50-year-old Dragonfly Vineyard coming available for lease. Deal done. Game on.
Until they can build their own facilities, they are renting production equipment and storage from Artifex Wine Co. in Walla Walla. They hope to break ground on their Mosier production facility, commercial kitchen and tasting room in December of this year.
"We'll never be big," Thompson says. "We'll always be small artisan producers."
Analemma released 500 cases in 2010, 750 in 2011 and expects to release 1,000 this year. By 2017, Thompson believes they will top out at annual production of 2,500 cases.
"We're very much grower-producers," he says. "Pruning, composting, ripping, discing, seeding cover crop. It's a 12-month endeavor."
So far, so good.
In the August 2012 edition of the Wine Advocate, reviewer David Schildknecht awarded Analemma 2010 Rosé with 91 points — "glorious nose … silken-textured … uncanny levity, vivacity, refreshment and an invigorating, saliva-inducing finish ..." Analemma 2010 Gewürztraminer received 93 points — "a persistently effusive and uplifting elixir ..."
Tasty, too.
For more information, please visit www.analemmawines.com.
About the Name
While in New Zealand, Steve Thompson and Kris Fade were brainstorming names for their future winery when they came across the concept of the analemma...
What is The Analemma?
The analemma is a figure-eight shape of the sun's annual migratory path between the Northern and Southern Hemispheres as seen from Earth. This pattern is caused by the tilt of the earth's axis and is a visual cue of the sun's movement through the calendar year.
What it represents
"The ribbon-like figure of the analemma is similar to the symbol of infinity. We draw inspiration from this image of 'boundlessness' or 'beyond calculation.' So much of what we enjoy as humans cannot be summarized by science or measured by calculation. Joy, love, pleasure and a smile are all examples of immeasurable essences that are meaningful aspects of everyday life. Our experience reveals that the pleasure derived from wine falls into this unquantifiable category."
(Quoted from www.analemmawines.com)