Triple Digit Delights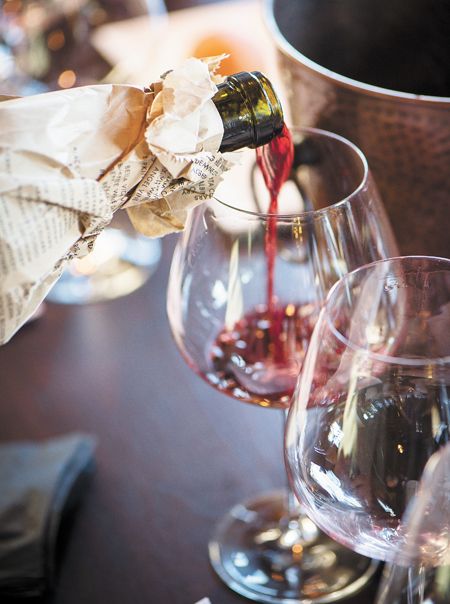 Story by Jennifer Cossey | Photos by Andrea Johnson & Robert Holmes
If there's anything in the Willamette Valley that people are feverishly passionate about, it's Pinot Noir.
Since pioneers like Richard Sommer, Charles Coury and David Lett started planting Pinot vines armed with only hope and well-informed intuition, the grape has transformed not only the agricultural landscape of Oregon but also the way the world sees our state.
Wineries are taking further steps toward solidifying their position in the eyes of the wine-consuming populous as being some of the best in the world by creating distinctive wines of exceptional quality and increasing age-ability; along with that comes heftier price tags.
In the last few years, just over a dozen wineries have released products with prices ranging from $100 to $250. These are some of the most expensive wines ever made in Oregon, and those who are making them are unquestionably trailblazers in their own right.
"There isn't always room at the bottom, but there is always room at the top," a friend once told me when talking about product development. There is only so low one can go in price, but the sky's the limit for higher end wines. With an abundance of offerings in the $30- to $50-range, it's no surprise to see more hitting triple digits as businesses enter into a less-crowded price bracket.
Producers like Domaine Serene, Adelsheim, Ayoub, Bergström, Eyrie, Beaux Frères, Penner-Ash, Dobbes, WillaKenzie, Antica Terra, Evening Land, Archery Summit and Stoller are all making their mark with super premium Pinot Noirs at these prices with stunning results and growing demand.
The costs — and subsequently the prices — add up quickly when you consider how these wines are made. For the most part, they are hand-selected from very small lots, typically the top two to four barrels in the winery; this translates to small production — 50 to 250 cases a year — and scarcity of product. These wines also take more attention to create than others, with production methods like multiple sortings at harvest, higher consideration to detail in the vineyard, gentler winery practices and the use of mostly new French oak barrels for extended aging. Add to that the fact that, in most scenarios, they are produced only in the most outstanding of years. All of these factors weigh into the price of these robustly priced bottles.
Is there a demand for these wines? The answer is yes.
Domaine Serene's "Monogram" sells out in a matter of days after its release to a waiting list, club members and some of their top buyers. General manager Allan Carter sees the price — in this case, $250 a bottle — as well as the demand as being directly correlated to the effort put into the wine and the resulting quantity and quality.
"From longer time in new oak to hand-sorting, hand-picking and time to tend, it takes the same resources as a wine produced at 5,000 cases, but the return is much smaller due to quantity," Carter said.
Winemaker Lynn Penner-Ash views it the same way when addressing her premium wine, Pas de Nom, which translates to "no name" in French.
"It's a labor intensive selection process we go through and will often take five gallons from one barrel and 20 gallons from another by siphon," Penner-Ash said. "The attention to detail and time to perfect this blend and the small quantities we make it in make it a very special wine."
For Adelsheim Vineyard, their Vintage Series wines are about legacy and marking the history of a vintage.
"We see this series of wines as the culmination of all that we have learned since the winery's first commercial vintage in 1978," said Catherine Douglas, Adelsheim's marketing and communications manager. "It is the ultimate expression of what can be achieved through years of learning, intellectual focus and commitment to crafting the true expression of north Willamette Valley Pinot Noir."
Isabelle Meunier, winemaker at Evening Land, feels it is not only about the rarity of their Seven Springs Vineyard "Summum" Pinot Noir, and the time it takes to make it, but also a very specific and special site from which the fruit is grown.
"It comes from a small parcel within the Seven Springs Vineyard where the volcanic soil is so rocky, it falls within the sub-family of the Jory series called Witzel." Meunier noted. "The self-rooted Pommard vines that were planted there in 1984 are providing us with a distinctive wine, one for the oenophile as a bit of an intellectual view to what Seven Springs has to say."
These are collector wines and for the most part meant to be cellared, aged and consumed over several years. So when will these wines be ready to drink? That all depends. Generally speaking, they need to age, but for some vintages, like 2009, they will be ready much sooner and are great drinking now. They are approachable but still rich, bombastic and even a little hedonistic, but the care and attention that went into making them shows through with more balance and elegance then most of the less expensive '09s have offered.
In contrast, the 2008s, and even many of the 2010s, while releasing now, are not offering all they have to give and will continue to develop with at least eight to 10 years in the cellar. In the end, only time will truly tell, as it has shown us beautiful wines out of vintages we weren't expecting greatness from and disappointments in ones we were.
Do you have to spend $100 on a bottle of Pinot to drink a wine of splendid beauty? Not at all. But there is something genuinely exceptional about these wines. As for the future of the heavy hitters, expect to see more.
Carter reacted with enthusiasm to the possibility of growth in the price bracket. He hopes to see more wines on the market at those prices. "It sends the message that Pinot can and should be among the best wines in the world. People think nothing of a $500 to $1,000 bottle of California Cabernet, but the notion of a $100-plus Pinot is still 'shocking' outside of DRC in Burgundy.
"In truth, Pinot ages better, is more versatile, more food-friendly and ultimately a more satisfying wine than almost any other."
Most of these wines are sold through tasting rooms, with some producers, like Bergström and Ayoub, offering them exclusively to wine club members. A few make their way to restaurant wine lists and bottle shop shelves, but most often the place to buy them is at the winery itself, where you are sure to find more than one precious gem, triple digits or not.
TRIPLE DIGIT TASTING
A tasting panel of discerning palates blind-tasted through the following wines, creating descriptors fit for these über premium Pinots.
Panelists included: Carrie Kalscheuer, certified sommelier and the direct sales manager of REX HILL and A to Z Wineworks in Newberg; Gaironn Poole, certified sommelier and sales associate of Galaxy Wine Company in Portland; Michael Alberty, owner of Storyteller Wine Company in Portland; Kim Oshiro, certified sommelier and wine director of Cinetopia in Beaverton and Vancouver, Wash.; Anthony Garcia, advanced sommelier and wine director for The Heathman in Portland; Jeremy Campbell, advanced sommelier and wine director for Noisette in Portland; Hilary Berg, editor of Oregon Wine Press in McMinnville; and Jennifer Cossey (this story's author), certified sommelier and wine steward at Paulée in Dundee.
Without exception, these wines will benefit from more years in the bottle, but if you simply can't wait, I recommend uncorking several hours before consumption to allow them to open up and show themselves more fully.
Thanks to Paluée Restaurant in Dundee for graciously hosting the tasting panel.
Domaine Serene 2006 Monogram Pinot Noir, Willamette Valley $250 (100 Half Cases)
Aged 18 months in 100 percent new French barrels with a further 24-month aging in bottle before release. A powerful Pinot with notes of dried red cherries and figs with hints of herbs, smoke, dark chocolate, baking spices and vanilla bean.
Adelsheim Vineyard 2008 Vintage 31 Pinot Noir, Willamette Valley $185 (112 Cases)
Aged 11 months in 33 percent new French oak. Rich with cherry notes as well as violet, lavender and patchouli. Additional notes of dried herbs, cinnamon bark, sarsaparilla and dark earth giving way to a rich texture and long finish.
WillaKenzie Estate 2007 Reserve Pinot Noir, Yamhill Carlton $150 (100 Cases)
Aged 16 months in 75 percent new French oak. Notes of chocolate-covered cherries, red plum, clove and cola. Elegant and well-balanced on the palate with an equally giving finish.
Evening Land 2009 Seven Springs Vineyard Summum Pinot Noir, Eola-Amity Hills $120 (192 Half Cases)
Aged in 40 percent new French oak for 12 months and sourced from vines planted in 1984. Well-balanced and drinking beautifully with notes of cherry, orange peel, cola, red roses, herbs and a touch of freshly turned earth.
Stoller Family Estate 2009 Cathy's Reserve Pinot Noir, Dundee Hills $100 (88 Cases)
Aged 10 months on 100 percent new French oak and sourced from the oldest section of the estate. Black and red cherry, blood orange, boysenberry, sweet red pepper, a slightly smoky character, as well as cinnamon and clove in the lively palate.
Penner-Ash Wine Cellars 2010 Pas de Nom Pinot Noir, Willamette Valley $100 (240 Cases)
Aged 10 months in 40 percent new French oak. Luscious, voluptuous, rich and round with floral notes as well as cola bean, coffee, chocolate, black cherry, clove and cinnamon.
Archery Summit 2010 Arcus Estate Pinot Noir, Dundee Hills $100 (735 cases)
Aged 10 months in 50 percent new French oak. Black cherry, blackberry and dark plum as well as cocoa, coffee, smoke and black pepper. Well balanced and elegant throughout.
Antica Terra 2010 Antikythera Pinot Noir, Eola-Amity Hills $100 (185 Cases)
Aged 12 months in 100 percent new French oak. Bright with notes of cherry, blackberry, herbs and cola. Complex and elegant without losing its playfulness through bright acids and a touch of savory spice and vanilla bean in the finish.