In Pie, We Crust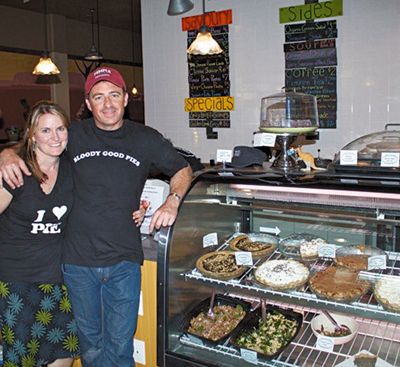 By Mark Stock
Home cooking is always in season, but comfort food takes on an entirely new meaning during fall in Oregon. Portland's Pacific Pie Company provides both, packed elegantly in a flaky crust that's sure to shake the chilliest of November days.
Harvest crew members throughout the Willamette Valley know the benevolent ways of a hearty crush-season meal. Quite simply, nothing tastes better after a long day on the sorting line or atop a barrel stack, putting brand new wines to sleep for the winter.
In Portland, where food is part of the municipal royal family, it's a little surprising there isn't more in the way of meat pie. The concept, brought to you by the good people of the U.K. in the form of pasties — and, in turn, Australia — has yet to place a firm grip on the Northwest. But Pacific Pie Company is changing that.
Offering a standard menu of sweet and savory pies, along with weekly choices featuring seasonal ingredients, the southeast Portland outfit is a slice of Sydney in the heart of Distillery Row. Pacific Pie Company shares the same block with Eastside Distilling and Vie de Bohème, a wine bar with a knack for live music.
Unsurprisingly, the restaurant features many of the neighborhood's flavors. The cocktail list is teeming with local spirits like Aviation Gin and Burnside Bourbon. The wine list, albeit limited, features a few Oregon wines and the pies are filled with meat stewed in everything from local Pinot to Burnside Brewing Company Stout. Patrons can dine-in or takeout and, occasionally, participate in a baking class taught by the owners.
Co-owner Sarah Curtis-Fawley brought the idea straight from the horse's mouth. She visited Australia years ago via a criminology fellowship and ended up staying for seven years, meeting her eventual husband, Chris. The two moved to Portland, but Chris began to miss his beloved meat pies. Enter, Sarah and, consequently, a very messy kitchen.
What started as a cure for the homesick blues ultimately turned into a restaurant. Sarah and Chris started small, spreading the good word and vending pies via a few metro area farmers markets.
"We wanted to start our pie business in a city that would support our efforts to source amazing local and organic ingredients," Sarah said.
Menu mainstays like the Pulled Pork Pastie, Sunday Roast Lamb Pie and Classic Sausage Roll have caught the salivating attention of everyone from the Food Network to the Los Angeles Times. And, being in Portland in 2012, Pacific Pie Company's menu is riddled with vegan and gluten-free and vegetarian options.
The Roast Lamb Pie exemplifies the outfit's real connection to wine. Sure, the lamb is braised in an Australian Shiraz wine sauce, but more to the point, the slightly gamey pastry does extremely well in the company of red wine. And, the outfit's work has proved so tasty that harvest crews throughout wine country have specifically requested it.
This harvest alone, Pacific Pie Company has serviced Archery Summit, Anne Amie, Elk Cove, Patton Valley and many others. Van Duzer in Salem celebrates with "Meat Pie Mondays" during crush. According to Sarah, many interns and harvest laborers from overseas craved the same food they grew up on and ran straight to Pacific Pie.
To celebrate the harvest season, Sarah and her crew offer a special meat pie made with beef and organic Cooper Mountain Pinot Noir. It is autumn wrapped up in golden-brown home-style crust. Achieving crisp edges and a soft base is never easy, but Pacific Pie Company seems to offer this irresistible coupling as though their life depended on it.
Sarah and her crew offer baking classes and cater. On weekends, the restaurant has a breakfast menu. And let us not forget the dessert menu, which most are liable to miss on account of being too full to move. A weekly sweets menu features items like Chocolate Bourbon Hazelnut Pie and Peach Blackberry Pie, available by the slice or whole.
With seasonality comes locality. Sarah takes pride in a menu featuring beef from Lonely Lane Farm in Mt. Angel and lamb from SuDan Farm in Canby. Even their butter, a staple in pie-making, comes from nearby McMinnville. Meat pie may be an Aussie idea, but Pacific Pie Company is certainly an adaptation as opposed to a rigid replication.
So while the days shorten and conditions cool, do not disregard that internal urge to dine on comfort food. Whether home is near or far, Pacific Pie Company is just a stone's throw away. And if that's not filling enough, order two.
PACIFIC PIE CO.
ADDRESS: 1520 S.E. Seventh Ave., Portland
HOURS: Mon.–Thur.: 11 a.m.–9 p.m.; Fri.–Sat.: 8 a.m.–10 p.m.; Sun.: 8 a.m.–9 p.m.
PHONE: 503-381-6157
WEBSITE: www.pacificpieco.com