Thanks for Thanksgiving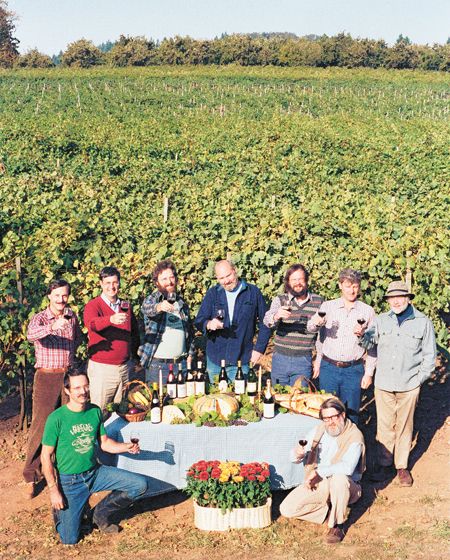 By Karl Klooster
Of all the promotional efforts undertaken by Oregon wineries to entice potential customers to their doorsteps, none has seen greater success over time than Thanksgiving Weekend.
The first official Thanksgiving Weekend dates back three decades. It begin with the founding of the Yamhill County Winery Association in 1982.
In her book, "At Home in the Vineyard," Susan Sokol Blosser said, "When our small group of local wineries started to band together, our first project was to host open houses at all the wineries during the three days after Thanksgiving.
"The original nine wineries — Adelsheim, Amity, Arterberry, Chateau Benoit, Elk Cove, Knudsen-Erath, Eyrie, Hidden Springs and Sokol Blosser — advertised together in Portland, Salem and Seattle newspapers to lure people out to wine country.
"Wine Country Thanksgiving, as we called it, became our biggest retail weekend of the year. We started out welcoming visitors in the tasting room, and then moved to the winery cellar to handle more crowds.
"We served food, offered tastes of all our wines, lowered prices for the weekend, displayed holiday gift baskets and brought in neighboring farmers to sell their chocolate-covered hazelnuts, flavored honey, Marionberry preserves and Christmas swags and wreaths. Holiday greens, wooden lattice and bright red poinsettias helped mask the tanks, barrels, catwalks and refrigeration pipe. Despite its no-frills wine production layout, the winery had a festive feel.
"As the number of participating wineries grew, so did the number of visitors and the popularity of wine touring. It became a wine country tradition, later copied by county winery groups all over the state."
Wine Country Thanksgiving was the Yamhill County Wineries Association's largest single promotional project from the time of its inception.
The association received its 501c(6) nonprofit status in 1986, and Carla Chambers of Resonance Vineyard served as a part-time volunteer executive director until 1997, when the board hired Sue Horstmann.
Horstmann compared the differences between 14 years ago and today. "Back when we were small, it was much easier to visit many of the wineries and really participate in the activities. Now, it's so huge, there's no way you could. It's entirely different. At this point, we market to the entire U.S. We receive requests from all over. We are now in national event calendars. This year we are going to be in the November issue of Alaska Airlines' magazine.
"We get a lot of visitors from out of state. Some people come because of visiting family in the area, but we get even more who come because the weekend has a wine festival atmosphere."
Back when the Thanksgiving Weekend promotion was conceived, it was created to draw traffic out during the non-summer months. It was a chance to extend people's experience in wine country by visiting a winery and having that one-on-one interaction beyond June, July, August and September.
"For many years, wineries were only open Memorial and Thanksgiving weekends; they didn't have full-time tasting rooms," Horstmann said. "They depended on it. It was the biggest part of their income."
In 2004, YCWA became Willamette Valley Wineries Association, and the number grew to 104 wineries.
"To go from Yamhill Valley to Willamette Valley was huge," Horstmann said. The addition of new members came in increments. By that time, we had started Oregon Pinot Camp (2000), and that's really when the pressure started from all those wineries I had worked with at the camp. They really wanted to be a part of the YCWA."
Horstmann says it took her several years before she could convince the board to broaden the scope to the Willamette Valley, "which made more sense because it was an AVA, not just a county line."
Now, with more than 300 wineries open across the state, there's competition to attract crowds. Many people want to visit wineries off the beaten path or don't have a regularly open tasting room.
"Before the 1982 Winemakers' Thanksgiving, which is what we used to call it, there was not really an organized tasting for all of us in the Northern Willamette Valley Chapter of the Oregon Winegrowers Association," noted Vikki Wetle of Amity Vineyards.
"That first Winemaker's Thanksgiving was the first attempt to get things together. We said 'Let's do something at Thanksgiving.' So, we came up with this idea. It was the first collaborative 'big push' for the wineries as destinations."
Wetle believes Thanksgiving really solidified the whole area as a destination, with McMinnville as the hub or wine center.
"That's what the first weekend in 1982 started doing," Wetle said. "I think you can see this when Ponzi put their tasting room and bistro in Dundee and all the Southern Oregon wineries in Carlton. Wineries are locating their retail outlets here because of that first Winemakers' Thanksgiving."
In Southern Oregon, Foris Vineyards founder Ted Gerber recalled when he started the winery in 1986, there were only three other wineries in the Rogue Valley region — Bridgeview, Valley View and Troon. It wasn't until 1989 when the winery was ready for holiday crowds.
Unlike the organized version in the north, Gerber says their Thanksgiving open house transpired for more practical reasons. "We did [Thanksgiving Weekend] to relieve family pressures here in the valley because family would visit and sit around with nothing to do and start fighting."
Gerber sent invitations to their mailing list and advertised, as well. "Bridgeview wanted us to advertise with them on the cowboy station. I said, 'No way. That was not my target market,'" Gerber chuckled. Instead Foris advertised in newspapers from Klamath Falls to the coast, and Ashland to Grants Pass.
"During those earlier years, it was great because there were no other wineries around," he said. "We didn't have music or anything like that but in terms of the food, the samples, the wine library, it looked great.
"We did very well for years. And then as more wineries closer to Ashland and Medford opened up, our tasting room sales over Thanksgiving went dramatically down."
At Abacela Vineyards in the Umpqua Valley, Hilda Jones said that Memorial Day was initially stronger for them after they opened their tasting room in 2001; but by 2003, Thanksgiving weekend had surpassed it.
"Thanksgiving is family- and food-oriented," she said. "We pretty much go all out for it now with a lavish spread. We're even popular with the designated drivers."
She also noted that unlike Northern Oregon, almost everyone in Southern Oregon has a tasting room open regular hours. "It's a very important part of our income," she emphasized. "So we do all we can to attract customers to the winery, particularly on such a high-traffic holiday."
Though Thanksgiving Weekend has been ongoing annually since 1982 in the northern Willamette Valley, David Adelsheim reckoned the roots of Oregon wine and Thanksgiving can be traced as far back as 1973.
Adelsheim worked for The Eyrie Vineyards during harvest that year and as Thanksgiving approached, Eyrie's owners David and Diana Lett hit upon the idea of holding an open house.
"It meant cleaning everything, barrels, walls, floors, even the outside of the building," he said. "It also meant getting rid of the yellow jackets and fruit flies that co-inhabit wineries during harvest.
"The event itself was reserved, with a classical guitarist playing in one room, cheese, meats and bread for cleansing the palate," Adelsheim recalled. "The real focus was on the wines — the 1972 and 1971 vintages.
"In a day before computers and the Internet, the Letts created a mailing list by manually writing down the names and addresses of everyone they knew in Oregon and Washington. They mailed out invitations. I don't think they advertised the event anywhere. But whatever they did worked. Several hundred people attended over the weekend, and quite a bit of wine was sold."
More than revenue, Thanksgiving Weekend has also been a way to wrap up the harvest and revel in another vintage in barrel and bottle. For the Campbells of Elk Cove, it was — and still is — a special weekend.
"Joe and I really enjoyed the chance to celebrate with our customers after harvest," Pat Campbell said. "We worked the tasting room for five years by ourselves, and then, beginning in 1986, we had the good fortune to have help from some amazing volunteers and employees. 'Thank you, Peter Rosback (Sineann owner/winemaker),' our most loyal volunteer."
With that kind of excitement and collaboration, the foundation was established for what has become the largest wine weekend in Oregon.