Hitting the Numbers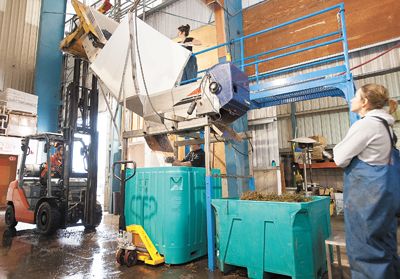 By Karl Klooster
Winegrowers and winemakers up and down the state are happy campers. Picking is essentially complete and everything appears to be looking great. Ripe grapes, clean clusters, very little loss. There was no disease or rot in the vineyard, no birds to twitter over and no yellow jackets to buzz about. All in all, indicators point to a rosy outcome.
But as positive as the results of the longest, driest summer in seven decades might seem on the surface, there can be caveats to consider — keep in mind this commentary centers primarily around Pinot Noir in Northwestern Oregon, which represents, on average, 85 percent of Oregon's annual Pinot production and 46 percent of the state's total wine production.
At this point, the consensus is that 2012 could prove to be one of the greatest ever for Pinot Noir and other varieties as well, such as Tempranillo and Cabernet Sauvignon.
The high heat accumulation presented some challenges. Too much heat too quickly increased sugar levels early, while flavor development lagged. Pinot Noir takes its time to fully mature. If picked too early, the undesirable result could be high alcohol wines that taste green. Of a Pinot producer's nightmares, this ranks right up there with the worst.
With Pinot Noir in particular, high alcohol can mask the complex flavors that appreciators find so appealing. Remember, it's all about a harmonious balance in wine component chemistry. Alcohol, tannins, total acidity, pH and flavor profiles must all be in alignment for a wine to reach the heights. If any component varies too much, it will upset the balance and yield something lesser.
In Northwestern Oregon, as tempting as it was to pick before the impending rains, veteran vineyard managers only partially picked their Pinot Noir, while still others waited it out entirely.
Rob Stuart was one who chose to take the calculated risk. "I knew it was going to rain," he said. "Our vineyards were clean, no sign of botrytis, but the flavors weren't quite there yet. So I decided to wait."
The gamble paid off. Stuart brought in his last fruit on Friday, Oct. 19, and the additional maturity, coupled with lower brix, has given him the numbers he was anticipating. "The rain bought us almost another two weeks," Stuart said. "We have TA at 8 to 9, pH at about 3.5 and brix readings of 22.5 to 24.5 on the Pinot. We may adjust acidity a touch, but that's about it."
When the first rains in 80 days fell between Friday, Oct. 12, and Monday, Oct. 15, the vines absorbed enough groundwater to dilute the sugar; brix levels dropped two or more points. Readings previously hovering in the 25 to 26 range — fine for Syrah, Zinfandel or Cabernet — dropped to a more manageable 22.5 to 24.5 brix. With longer hang time, flavors improved markedly and the uptake of moisture lowered sugar levels. In other words, natural rebalancing gave winemakers an end-of-season gift.
Such optimal fruit could very well deliver the promise of an "epic" vintage many industry people are excited about. As for grapes picked before the rains, some adjustments in the winery may be needed.
Interestingly, many wine drinkers prefer the bigger, more fruit forward and mouth-filling taste experience resulting from grapes picked at higher brix levels. But purist Pinot producers and appreciators prefer to savor the subtlety, nuance and layers of flavor only Pinot Noir, among all red wines, is capable of achieving.
This could be a year when both preferences are satisfied at high levels. Some wines in the north will have higher alcohols and intense concentration, while others will be near more normal ranges. Such variables aside, the fact is that fully ripe, mature fruit with solid backbone and higher-than-average alcohol is the order of day for 2012.
A quote from winemaker Jerry Murray of VanDuzer Vineyards in the 2012 Oregon Wine Board Report sums up the situation succinctly while adding a touch of panache.
Murray said, "We could end up with wines equally suitable for both aging and early consumption. Voluptuous, curvy but still balanced, fresh and elegant. These wines will wear dresses, but in bigger sizes."
Whereas components are adding up to a memorable vintage from a quality standpoint, the one deviation from this good-news scenario lies in quantity. A cool spring caused uneven fruit set, which resulted in smaller clusters and variable berry size. Continued cool and wet weather into early July exacerbated that situation.
As a consequence, tonnage will be down for Pinot Noir as well as other varieties, most notably Pinot Gris. In some instances, the reduction in quantity may prove significant. Though it will obviously vary on a case-by-case basis, early estimates suggest the potential overall impact at about 15 to 20 percent.
Initial reports from King Estate, Oregon's largest Pinot Gris producer, indicate that reductions there were even higher with yields as low as 1 to 1.5 tons per acre.
In an interview with the Eugene Register Guard, Ed King III said, "I've never seen a vintage like this. It's superior in quality. The fruit is almost perfect. However, it's not too soon to talk about scarcity."
In summation, King noted, "This is going to be a very important vintage for Oregon in terms of recognition in the global wine industry."
Numbers add up in the Columbia Gorge as well where Robert Morus of Phelps Creek Winery said, "The grapes are showing perfect balance of ripeness, pH and acidity. It's just stunning."
Throughout Southern Oregon, everything came together beautifully as well, with even ripeness and full maturity owing to long hang time, with only a marginal dip in quantity.
Growers there can usually rely on beginning harvest by mid-September and bringing in the last clusters from late ripeners in early November.
This year, in both the Umpqua and the Rogue valley regions, harvest was completed by mid-October.
At Abacela Vineyard in Roseburg, owner Earl Jones said, "We usually begin picking in mid to late September, but this year we didn't start until Oct. 1. Everything fully ripened quickly, and the harvest was over in less than three weeks. We just picked the last of our Grenache from a steep hillside vineyard on Oct. 18. It came in at 25 brix.
"Averages have been TAs, 6 to 7; pH, 3.5; and brix, 24.5. About as good as you can get. This looks to be a great crush," he concluded.
No matter whether you buy into all the early hoopla or remain reserved until the proof is in the bottle, 2012 has all the signs of being a year with a whole lot of mighty fine Oregon wine.