2013 ALMANAC:
2012 Year in Review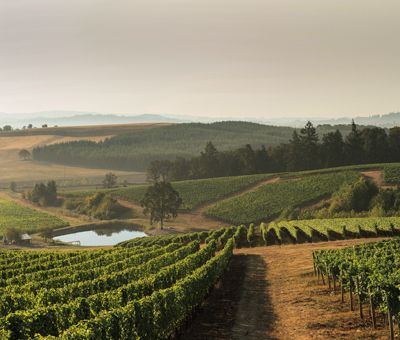 Call it validation, verification, substantiation or confirmation. The vast majority of experts are now in agreement about the truth, reality and accuracy of a longstanding Oregon claim.
Since the beginning, when David Lett first planted Pinot Noir vines in the Dundee Hills, local winegrowers were convinced they had the potential to make a superlative wine from the grape. Although early encounters with top-flight French competition proved Oregon Pinot could hold its own, even out-class the finest Burgundian Pinots, naysayers persisted.
By the late 1990s, cumulative evidence that Northwestern Oregon in general and the Yamhill Valley in particular were consistently producing world-class Pinot Noir could no longer be ignored. But the best?
Written by Karl Klooster
In Memoriam
At the very end of 2011, the Oregon wine industry lost three important contributors. They were recognized in the January and February issues of OWP. Unfortunately, two others joined them in 2012. Industry members continue to mourn their deaths and will forever celebrate their lives. Click on the names to read the complete story.
Phil DeVito (1929–2011), the maître d'Hôtel and cellar master for Salishan Lodge on the Central Oregon Coast, mentored many wine stewards over his 22-year career at the Lodge. Some have called him "Oregon's original sommelier."
Forrest Klaffke (1955–2011), a beloved winemaker at Willamette Valley Vineyards, he worked at the Turner winery for 18 years. In 2001, he was promoted to head winemaker; Klaffke went on to create an array of 90-plus-point wines and was respected by many in the wine industry.
Cathy Stoller (1951–2011), co-owner (with husband Bill Stoller) of Stoller Vineyards in Dayton, was cherished by staff at the winery and Express Personnel Professionals, which was co-founded by Bill in 1983 and now has more than 600 franchises in the U.S. and beyond.
Edward King Jr. (1921–2012), co-founder of King Estate Winery, first established King Radio in 1959 — at its peak, the avionics manufacturer employed thousands of people. In 1991, he founded what would eventually become Oregon's largest winery, King Estate.
Robert Reynolds (1942–2012), founder of Chef Studio in Southeast Portland, honed his cooking skills in San Francisco and France before moving to Portland in the late 1990s, where he became a philosophical leader to a new generation of chefs through classes and kitchen collaborations.
EXPANDED EXPOSURE
The state hosted a number of events for the first time, shining an international spotlight on Oregon wine. CLICK on the article title to read the complete story.
The American Wine Society (AWS), the nation's largest wine consumers' organization, selected Portland as the site of its 2012 annual conference, the 45th conference AWS has held.
The North American Wine Bloggers Conference hosted its 2012 conference in Portland, Aug. 17–19, 2012. It was the fifth such meeting and Oregon's first time to host.
The hub of the artisan food movement and the birthplace of industry legend James Beard, Portland has become an epicenter of all things gastronomical.
In celebration of the Rose City's culinary success, a new festival was launched in 2012. Bon Appétit Presents Feast Portland, Sept. 20–23, showcased the vibrancy of the Oregon food community by featuring local culinary talent — from chefs and winemakers to farmers and distillers — and region-defining ingredients alongside internationally recognized industry professionals and experts.
Feast's 2013 event is set for Sept. 20–23.
Written by OWP Staff
On Jan. 18, Gov. John Kitzhaber declared May "Oregon Wine Month." Kicking off the 31 days of Oregon wine, the Oregon Wine Board hosted the state's largest statewide consumer wine tasting to date: Unwine'd: Celebrate Oregon Wine.
Written by OWP Staff
In February 2012, The Danny Lang Teaching, Learning & Event Center at Umpqua Community College in Roseburg opened its doors.
This jewel in UCC's crown now houses the college's Southern Oregon Wine Institute, where students enrolled in UCC's viticulture and enology program can earn a two-year associate's degree.
For more about the Lang Center, visit www.sowicellars.com.
Written by OWP Staff
OTHER 2012 OPENINGS
Wine Country Cooking Studio, Dundee (February/March); Hawkins Cellars Tasting Room, Dundee (March); Island Mana Wines, Portland (April/May); DANCIN Vineyards, Jacksonville (May); Paulée Restaurant, Dundee (June); Remy Wines baR, McMinnville (July); Southeast Wine Collective, Portland (September); Kriselle Cellars, White Water (September); Stoller Family Estate (New) Tasting Room, Dayton (September); Sauvage at Fause Piste Winery, Portland (October); The Tasting Room at 1910 Main, Forest Grove (November); Willful Wine Company, Dundee (November); Walnut City Kitchen (December)
ANNIVERSARIES
In 1972, Richard "Dick" Troon purchased 32 acres in the western part of the Applegate Valley. He recognized the warm days and cool nights, along with superior soil conditions perfect for grapegrowing. He planted the varietals he liked to drink — Zinfandel, Cabernet Sauvignon and Chardonnay. This is where the story of Troon Vineyard begins.
Although founder Dick Troon passed away in October, Chris Martin and crew were honored to celebrate his pioneering tradition and the winery's number of accomplishments at their anniversary event, Aug. 4, 2012.
Written by OWP Staff
Other Notable Anniversaries
Amity Vineyards (as Grower): 40 Years
Amity Vineyards (as Winery): 35 Years
Henry Estate (as Grower): 40 Years
Witness Tree: 30 Years
Argyle: 25 Years
Lange Estate Winery: 25 Years
RainSong: 25 Years
Cristom Vineyards: 20 Years
Firesteed Wines: 20 Years
Mystic Wines: 20 Years
Tina's Restaurant: 20 Years
Brooks: 15 Years
Carlton Winemakers Studio: 10 Years
Cottonwood Winery: 10 Years
Delfino Vineyards: 10 Years
Privé Vineyard & Winery: 10 Years
R.Stuart & Co.: 10 Years
Roots Wine Company: 10 Years
Zenith Vineyard: 10 Years
On Jan. 17, 2012, Rep. Kurt Schrader withdrew his support of H.R. 1161, also known as the Community Alcohol Regulatory Effectiveness (CARE) Act.
Last September, Congressman Schrader became a co-sponsor of H.R. 1161, which limits direct shipping for wineries and gives wholesalers monopoly power to pass discriminatory state laws removing consumers' ability to buy wine directly from their favorite winery or wine merchant.
The 2012 report is due to be released in April 2013. Check here for the report: http://www.nass.usda.gov/Statistics_by_State/Oregon/Publications/Vineyard_and_Winery/index.asp
Written by Karl Klooster