King Estate Mourns Loss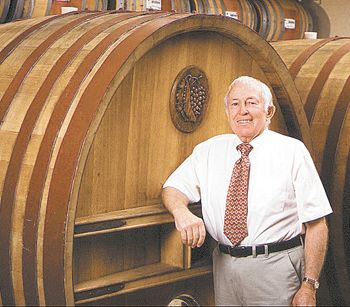 By Ilene Aleshire
of The Register-Guard, Eugene
Edward King Jr. - co-founder of King Estate Winery, avionics pioneer and a lifelong entrepreneur died Sunday, June 3, at home at the age of 90.
King was born on his family's farm near Jetmore, Kan., on Aug. 8, 1921. His parents were Edward and Winifred King. He had a brother and three sisters, and attended a one-room schoolhouse, often on his horse, Ned.
He graduated from Hodgeman County Community High School and attended Dodge City Junior College before enrolling as an engineering student at Kansas State University.
In 1943, King graduated from Kansas State University with a degree in electrical engineering and worked for several companies during the next four to five years. One of those companies sold an electronics component called toroidal coils, made by winding copper wire by hand around a doughnut-shaped ceramic core.
King's son, Ed King III, says his father "came up with a machine that would do the work cheaper, better and faster. [My father] told his employer, 'I'll cut you in on this machine if we can go into business together.'" The employer declined the offer.
Instead, King Jr. borrowed $10,000 from his in-laws and began building the coils in his garage and basement in the Kansas City suburb of Lenexa. This evolved into his first company, Communications Accessories Co., founded in 1948. He sold the company in 1955 to Collins Radio Corp., continuing to work there until 1959 when he started another company in his garage.
"He was a pilot, he knew the radios were mediocre, he'd always been a radio guy, and he loved radio communications," King III said. "He began tinkering around until he had a radio he thought was better." In 1959, King Radio was born, growing to an international company that, at its peak, employed thousands of people.
In 1985, King Jr. sold King Radio to Allied Signal/Bendix Aerospace for $40.50 a share, or a total of about $110 million. He and a family trust held about 54 percent of the King Radio shares, according to The New York Times. King retired and, among other activities, had a boat built in California, where he was exposed to the production of fine wines.
"By 1991, I think he was eager for another entrepreneurial project," King III said. His father was then in his early 70s but, even though he had retired, "I think he really hadn't retired his entrepreneurial instincts and was looking for another venture … adventure, and so was I.
"One step at a time, we walked ourselves into what became King Estate," King III continued. "We started following the Oregon wine industry, understanding what was going on, creating a vision of what we thought the Oregon wine industry could become. We recognized that to become a national player in wine, Oregon wine needed to be consistent, needed to be high quality and needed to be priced reasonably."
Using proceeds from the sale of King Radio as seed money, father and son, along with other family members, purchased about 600 acres between Eugene and Cottage Grove to begin growing grapes. King Jr. became chairman of the board of the new venture. He left the operational decisions to his son, while acting as a sounding board. It would become one of the state's largest wineries.
King Jr.'s entrepreneurial spirit, including an acceptance of risk, was gleaned from his farming parents and has been passed down the generations and across business and industry lines, King III said.
"I think, really, in his finest moments, he was an engineer entrepreneur," King III said. "I think that's how he would maybe best like to be remembered. To me, his idea of an engineer is a person who is presented with a problem or a challenge and uses his know-how and the materials at hand to solve it."
King Jr. is survived by his wife of 32 years, Carolyn G. King; two daughters, Shelley King Theis and Shannon Young; three sons, Ed King III, William King and Ronald Innes; multiple grandchildren; and a great-grandson. His first wife, Mary Jo McHargue King, a daughter, Ann Katherine King, and a grandson, Michael Lane Thomas, died previously.
From his high school class motto at Hodgeman County, Kan.: "Deeds, not words." And so he lived his life.
Ilene Aleshire is a reporter for The Register-Guard in Eugene. Story courtesy of AP Exchange.