Remembering Robert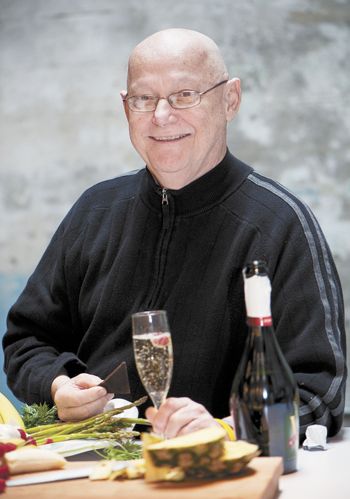 By Kerry Newberry
Three autumns ago I wanted to learn the art of cooking. At the time, my most memorable kitchen memories were like faded postcards I'd pull out from time to time. These flashbacks took me to the Blue Ridge Mountains of Virginia, where I worked every high school summer at a rustic summer camp. We played capture the flag until sunset and slumbered to the sound of crickets and croaking frogs.
Once a week, the girl counselors would spend a day in the kitchen with the camp matriarch we all knew as Mrs. B. She intimidated me for many reasons: her strong Southern drawl, for one, charming but impossible to understand. On lucky days, you might shell peas or shuck corn, seeking solace in the shade of old oak trees. I often landed in the kitchen at the end of the week, when the meals were a mix of leftovers turned into soup, stew or some mix-mash form of spaghetti.
What I remember most about those hot afternoons in that very un-glamorous kitchen is the screen door. For me, it was a symbol of the soul of summer. While washing the "big ol' pots" you could hear the sound of laughter and the camp dogs barking outside. You could hear the rustling of the leaves in the trees. Mostly, though, I remember that if you were fortunate enough for the mountain breeze to grace the afternoon, the long strips of fly tape stirring in the wind. That is summer in the South.
Seeking new kitchen memories to ground me in my adopted home of Portland, I reached out to a refined and revered chef I'd read about for years: Robert Reynolds. I wanted to take classes with him at The Chef Studio, so I sent him an email in which I rambled on about Mrs. B and fly tape. Thankfully, Robert was unfazed. "Hi, Kerry," he responded, "I was just thinking about flypaper. Probably more eco-friendly, but the swatter is still best." After a few weeks of e-mail banter, I was smitten.
On the first day of class, it was like I was 16 again, intimidated for so many reasons. My knife skills, let's just say were subpar at best; my knowledge of regional French cuisine, "somewhat" lacking.
As I walked to the studio, the first sounds I heard were laughter and a dog barking. But instead of the camp kitchen of my youth, I found myself in the most charming kitchen I'd ever seen, a magical place tucked just behind Ken's Artisan Pizza. Robert was tall and stately, and had a twinkle in his eyes.
I was not taking classes to become a professional cook, like so many others in the class. I was seeking inspiration, growth, guidance, insights, stories … poetry. The little studio offered it all. Each session began with Robert and students gathered around a broad table; Thomas, his beloved French poodle, sprawled nearby.
Oh, the stories he would tell. Robert would sketch a map of France; then narrow in on the region we'd be cooking from that night. He'd share tales of his time in the Loire, Bordeaux, his friends, the landscape, the culture, the lore and the cuisine defining this place. We cooked elaborate, simple, delicate, hearty fare. As weeks passed, Thomas eventually stopped barking when I came in, but the sound of laughter continued.
I made so many mistakes and learned much from them. The most important lessons, though, did not necessarily relate to culinary skills. As I re-read e-mails Robert sent years ago around the holidays, I came across a wonderful passage he shared when talking to someone who was considering studying at the studio: "At some point in the conversation I told her that the opportunity to study, to have life open up, didn't make an appearance on a rhythmic schedule. Because it doesn't happen with any particular regularity, I told her she had to say 'yes,' not to me, but to those moments. If not, then it wasn't just the opportunity in question that runs the risk of disappearing, but the idea of openness can also shut down."
I'm so thankful I said "yes" to such a moment three years ago. During the limited time I was a student at The Chef Studio, I learned to treasure and celebrate the ritual of preparing food, the joy in discovering new or familiar flavors and the beauty of good, simple ingredients. But the most important lesson can be summed up from the title of his book, "An Excuse to Be Together." A vignette of memories and recipes from France, the book clearly illustrated Robert's belief that sharing of food around the table is one of the most intimate experiences among friends and family.
I will always remember Robert, his talent, his stories, his kindness, his zeal for life and his words of advice, particularly in regard to salt. One evening, when Robert and Thomas were heading out a bit early, he paused by the door. "More salt," he said, as I ever so slightly tilted the shaker. He gestured again for more. I shook the salt one more time. "It is a terrible thing, to fear salt," he said, eyebrows raised.
That moment, with so many others, embodies The Studio and Robert for me. Whenever I doubt or fear or fret — which is often — I try and remember the salt and what it represents. It's cooking — and living — with wild abandon. Cooking for and with loved ones. Not fearing the big ol' pots in the kitchen. Embracing mistakes. Learning and growing amid chaos. If the soufflé falls — because sometimes it will — it means always, always trying again.
And for that, I will remain forever grateful to Robert.
Robert Reynolds, founder of The Chef Studio in Portland, mentored students in the U.S. and France for more than 30 years. Prior to that, Reynolds owned and operated Le Trou, a restaurant in San Francisco for 15 years. He passed away on Aug. 27 after a lengthy battle with lymphoma. He was 70 years old.