Forrest Klaffke: 1955–2011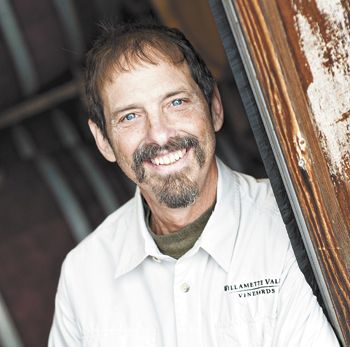 By Michael Rose/Statesman Journal
Forrest Klaffke made sure the last vintage he ever put in a barrel maintained his uncompromising standards, working through the fall harvest until his weakened body could take no more.
Klaffke, the head winemaker at Willamette Valley Vineyards in Turner, died the morning of Dec. 26 from cancer, said Jim Bernau, the winery's president and founder. He was 56.
Two years ago, Klaffke had beaten cancer with radiation treatments, chemotherapy and surgery. Earlier this year, the cancer returned. Klaffke, who had been in the winemaking business for more than three decades, never considered leaving work.
"Forrest knew he was on borrowed time, but chose to spend that time with us making wine," Bernau said.
Klaffke was passionate about his work and he could be a "taskmaster," Bernau said. He chose to skip his weekly chemotherapy treatment to remain fully alert as the Pinot Noir entered a crucial stage of fermentation.
Although he sometimes appeared a tough manager, Klaffke wasn't an egotist. The Jefferson resident always involved other Willamette Valley employees in wine tastings and paid attention to their reactions.
Klaffke certainly never made wine by committee, but he understood the value of motivating employees by letting them evaluate the company's products. Willamette Valley Vineyards was named one of the 2011 Top 100 Wineries in the World by Wine & Spirits magazine — a fitting tribute to the head winemaker's skills, Bernau said.
Maria Klaffke, the winemaker's wife, agrees that Klaffke could be blunt but said he still was well liked.
The 18-year employee of Willamette Valley Vineyards was promoted to head winemaker in 2001. He went on to create an array of 90-plus-point wines.
"Pinot Noir is where he put his heart and soul," said Daniel Shepherd, Klaffke's son, an assistant winemaker at Willamette Valley Vineyards. Klaffke was the "go-to" person whenever an issue cropped up at the winery, he said.
After working on cattle ranches as a young man, Klaffke started his winemaking career in California. He began at the bottom, doing "grunt work" and then learned all aspects of the business, Shepherd said.
One of Klaffke's first forays into the business was a small-scale enterprise, making sweet, Port-style wines with a group of wine enthusiasts. His favorite wines, however, tended to be dry reds.
Reprinted with permission from the Salem Statesman Journal.