Phil DeVito: 1929–2011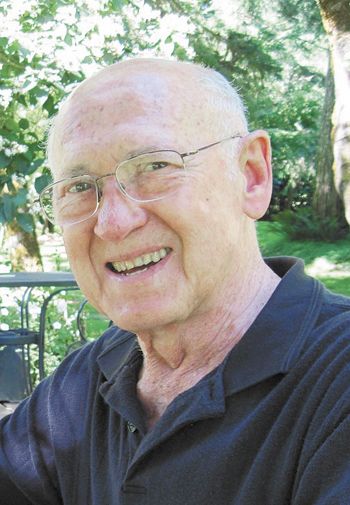 By Oregon Wine Press Staff
On Nov. 27, Phillip DeVito died at his home in Salem at the age of 82.
He was born Sept. 8, 1929, in Flint, Mich., to Giovanni and Harriet DeVito. His siblings included Albert, Melba (Puls) and Leonard. His family moved to Portland, and he completed high school at Central Catholic in 1947.
DeVito worked his way through college, graduating from the University of Portland in 1954. He served the public in private clubs and many of Portland's top restaurants. He was honored in 1967 by the Chef De Cuisine Society of Oregon for his meritorious service to the wine industry; this was the first of numerous honors and recognitions.
In 1950, DeVito married his first wife, Alice. They raised their family in Milwaukie; they later divorced. They have five children — Susan (Gerspach), Greg, Paul, David and Julie — six grandchildren and one great-granddaughter.
After 25 years in Portland, DeVito accepted a job in 1972 as Maître d'Hôtel and cellar master for Salishan Lodge on the Central Oregon Coast; he worked there for the next 22 years. During his tenure, Salishan achieved the Wine Spectator Grand Award in 1983.
While working at Salishan, DeVito married Janice Busch Morrow in 1976, becoming a stepdad to daughter Shannon. When DeVito retired in 1994, he and Janice moved to Salem, where he started a restaurant and wine consulting business. They recently celebrated their 35th wedding anniversary.
On Dec. 5, a memorial service was held at Prince of Peace Episcopal Church followed by a reception at the Northwest Viticultural Center at Chemeketa Community College in Salem. Many members of the industry attended and mourned the loss of their dear friend.
"The service for Phil was — apart from being very sweet and appropriate — interesting in the respect that the attendees really represented the 'first wave' [of Oregon wine industry members]," said longtime friend Nancy Ponzi of Ponzi Vineyards in Beaverton. "There were retired staff from Jake's, Arlington Club, Salishan, as well as Wayne Strohecker, Howard Hinsdale, a few 'old' La Chaîne des Rôtisseurs members, Portland gourmets, wine collectors and winemakers such as Myron Redford and [Dick and myself]. I'm beginning to see the value of the Linfield Historical Preservation project more and more."
DeVito mentored many in his wine cellar, including Steve Wilson of The Bay House — a Lincoln City restaurant with one of the largest cellars in Oregon — and Portland sommelier Ron Wolf, who worked at Salishan under DeVito from 1980 to 1984.
"Phil influenced people before I was out of grade school and after I departed," Wolf said. "He was my mentor, taskmaster and role model for four years; later, after working with him, he seemed more like a father to me.
"He was well spoken, gentle, compassionate, loved his family, his staff and singing. He was all business at work with every aspect of service under his scrutiny; and we were formal to the letter," Wolf continued. "His patrons came first, and he would remember the smallest detail of their last visit: favorite table, server, food and, of course, wine selection.
"On slow weekend winter nights, Phil would schedule tastings for the staff after we were off the clock. We tasted all the first-growth Bordeaux yearly as well as other classic regional seminars. The Oregon wine industry was still in its infancy in the early '80s — as was Washington; and California wasn't full of 'Spectator Superstars.' We all learned the basic flavor profiles of the world's classic wine regions with the appropriate food pairings, and we all seemed to grumble at the tavern afterwards that these tastings weren't optional."
"Phil DeVito was a throwback to a bygone era of elegant ladies and gentlemen who were not in a rush to get on to the next event but rather savored the moment at hand and loved to converse," Wolf said. "Before wine was in vogue, he was offering his patrons a wine list or a glass of wine to go with the meal instead of cocktails. He helped grow the acceptance of wine as a part of fine dining, and he grew with the industry."