Unwine'd Rewind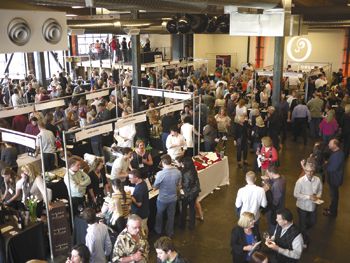 By Wine Press Staff
On Sunday, April 29, Oregon Wine Month was properly ushered in with the Oregon Wine Board's new statewide wine event, Unwine'd. But instead of vines in the distance and aging barrels stacked high, guests tasted the latest vintage in the industrial-chic atmosphere of Leftbank Annex in Southeast Portland.
The big-city venue brought more than 700 ticket holders from near and far to sample 350 wines — 21 varietals — from 87 wineries located in 14 AVAs. The only appellations not represented were Snake River — no Oregon wineries exist in this mostly-Idahoan AVA — and Red Hills Douglas Co., the state's smallest wine region.
Alongside the wines, attendees sampled gourmet food from 13 restaurants — Allium Bistro, Bluehour, Community Plate, Davis Street Tavern, Gracie's, Hunt & Gather Catering, The Joel Palmer House, Nora's Table, Park Kitchen, Roots Restaurant, Terrace Kitchen, Timberline Lodge, Urban Farmer — and chocolatier Xocolatl de David. In celebration of Oregon wine, eight of the restaurants are current honorees in the Superior Cellars Award program, in which the OWP and OWB selects wine lists that excel in pouring and promoting Oregon wine.
Charles Humble, OWB director of communications and interactive marketing, says the inaugural event was everything the Board expected.
"I think people had a really good time," Humble said. "The venue worked out great: There were no issues with parking and it never got too crowded. And the food was phenomenal."
Industry members were also pleased with the tasting's overall success. Christine Collier, marketing and events coordinator for Troon Vineyard in Grants Pass, was "thoroughly impressed with the event."
"After seeing Washington host multiple industry-wide consumer tastings in the past year — in Seattle and Portland — I felt Oregon was missing our opportunity to show the might of our region in front of our local consumers.
"It was a great time to visit with fellow wine industry members, which built a lot of camaraderie in the room before the doors opened, spilling over to the event and creating a real celebration of our wines," Collier continued. "The level of energy in the room from guests and the level of quality in the room from producers, left me feeling it was the best event of the year (so far)."
Bill Sweat, co-owner of Winderlea Wine Company in Dundee, also recognized the event's significance.
"We've needed an event in Oregon to showcase a large number of wineries," Sweat said. "I especially appreciated the diversity of the wine regions represented.
"The attendees were engaged and interested in learning about our winery and wine. I'm looking forward to next year's event."
The date for the 2013 Unwine'd will be announced soon online at www.oregonwine.org.