Cathy Stoller: 1951–2011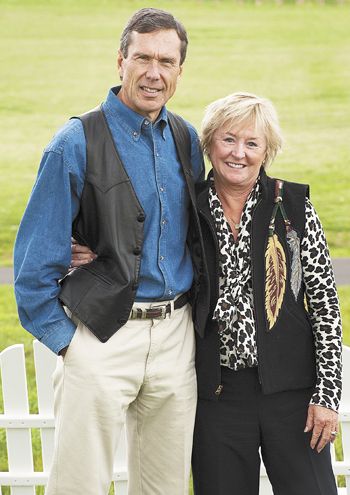 By Karl Klooster
On Nov. 30, Cathy Ann Stoller succumbed to a head injury caused by an accidental fall at her hilltop home above Highway 99W north of Dayton. She had just turned 60 during the summer.
The wife of noted business executive William H. (Bill) Stoller, who co-founded Express Personnel Professionals in 1983, she worked for the now internationally known temporary employment firm from its beginnings and continued to be actively involved in operations.
The couple were married in 1990 and played major roles in building the company from a small regional operation into a $1.8 billion enterprise operating more than 600 franchises in the United States, Canada, Australia and South Africa.
Born Cathy Ann Christian on Aug. 6, 1951, in Portland, she moved to Southern California as a child, graduating from Morningside High School in Los Angeles. She later returned to Portland where she went to work for her future husband in 1983.
Within five years, Express Employment Professionals had become one of the top temporary staffing firms in the country and one of America's fastest growing businesses.
Born into a Yamhill Valley farming family, Bill retained a close affection for the area. The couple became interested in the valley's evolving wine industry and made their first investment in 1993, buying part ownership in Harry Peterson-Nedry's Chehalem Wines.
That same year the couple further expanded their wine interests by purchasing property for vineyard development. But this was not just any property; it was the old 373-acre turkey farm east of Lafayette owned by Bill's father and uncle, where he spent much of his youth.
Serendipitously, its steep, south facing slopes, at an elevation range of from 300 to 500 feet, and topped with rocky, well-drained Jory soils, were ideally suited for winegrapes. These conditions were noted by Peterson-Nedry, and then confirmed by vineyard consultants Allen Holstein and Joel Myers, who worked with the Stollers in planting their estate vineyards.
From the initial 10 acres of Pinot Noir and Chardonnay, Stoller Vineyards' estate plantings now total 176 acres. The first estate release was in 2003, when their Pinot came on the market to plaudits because of its exceptional quality.
Completed in 2006, the state-of-the-art winery was the first facility of its kind in Oregon to receive a federally awarded Leadership in Energy and Environmental Design (LEED) Gold certification.
The Stollers were particularly proud of this achievement, as well as of the Dundee Hills American Viticultural Area (AVA) designation, granted in 2004, which could be displayed on their labels.
In addition to her duties at Express Personnel, Cathy took an active role in planning winery events and participating in the activities of the Dundee Hills Winegrowers Association.
During harvest, she could be found on the winery sorting line alongside winery workers, maintaining the rapid pace demanded to clean clusters before processing.
Whatever she did, Bill said, she did it well. And when others didn't, she told them so.
In 2008, the couple collaborated on a pivotal decision regarding the future of Dayton, Bill's hometown. They purchased buildings and parcels of land around Courthouse Square as the nucleus of a long-term plan for central district redevelopment.
Cathy's personal life was occupied by family and a special fondness for animals. She particularly liked horses. In addition, six alpacas and two miniature donkeys call the Stoller barn home. Two pugs are the tasting room mascots.
"Cathy loved sharing stories about our children and was always there to give good advice," Bill said. "She never minced words. We were together nearly three decades, and I always knew where she stood."
Peterson-Nedry said, "I was partners with Bill and Cathy in Chehalem since 1993 and friends eight years longer. And Cathy was as big a part of the partnership as Bill, always. I never thought Bill or Cathy, I always thought Bill AND Cathy. They were a team.
"For not being a techie wine person, Cathy had insights into wine and the wine business that were right-on, bringing in reality when we sometimes wanted to be too precocious and introspective.
"She was a very strong woman, making Express successful almost as much as Bill did. She had opinions, true care and concern for people, little tolerance for fools but plenty of hugs for those who were authentic."
Cathy Stoller is survived by her husband, Bill; a son, Jason Morgan (and his wife, Jill), and daughter, Jenny Schwenke, from a previous marriage; the couple's now 21-year-old twin sons, Kyle and Kenny Stoller, adopted at 3½ years of age; plus four grandchildren; two siblings; and many nieces and nephews.
A memorial service for Cathy was held Dec. 9, 2011, at Pacific University Stoller Center in Forest Grove.