Troon Turns 40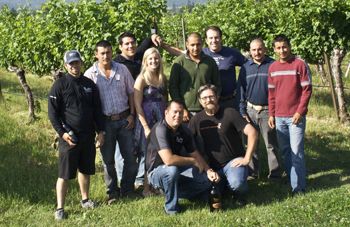 By Wine Press Staff
In 1972, Richard "Dick" Troon purchased 32 acres in the western part of the Applegate Valley. He recognized the warm days and cool nights, along with superior soil conditions perfect for grapegrowing. He planted the varietals he liked to drink — Zinfandel, Cabernet Sauvignon and Chardonnay. This is where the story of Troon Vineyard begins.
After more than 20 years of tending vines, Troon began his winemaking adventure. Although a sign hangs in the vineyard, reading "Purveyors of Fine Wines Since 1976," Troon didn't create a winery until 1993.
In 2000, one of Troon's most successful winemaking efforts was created by mistake. He harvested Syrah deficient in nitrogen, leading to a stuck fermentation. The resulting wine was soft and fruit-forward with a hint of residual sugar. He named it Druid's Fluid Red after his fascination with the Druid culture in his Scottish heritage. Initially selling it to friends and family, Druid's Fluid has become one of the most popular red wines produced in Southern Oregon.
Three years later, Troon sold his vineyard to the father-and-son team of Larry and Chris Martin. Shortly after, second-generation California winemaker Herb Quady joined the team.
By 2005, the Martins constructed a new winery and tasting room, and set out to expand the estate to 98 acres, with 40 planted to winegrapes. With awards like "Best Zinfandel in the World" given to the winery's 2002 Reserve Zinfandel from Jerry B. Mead's New World International Wine Competition, Troon Vineyard was receiving the recognition the new owners were seeking.
The following year, the winery planted Vermentino, the first in Oregon and the Pacific Northwest. Originally from the islands of Sardinia and Corsica, the grape is well-suited to the climate and produces a refreshing, crisp wine that is an ideal pairing for seafood. It has become Troon's signature white wine and another success story.
By 2011, the estate vineyard reached its goal of 40 acres and received LIVE (Low Input Viticulture & Enology) certification. The winery also established a culinary program, Troon to Table, focusing on local ingredients paired to highlight the wines.
Fast-forward to today, and Troon is celebrating 40 years with two tasting rooms — one at the winery and the other in Carlton — and an annual production of about 10,000 cases.
Although founder Dick Troon passed away in October, Chris Martin and crew are honored to celebrate his pioneering tradition and the winery's number of accomplishments at their anniversary event, Aug. 4, 11 a.m. to 6 p.m. Guests can take vineyard tours, sample library exclusives and listen to live music from LOVEBITE, featuring Jeff Pevar.
Troon Vineyard is located at 1475 Kubli Road, Grants Pass. The winery's Carlton tasting room is located at 250 N. Kutch St.