Feast's First Fete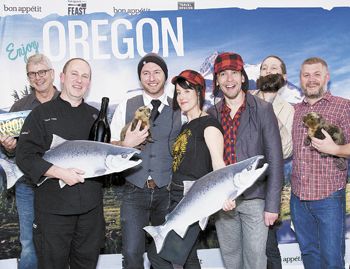 By Wine Press Staff
The hub of the artisan food movement and the birthplace of industry legend James Beard, Portland has become an epicenter of all things gastronomical.
In celebration of the Rose City's culinary success, a new festival is on tap. Bon Appétit Presents Feast Portland, Sept. 20–23, will showcase the vibrancy of the Oregon food community by featuring local culinary talent — from chefs and winemakers to farmers and distillers — and region-defining ingredients alongside internationally recognized industry professionals and experts.
Co-founded by Mike Thelin and Carrie Welch, the festival aims to spotlight everything that makes Portland a foodie paradise, capturing the current energy driving America's food revolution, all while raising significant funds to help end childhood hunger. Oregon — despite its perceived food abundance — ironically ranks among the top five hungriest states in the nation.
Innovative festival events offer ample opportunity to both indulge and learn while interacting with local, national and even international industry elite — from large-scale tasting events like the Sandwich Invitational, Oregon Bounty Marketplace, Feast Portland Night Market and High Comfort, to intimate sit-down dinners, hands-on classes, live culinary demonstrations, thought-provoking speakers and industry get-togethers.
Portland chefs include: Vitaly Paley (Paley's Place), Naomi Pomeroy (Beast), Andy Ricker (Pok Pok), Cathy Whims (Nostrana), Adam Sappington (Country Cat), Gregory Gourdet (Departure), Jenn Louis (Lincoln), David Machado (Nel Centro), Elias Cairo (Olympic Provisions), Philippe Boulot (The Heathman), Jason French (Nedd Ludd), Stephanie Kimmel (Marche), Ben Bettinger (Imperial), Tommy Habetz (Bunk), David Anderson (Genoa), Thomas Boyce (Bluehour), Chris Carriker (Gilt), Matt Christianson (Urban Farmer), Greg Higgins (Higgins Restaurant), Dustin Clark (Wildwood), Hank Costello (Andina), Greg Denton (Ox), Scott Dolich (Bent Brick), Eric Finley (CHOP Butchery), Patrick Fleming (Boke Bowl), Jason French (Ned Ludd), Ken Gordon (Kenny & Zukes), Scott Ketterman (Crown Paella), Dolan Lane (clarklewis), Daniel Mondok (Paulee), Rodney Muirhead (Podnah's Pit BBQ), David Padberg (Park Kitchen), Gabe Rosen (Biwa), Sarah Schafer (Irving Street Kitchen), Cheryl, Wakerhouser (Pix Patisserie), Lisa Schroeder (Mother's Bistro), David Speer (Ambonnay), Rob Walls (Double Dragon), Johanna Ware (Smallwares) and others.
Visiting chefs include: Duff Goldman and April Bloomfield (Spotted Pig, NYC), Eddie Huang (Baohaus, NYC), Nancy Silverton (Osteria Mozza, Hollywood), Seamus Mullen (Tertulia, NYC), Brad Farmerie (PUBLIC, NYC), Chris Cosentino (Incanto, San Francisco), Gabrielle Hamilton (Prune, NYC), Anita Lo (Annisa, NYC), Amanda Freitag, Hedy Goldsmith (Michael's Genuine, Miami), Lee Anne Wong, Matt Lightner (Atera, NYC), Paul Kahan (Publican, Chicago), Daniel Patterson (COI, San Francisco), Sean Brock (Husk, Charleston, S.C.), and Inaki Aizpitarte (Le Chateaubriand, Paris), Marco Canora (Hearth, NYC), Ned and Jodi Elliott (Foreign & Domestic, Austin), Riad Nasr (Minetta Tavern, NYC), Molly Moon Neitzel (Molly Moon's Homemade Ice Cream, Seattle), Paul Qui (Uchiko, Austin), Philip Speer (Uchi, Austin), Ethan Stowell (Ethan Stowell Restaurants, Seattle), David Thompson (nahm, London and Bangkok) and others.
Oregon wineries include: REX HILL, A to Z Wineworks, Domaine Serene, Willamette Valley Vineyards, Anne Amie, Argyle, Boedecker Cellars, Bergstrom, Chehalem, Elk Cove, R. Stuart, Sokol Blosser, Van Duzer, Adelsheim, Angel Vine, Apolloni, Archery Summit, Biggio Hamina, Brittan, Brooks, Coleman Vineyards, Durant, Matello, Montinore, Patton Valley, Penner-Ash, Roots, RoxyAnn, Soter, White Rose.
Local breweries include: 10 Barrel, Burnside, The Commons, Deschutes, Fort George, Full Sail, Gigantic, Hopworks, Laurelwood, Lompoc, Ninkasi, Oakshire, Occidental, Pelican Pub, Sasquatch, Southern Oregon and Widmer.
"With Portland and Oregon receiving worldwide culinary recognition and cementing their rightful places on the food map, a celebration embracing the region's rich history and incredible bounty seemed not only in order, but long overdue," said festival co-founders Thelin and Welch.
Thelin, whose expertise in culinary branding and business development is the focus of his Portland-based company Bolted Services, has masterminded countless food fetes across the country, including the Eater Awards, and also serves as a contributor on Cooking Channel.
During Welch's ten-year career as a Food Network PR executive, the food-obsessed former New Yorker played an integral role helping to create the New York City Wine & Food Festival. She moved to Portland in 2010 and opened food-and-wine PR agency Little Green Pickle.
Sponsors and founding partners of the inaugural festival include national media partner Bon Appetit, title sponsor Travel Oregon, presenting sponsor Whole Foods Market, and regional media partners Portland Monthly and Seattle Metropolitan. Additional founding partners include Travel Portland, KitchenAid, Widmer Brothers Brewing Company, Stumptown Coffee Roasters, Key Bank and Nicky USA.
"The spirit of Portland and this incredible new festival align perfectly with our mission at Bon Appétit, which is why we're excited to be a founding partner of what will undoubtedly be a one-of-a-kind event with a bright future," said Adam Rapoport, editor-in-chief of Bon Appétit.
"To complement the festival offerings, we worked with local chefs and artisans to create Trails to Feast, a series of culinary trip ideas to inspire visitors to add a few extra days to their itineraries to see where all our great ingredients come from," said Holly Macfee, vice president of global brand strategy at Travel Oregon.
"Oregon is still that magical place where you can meet and experience the people and the land that produce such abundance," Macfee added. "Combined with the state's vast natural beauty and wide-ranging recreational activities, it's clear why Oregon is fast becoming one of the country's greatest food and drink destinations."
Tickets can be purchased at www.feastportland.com and on the festival's Facebook page, with individual event tickets starting at just $30 and an "All In" Festival Weekend Pass, available for those who want to experience everything, at $650. While thousands gather to enjoy Oregon's bounty, the payoff will be particularly meaningful as all festival proceeds benefit national childhood hunger relief organization Share Our Strength and local hunger-related charity Partners for a Hunger-Free Oregon.
For a complete list of participants, visit www.feastportland.com.