Calendar Home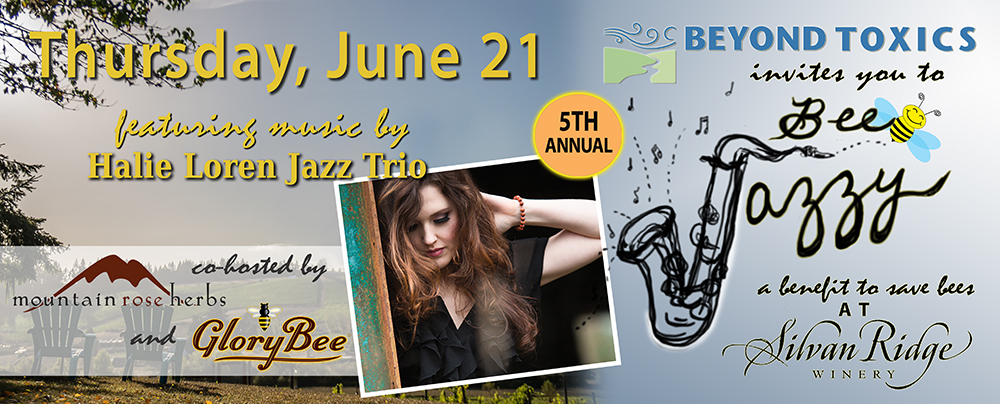 Beyond Toxics' 5th Annual Bee Jazzy
Make this Summer Solstice memorable with a glass of superb wine and the sultry voice of Halie Loren. Beyond Toxics is celebrating National Pollinator Week at the 5th annual Bee Jazzy, a benefit to Save Oregon's Bees co-hosted by Mountain Rose Herbs and GloryBee.

This gala evening takes place Thursday, June 21 5:30pm to 9:30 pm at the lovely Silvan Ridge Winery in the wine country of southern Lane County. Proceeds from the evening benefit Beyond Toxics and our Save Oregon's Bees Campaign.

Internationally acclaimed pop/jazz chanteuse Halie Loren will be taking a detour from her "From The Wild Sky" world tour to headline Bee Jazzy once again. The evening opens with music by the Dana McWayne Quartet.

Come join us to listen to great jazz music at one of the Willamette Valley's most picturesque wineries. We'll have a fun silent auction with packages that include getaways to some of Oregon's hidden gems and date night excursions to the opera or the theater.

Two of Eugene's favorite food carts, Navarro's Latin Creole Kitchen and Sammitch Food Cart and Trucks, will be on hand with a selection of delicious food.

Tickets are $25 in advance and $30 at the door. Visit beejazzy.org for tickets and full details.
Fee: $25 in advance, $30 day of event