Fare Is Fowl
And fowl is game on for Oregon's top chefs
For hunters, fall signals wild fowl. Just when the seafood season closes, they head to the fields with 12-gauge shotguns and speckled bird dogs by their sides. Oregon chefs, on the other hand, must rely on an alternative source for pigeon, quail, pheasant, guinea hen and more. His name, is Geoff Latham of Nicky USA.
He's built a mini empire here in Oregon — now in Seattle, as well — selling specialty game meats. But the OSU Beaver never envisioned he'd be on such a perch after graduating college in 1990. In fact, he had plans to develop and distribute grass fiber particle board with a Japanese friend named Noriuku Mori — everyone called him Nicky.
After the venture flopped, Latham found himself selling rabbits out of his hatchback for a Chinese restaurant. From there, he took a wild leap in becoming a game meat merchant. It worked.
"I never wanted to work for anyone else," Latham says. "I've been very lucky."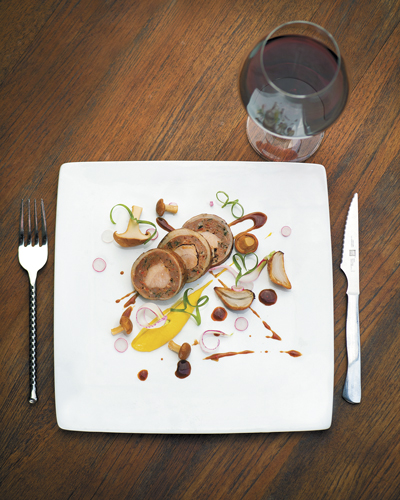 That kismet, he explains, corresponded with "The Food Wave" in Portland in 1994, when chefs such as Philippe Boulot entered the culinary scene. It was Boulot, a hunter himself, who recruited Latham to market the story of the game producers. So, Latham traveled the state, looking for quail and squab, and returning with tales of where he found them, effectively helping establish Portland's growing foodie scene.
Since those humble beginnings, Latham has propelled Nicky USA to expanded heights, recently establishing Nicky Farms, a 35.9-acre property in Aurora where he raises rabbit and partridge, and entertains friends and customers.
Wild About Game, October 8
Latham has also partnered with author Janie Hibler to host Wild About Game chef competitions, inspired by Hibler's 2000 book of the same name. This year marks the 17th event and will be held at the Resort on The Mountain in Welches on Oct. 8.
Portland and Seattle chefs will battle in four different categories. Each dish is presented to an impressive panel of renowned culinary experts. Guests also can sample each chef's dish to judge for themselves.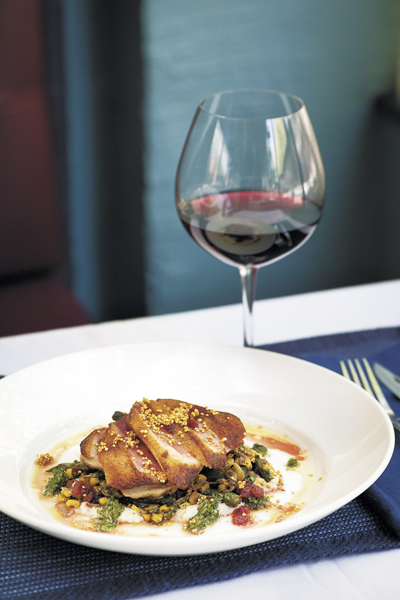 Portland's 2017 chefs include: Jose Chesa (Chesa); Matt Sigler (Renata); Sarah Schafer (Irving St. Kitchen); and Phil Oswalt (MAC). Seattle will be represented by chefs Paul Osher (Porkchop & Co.); Jason Stratton (Mbar); Andrew Gregory and Ricardo Valdes (The London Plane); and Chris Lobkovich (Quinn's Pub).
The theme? Guinea hen. Latham believes the bird is greatly misunderstood.
He explains, "People will say, 'Oh, my dad shot that.' But we wanted to show that game fowl is a great product for dining in the hands of a great chef."
In addition, Wild About Game's Artisan Marketplace will showcase other products, such as foie gras, salts, cheeses, chocolates, ice cream, spirits, wine, beer and the latest game products from Nicky USA. For tickets and more information, visit www.nickyusa.com/wild-about-game.
Latham would like to incorporate wine pairings in the future, but in the meantime, let OWP satisfy your craving for wild fowl and Oregon wine with the following recipes gathered from chefs around the state. Bon appétit!
RECIPES:
Pigeon with Blue Cheese Tortellini and Walnuts
Chef Gabriel Rucker | Le Pigeon, Portland
Pheasant Involtini with Sweet Corn Pudding, Chanterelles, Caramelized Garlic, Scallions, Radishes
and Harissa-Liver Bordelaise
Chef Sunny Jin | Jory Restaurant, Newberg
Pheasant Pot au Feu
Chef Philippe Boulot | Multnomah Athletic Club, Portland
Duck with Blistered Green Beans, Herb Pistou, Whipped Ricotta, Huckleberry Relish and Fried Quinoa
Chef Marcelle Crooks | Little Bird Bistro, Portland
Duo of Partridge
Chef Rocky Maselli | Marché, Eugene
Roasted Guinea Fowl with Chapelure de Legumes and Apple Cider Sauce
Chef Vitaly Paley | Imperial/Paley's Place, Portland
Squab with Gooseberry Reduction
Chef Chaz McKenna | Alchemy, Ashland
Wild Turkey Sausage with Pickled Mustard Seed and Quick Slaw
Chef Ben Stenn | Celilo Restaurant, Hood River