Pigeon with Blue Cheese Tortellini and Walnuts
Chef Gabriel Rucker | Le Pigeon, Portland
Yields 6 servings
Oregon Wine Pairing: Matello 2012 Souris Pinot Noir
SAUCE
¼ cup sliced shallot
1 tablespoon sliced garlic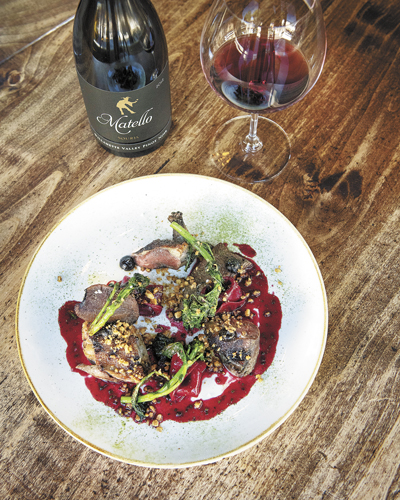 1 tablespoon butter
* pinch red pepper flakes
½ cup Oregon Pinot Noir (the one you're drinking while cooking)
2 tablespoons balsamic vinegar
1 cup pigeon stock
1 cup veal stock
1 cup beet juice
1 sprig thyme
1 tablespoon peppercorns
In heavy-bottomed pot over medium heat, sweat shallot, garlic, thyme and spices until slightly softened, about 3 minutes. Add vinegar and wine; reduce by half. Add beet juice and stocks and reduce to 1 cup. Strain through a conical sieve. Reserve for later.
WALNUTS
½ cup walnuts
2 tablespoons butter, melted
* pinch red pepper flakes
1 tablespoon brown sugar
* pinch salt
Toss walnuts with salt, pepper flakes and butter; roast in a 350°F oven for about 8 to 10 minutes, until toasty and fragrant. Remove and let cool to room temperature.
Once cool, add nuts to food processor and pulse with brown sugar, careful not to over-process or they will turn to paste. Also, if you process while hot, they will be soggy. Reserve on counter next to your sauce.
TORTELLINI
1 cup crumbled Rogue Creamery blue cheese
1 tablespoon minced shallot
2 teaspoons lemon juice
1 teaspoon minced garlic
2 large sheets of fresh pasta dough (we make beet pasta dough, but you can just use fresh pasta and make your life easy)
Combine all of the above except pasta dough. Mix well to make a blue cheese paste, of sorts. To make tortellini, cut pasta into 3-inch squares. Place little dollop of filling, about 2 teaspoons, in center of each square. Lightly brush edges with water and bring them together to make a filled triangle. Wrap the two edges of your triangle around your finger and you have made tortellini. Remember they don't all have to be perfect, have fun with this. Store them covered sitting on some cornmeal in the fridge.
BEEF TOUNGE
1 beef tongue
1 onion
1 carrot
2 celery ribs
1 bottle red wine (not too fancy)
1 cup red wine vinegar
1 head garlic
1 bunch thyme
¼ cup peppercorns
2 tablespoons salt
4 cups water
Place all ingredients in oven-proof dish deep enough to hold tongue, such as a Dutch oven. Cover and bake at 350°F for about 4 to 5 hours. When poked with a skewer, you want to feel mild resistance.
Remove from oven and let cool slightly. Peel while still kind of warm, trust me. Cool and slice thin. This makes extra, so make tacos with the leftovers.
RAPINI
12 stalks rapini, quickly blanched
2 clove garlics, sliced thin
* pinch red pepper flakes
* salt, to taste
3 tablespoons extra virgin olive oil
Add extra virgin olive oil to sauté pan and sweat garlic and red pepper. Add rapini. Season with salt. Set aside.
PIGEON
12 pigeon breasts
2 tablespoons butter
2 tablespoons chives
2 lemons
Season and grill your pigeons to about medium or medium rare; rest grill 12 slices beef tongue. Boil tortellini for about 2 minutes. Add cooked tortellini to beet sauce and reduce until fairly thick and shiny. Stir in butter and chives, and season with salt and lemon juice.
Spoon three tortellini onto each plate and sop some extra sauce over them. Place two pigeon breasts on each plate along with two slices beef tongue; give a squeeze of lemon garnish with rapini and walnut, enjoy!
Note: Use store-bought tortellini if you don't want an all-day project. The idea is to get you cooking pigeon, which is commonly called "squab." Also feel free to come have dinner at Le Pigeon and ask all your cooking questions.