Pheasant Involtini with Sweet Corn Pudding, Chanterelles, Caramelized Garlic, Scallions, Radishes and Harissa-Liver Bordelaise
Chef Sunny Jin | Jory Restaurant, Newberg
Yields 4 servings
Oregon Wine Pairing: Big Table Farm 2015 Pinot Noir, Yamhill-Carlton
INVOLTINI
1 whole pheasant
12 pancetta slices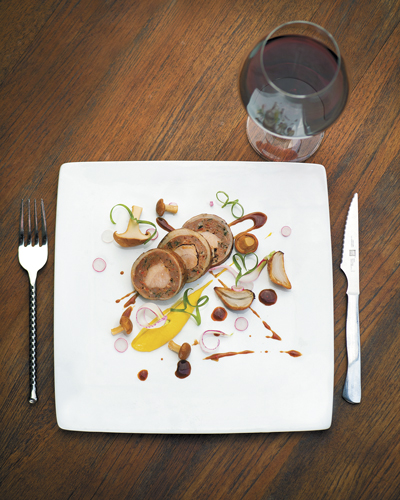 Skin and debone pheasant. Slice one breast lengthwise into 1-inch wide strips; set aside. Chop remaining carcass into 3- to 4-inch pieces; set aside for sauce. Grind or chop remaining meat and use to make a spicy sausage. I prefer to make sausage similar to chorizo for this recipe. Your local market or butcher probably carries a great substitute, which can help save time. To roll involtini, shingle pancetta slices on piece of waxed parchment. Be sure pancetta is slightly overlapped to ensure an even, enclosed wrap.
Next, spread small amount of sausage to cover half of pancetta lengthwise. Lay sliced pheasant breast in single line across sausage. (Try envisioning final involtini where breast is in center and evenly surrounded by sausage.) Begin to roll involtini exactly as you would for making a sushi roll. Finished roll should be void of excess air. Place on small plate and refrigerate for at least 1 hour to set.
When ready, sear involtini in large nonstick pan on medium heat with small amount of canola oil until golden brown on all sides; then transfer to a 275°F oven until fully cooked, about 10 to 15 minutes. Remove involtini from oven and let rest for 7 minutes before serving.
SWEET CORN PUDDING
1 pint corn juice
In saucepan, over medium heat, whisk corn juice continuously for about 5 minutes. Natural starches will thicken juice to pudding-like consistency. Salt to taste. Keep warm, cover and set aside until ready for use.
Harissa-liver Bordelaise
1 pheasant carcass
1 pheasant liver, finely chopped
2 tablespoons tomato paste
1 quart mirepoix, large dice
6 garlic cloves
½ bunch thyme
2 bay leaves
1 tablespoon peppercorns
1 cup Pinot Noir
2 quarts chicken stock
1 cup canola oil
1 tablespoon harissa (can omit to avoid heat)
1 bunch parsley stems
Preheat oven to 400°F. Brush pheasant carcass with tomato paste and 1 tablespoon canola oil. Place bones on sheet pan lined with parchment in single layer. Roast until they turn a dark, golden brown.
Meanwhile, add rest of canola, mirepoix and finely chopped liver to large stock pot on medium-high heat. Sauté ingredients until they reach a rich, golden brown, stirring occasionally to prevent burning. Deglaze pot with Pinot Noir; then add roasted bones. Cover with chicken stock, and add rest of ingredients (except harissa). Simmer for about 4 to 5 hours. Strain through a fine mesh sieve.
Place strained stock into clean pot and slowly reduce until sauce consistency. Strain sauce again through a fine mesh sieve and into a mall sauce pot once proper viscosity is achieved. Add harissa to sauce immediately before serving.
GARLIC
1 cup whole garlic cloves
1 pint olive oil
* kosher salt
In a medium-sized pot, submerge cloves in olive oil and add 1 teaspoon salt. Bring to medium heat and reduce to low heat once cloves begin to lightly bubble. Continue to cook until golden brown. Remove garlic from oil and let cool. Reserve garlic oil for later use in other recipes, or just use as dip for fresh baguette.
Other Components:
Chanterelles: Sauté on high heat with touch of canola oil. Season with salt. Finish with a small dab of butter and splash of white wine vinegar immediately before serving. Radishes and scallions: Slice thin and submerge in ice water, helping maintain crispness for garnish.