Duck with Blistered Green Beans, Herb Pistou, Whipped Ricotta, Huckleberry Relish and Fried Quinoa
Chef Marcelle Crooks | Little Bird Bistro, Portland
Yields 6 servings
Oregon Wine Pairing: Belle Pente 2012 Estate Reserve Pinot Noir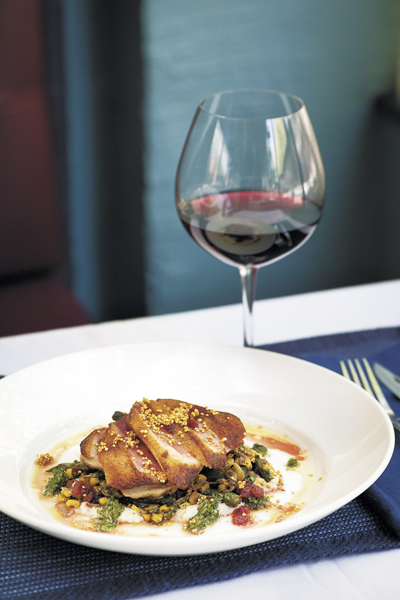 WHIPPED RICOTTA
3 shallots
1/3 cup confit garlic (roasted garlic works, too)
1/3 cup Parmesan, grated
½ lemon, zest and juice
2 teaspoons kosher salt
½ teaspoon ground black pepper
2 ounces butter
13 ounces ricotta
Peel shallots; remove root ends. Blanch shallots three times, bringing shallots in water to a boil. Discard water and repeat.
Melt butter in saucepot, then add blanched shallots. Cook over low heat, pressing down on the shallots, pushing out the smaller rings. Once shallots start to caramelize, add confit garlic and cook for another 15 to 20 minutes. Shallots and garlic should be a nice golden brown.
Pull off heat and spin mixture in food processor with Parmesan, lemon zest, and salt and pepper. Cool.
In mixing bowl, whip together shallot mixture and ricotta. Finish with lemon juice.
HERB PISTOU
½ cup minced curly parsley
½ cup chives, cut into small rings
½ large shallot, brunoise
1 large garlic clove, microplaned
1 teaspoon kosher salt
1 lemon, zest and juice
1 cup sunflower seed oil
Brunoise shallots and macerate in lemon juice. Let set for a least 15 minutes, then strain.
Mix all other ingredients together.
FRIED QUINOA
1 cup sugar
1 cup water
1/3 pound quinoa
1 teaspoon kosher salt
Bring sugar and water to a boil. Add quinoa and cook for 4 minutes.
Strain and spread out on parchment-lined sheet tray to cool.
Once cool, fry small batches of quinoa in a fine mesh strainer, for about 1 minute at 350°F. It should be golden brown and smell like popcorn.
Season with salt on parchment-lined sheet tray. Break up once cooled.
GRILLED CORN
3 ears yellow corn
1 tablespoon olive oil
* pinch salt and ground black pepper
Season with salt, pepper and olive oil. Grill corn until cooked through (can roast in oven at 425°F for 15 to 20 minutes). Cool and shave off kernels with a knife.
BLISTERED GREEN BEANS
2 pounds green beans, tips removed and cut into thirds
* sunflower seed oil
* salt to taste
Heat oil in sauté pan. You want it to smoke. Add green beans to hot pan in small batches and blister. Cool and season with salt.
HUCKLEBERRY RELISH
1 cup huckleberries
¼ cup sugar
¼ cup Champagne vinegar
1 lemon, zest and juice
1 teaspoon salt
In saucepot, combine huckleberries, sugar and vinegar. Bring to a simmer and reduce to syrup consistency. Add salt, lemon juice and zest. Cool.
DUCK BREASTS
6 duck breasts
* olive oil
1 shallot
2 garlic cloves
Sear seasoned duck breast (start skin side down) with oil in a smoking hot sauté pan. Once skin is golden brown, flip and bake in oven at 425°F for 5 to 8 minutes. Rest for 2 to 3 minutes; slice on bias and serve.
Heat oil in a separate pan while duck is baking. Sweat sliced shallots and garlic. Season with salt; add blistered green beans and corn. Heat through. Finish with herb pistou and a nice squeeze of lemon juice.
Assembly
Spoon whipped ricotta on bottom of plate. Top with green bean salad. Finish with Sliced Seared Duck, huckleberry relish and fried quinoa.