Calendar Home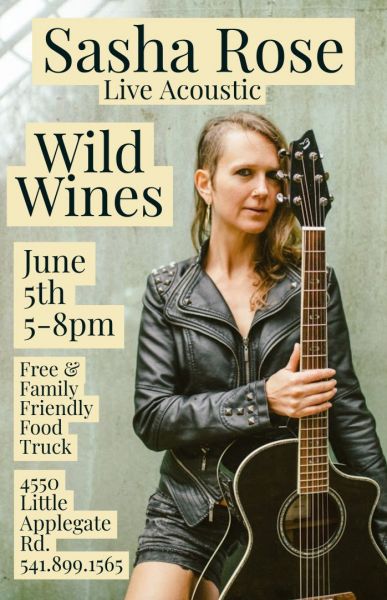 Sasha Rose live at Wild Wines
It's summertime! Enjoy an evening outdoors in the gardens at Wild Wines tasting room, with wine, food, friends, and LIVE MUSIC!
Saturday, June 5th, 5-8pm.
4550 Little Applegate Rd, 541-899-1565
www.enjoywildwines.com
Sasha Rose began writing songs at a very young age. She performs her acoustic shows on guitar, african djembe, and an eclectic fusion of vocal looping with simple electronic beats. Her original lyrics bring awareness and create a deep earth connection to her listeners.
As always, our events are FREE and FAMILY-FRIENDLY!
Food will be available onsite by Pizza Mia! Wood Fired Pizza.
Limited seating available, please bring your own blanket or chair to ensure you have a seat if required.