A Regional Review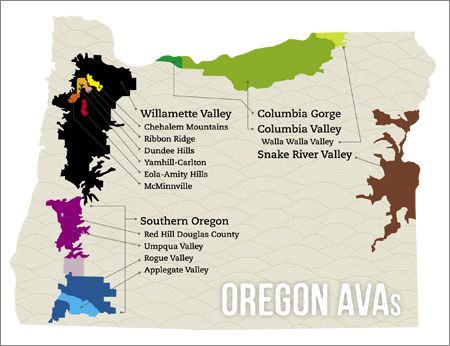 Story by Hilary Berg | Photos by Andrea Johnson
Consumers thirst for education in regard to important purchases. For serious wine buyers, that desire is even stronger. Many are still learning about Oregon — education about all the regions and their wineries is a never-ending quest. It has become the mission of many Oregon makers, managers and marketers to get the word out about the state's wine and diverse regions that put our industry on the world-class map.
With education, comes studying and lots of reading, which is what OWP hopes you do over the next several pages. In this feature, you will find a break down of Oregon's 16 AVAs (American Viticultural Areas) as well as a group of regional promotional groups that have formed in the vast super-AVA of the Willamette Valley for the purpose of educating consumers and drawing tourists.
Some of these groups would like an AVA at the end of their names, but, of course, the long and painstaking process of approval from the Alcohol and Tobacco Tax and Trade Bureau (TTB) and the U.S. Department of the Treasury will decide on their fate. Geographic location, climate, soil and topography are taken into consideration when applying for an AVA designation. As of January 2010, a total of 198 AVAs have been granted official status.
Whether you're visiting an AVA or an organized wine region, you will find each one has its own narrative to tell. So, for the sake of education, grab a glass and settle in for a long, lingering lesson on Oregon wine.
Chehalem Mountains / Ribbon Ridge AVA
Chehalem Mountains Winegrowers Association
Dundee Hills AVA
Dundee Hills Winegrowers Association
Yamhill-Carlton AVA
Yamhill-Carlton Winegrowers Association
Eola-Amity Hills AVA
Eola-Amity Hills Wineries Association
McMinnville AVA
McMinnville Winegrowers Association
Southern Oregon AVA
Southern Oregon Winery Association
Umpqua Valley AVA
Umpqua Valley Winegrowers Association
Rogue Valley AVA
Rogue Valley Winegrowers Association
Applegate Valley AVA
Applegate Valley Wine Trail
Columbia Gorge AVA
Columbia Gorge Winegrowers Association
Walla Walla Valley AVA
Walla Walla Valley Wine Alliance
Snake River Valley
Idaho Grape Growers & Wine Producers Commission
OREGON'S NON-AVA AFFILIATED REGIONAL GROUPS
North Willamette Vintners
PDX Urban Wineries
East Valley (Willamette) Wine Tour
Mid-Valley (Willamette) Wine Trail
McMinnville Downtown Wineries Association
South Willamette Wineries Association
Winegrowers Association of Central Oregon