Columbia Gorge AVA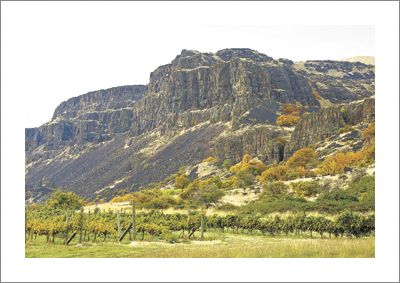 History: Grapegrowing in the area dates to the 1880s when the Jewett family, founders of White Salmon, Wash., planted vines. Post-Prohibition, in the 1970s, vines were planted on the south-facing slopes of Underwood Mountain in Washington. Over the next two decades, well-known winemakers started to discover the region's quality grapes.
Location: Just 60 miles east of Portland, the AVA lies in the heart of the Columbia River Gorge, which straddles the Columbia River for 15 miles into Oregon and Washington. This region, which totals 40 miles, contains part of the Columbia Valley AVA.
Climate: To the west is a cooler, marine-influenced climate with rainfall of 36 inches per year; to the east it's a continental high desert climate with just 10 inches of annual rainfall. This extreme variance of climate means this area can successfully grow a wide range of classical varieties.
Soils: The region's soils are generally silty loams collected over time from floods, volcanic activity and landslides.
Topography: The Gorge is a narrow, winding river valley whose walls range from steep volcanic rock faces to more gently sloped, terraced benchlands typically well suited for grapegrowing.
COLUMBIA GORGE WINEGROWERS ASSOCIATION
Focus? CGWA is meant to advance our region's wine industry by educating members and arranging activities to promote the area as a premier wine region. We aim to increase awareness of Columbia Gorge wines.
Identity? We are a "World of Wine in 40 Miles!" Because of the specific topography and microclimates within our region, we are able to successfully grow many different varietals. Visitors are surprised at the wide range of wines we are able to produce well.
Varieties? Our region is best known for producing a wide array of varietals, not just one in particular. We can grow Pinot Noir all the way to Zinfandel.
Collaboration? Our region is very collaborative. We all get along and want to further our region as a whole. We have "fun days" where we just get together and play bocce ball and have a picnic. All members are invited to attend our marketing meetings, which take place monthly. As a group, we put on tastings in Portland and Seattle, and have a lot of fun at these events.
Challenges? It's a challenge to get folks to realize that we are only a one-hour, traffic-free drive from Portland. Our wines are amazing and our scenery is breathtaking. We have so much to do here in the Gorge; it really is a total destination package.
Marketing? We use print and social media; and we distribute our own map.
CLICK TO RETURN TO THE GENERAL WINE REGION PAGE.