Chehalem Mountains / Ribbon Ridge AVAs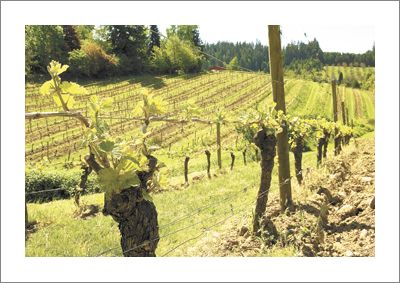 History: Chehalem Mountains' winegrowing dates back to 1968 when UC Davis refugee Dick Erath purchased 49 acres on Dopp Road in Yamhill County. He aptly called the property Chehalem Mountain Vineyards. By the '70s, pioneers like the Adelsheims, Ponzis and Paul Hart of Rex Hill Vineyard planted in the area.
In 1980, Harry Peterson-Nedry was the first to plant winegrapes on Ribbon Ridge at Ridgecrest Vineyards.
Location: Encompassing more than 100 square miles, the Chehalem Mountains AVA touches three counties (Yamhill, Washington and Clackamas) and yet is only 19 miles from the heart of Portland and 45 miles east of the Pacific Ocean.
Ribbon Ridge is contained within the Chehalem Mountains AVA and is located about four miles northwest of Dundee.
Climate: Chehalem Mountains varies in annual precipitation (37 inches at the lowest point and 60 inches at the highest) as well as the greatest variation in temperature within the Willamette Valley. These variations can result in three-week differences in the ripening of Pinot Noir.
Protected by geographical features to the north, south and west, Ribbon Ridge's grapegrowing hillsides are slightly warmer and drier when compared to the adjacent valley floors.
Soils: Within the Chehalem Mountains AVA, there are ancient, uplifted sedimentary seabeds, weathered rich red soils from lava flows down the Columbia River and relatively new glacial sediment scoured from western states and blown by windstorms onto north-facing hillsides.
Ribbon Ridge contains mostly sedimentary soils that are younger, finer and more uniform than the alluvial sedimentary and volcanic soils of nearby regions.
Topography: Chehalem Mountains is a single landmass made of hilltops, ridges and spurs uplifted from the Willamette Valley floor. The appellation includes all land in the area above the 200-foot elevation and includes Bald Peak at 1,633 feet — the highest elevation in the Willamette Valley.
Ribbon Ridge is a 3.5-mile long by 1.75-mile wide spine extending from the Chehalem Mountains. It rises 683 feet, giving it an island-like appearance.
CHEHALEM MOUNTAINS WINEGROWERS ASSOCIATION
Focus? To create awareness of the Chehalem Mountains and Ribbon Ridge AVAs as well-rounded, wine country destinations and home to passionate growers and producers of high quality wines. Our focus is also education, particularly at the viticultural level, to help continually improve our product.
Identity? With an estimated 150 vineyards, averaging 12.5 acres, we likely have the largest number of vineyards in any Oregon AVA. This patchwork of small, family-owned vineyards on varying soil types and elevations is an exciting source of exquisite wines.
Our diversity of soils/sites allows for quality in a wide variety of Pinot renderings and excellent whites that require particular site characteristics to excel. In a nutshell, diversity equals quality.
The people and personalities behind the wines are as much our identity as quality-driven wines. We have more than 70 members.
Varieties? We are known for Pinot Noir but have a myriad of mesoclimates, exposures and elevations, allowing for a wide variety of wines, including Pinot Gris, Pinot Blanc, Chardonnay, Riesling, Grüner Veltliner, Gamay Noir, Gewürztraminer, as well as Marechal Foch and Syrah.
Collaboration? We have a strong sense of community among our members. Part of our success in fostering a sense of community stems from our purposeful efforts to be inclusive — we work to keep dues as low as possible so everybody who is eligible can afford to join and feel they are getting a good value for their dues.
We also are inclusive in our membership — members must make wine from, or have a winery or tasting room within the AVA boundaries. We have welcomed wineries that are better known in other AVAs, but are members on our AVA because they make wine from Chehalem Mountains or Ribbon Ridge fruit, such as Anne Amie, Archery Summit, etc.
We organize viticulture roundtables where growers and winemakers share best practices and invited guests present tools or ideas for improving grapegrowing. These meetings are open to anyone in our AVAs (member or not) and outside our specific region.
Education and networking activities enable better collaboration, sharing knowledge and key learnings with the goal of continually improving our wines.
Challenges? The AVA includes the Ribbon Ridge AVA, which can be confusing to some. In due course, as vineyard plantings intensify and more wineries unfold, it is likely that other regions will emerge as AVAs within the boundaries of the larger Chehalem Mountains AVA. Another challenge is that we have as many vineyard members as winery members, sharing a common desire to build awareness of the Chehalem Mountains as a winegrowing region. Lastly, our diversity of wines and three distinct soil types can make it demanding to communicate a focused message.
Marketing? Our top marketing tool is our multi-purpose, detailed map. It is distributed freely and includes information on our geology, soil types and history. In addition to winery and tasting room information, the map also identifies vineyard members and features information on our associate members.
Advertising to date has generally included a scaled down version of the map, showing locations of members participating in the relevant event.
Additionally, we are active on Twitter and Facebook. Social media is important in our consumer event promotion, but also to provide real time context for happenings in our region, kudos to our members, etc.
Our website has recently been redesigned and also focuses on the map.