This Holiday's for You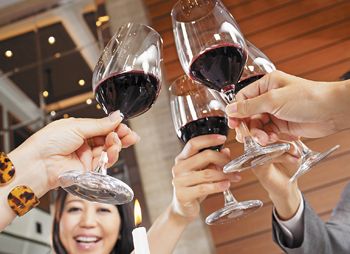 By Hilary Berg, OWP Editor
William Blake, the famous 18th century English poet, painter and engraver, once wrote, "In seed time learn, in harvest teach, in winter enjoy."
I appreciate this sentiment, especially after such a crazy harvest.
For a while, it felt like it was never going happen; but day-by-day, the grapes slowly ripened — like watching a mime running — and crush commenced.
Although work is never finished in the winery, it's now time for all you cellar crews across Oregon to pat yourselves on your sore backs and enjoy this holiday season.
Instead of hovering over the sorting line searching for bad bunches, now's the time to relax with a glass of Oregon Port (click here) and sort through ornaments for your holiday tree — remember the heaviest ones belong near the trunk.
No more punchdowns and taking temps; it's time to spike the punch and warm up by the fire with a good book. May I suggest Natalie MacLean's latest (click here)?
Instead of powerwashing everything in sight, I say turn the hose on yourself and wash up — that includes a much-needed haircut and shave for many of you. Take off your steel gray rain boots and fuzzy fleece and slip into a pair of dress shoes and an outfit to match for a night on the town. Gather a group of friends and toast the harvest and holidays with a glass of Oregon bubbly (click here).
Whether celebrating Christmas or Hanukkah, you can finally begin shopping for gifts. For those lighting a menorah instead of a tinsel-clad tree, you'll be interested in the kosher Oregon Pinot Noir now being produced by Phil Kramer at AlexEli in the East Willamette Valley (click here).
No matter the reason for the season, something everyone can appreciate this time of year is food.
You've probably lost some weight from all the physical labor, so it's time to put the pounds back on with some cookies from your fellow peers in the industry (click here). Thanks to Maria Suart of R. Stuart in McMinnville, you can fatten back up with a dozen Chocolate Fleur del Sel Cookies. Don't those sound devine? While sugar cookies are my favorite — the secret is sour cream — I am determined to try these and all the recipes submitted by winery owners and staff.
For almost everyone, it's a special time of year, but for all you Oregon winery workers — or should I say 'miracle workers'? — it's an even more special feeling to wrap up such a challenging harvest just in time to unwrap the holiday season now upon you.
Thanks for all your hard work and the stellar wine that will surely come from it. Cheers! This one's for you.