Holiday Oven Lovin'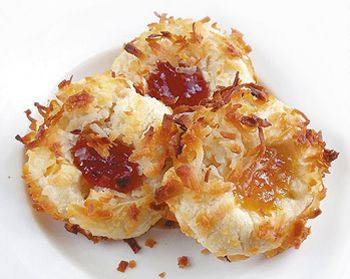 COCONUT THUMBPRINTS
Recipe by Donna Tenuta
Paschal Tenuta Winery & Vineyard, Talent
"This recipe came from a collection that was served at the White House, and I've been making them for more than 15 years. I always double the recipe because they go too fast! My kids are 25 and 24 years old, and I can't visit them without bringing some with me." - Donna Tenuta, Paschal Tenuta Winery & Vineyard co-owner
WINE PAIRING: Paschal Tenuta Winery & Vineyard 2009 Estate Viognier Port
INGREDIENTS
½ cup butter-flavored Crisco
½ cup sugar
1 egg, separated
1 teaspoon vanilla
¾ cup flour
¾ cup coconut
¼ teaspoon salt
¼ teaspoon baking powder
* thick strawberry or raspberry jam
DIRECTIONS
1. Cream Crisco with sugar, egg yolk and vanilla. Add flour, coconut, salt and baking soda. Chill for 15 minutes, and then roll into balls. 2. Preheat oven to 375°F. Beat egg white until frothy. Dip balls in egg white, roll in coconut and place on cookie sheet. Make a small indent with thumb in center of cookie. Place a small dab of jam in center. Bake for 10 minutes. Makes 2 dozen cookies.

FLEUR DE SEL CHOCOLATE COOKIES
Recipe by Maria Stuart
R. Stuart & Co., McMinnville
"I adapted this recipe from one I found on the website Culinate. Everybody (well, grown ups anyway) loves them. They are not too sweet and therefore don't conflict with any wine you might have left over at the end of dinner." - Maria Stuart, R. Stuart & Co. co-owner
WINE PAIRING: R.Stuart & Co. NV Late Harvest Tawny
INGREDIENTS
1¼ cups all-purpose flour
1/3 cup unsweetened cocoa powder
½ teaspoon baking soda
11 tablespoons unsalted butter, room temperature (1 stick + 3 tablespoons)
2/3 cup light brown sugar, packed
¼ cup granulated sugar
½ teaspoon coarse fleur de sel (no substitutions!), plus more to sprinkle on top
1 teaspoon pure vanilla extract
5 ounces bittersweet chocolate, chopped into chips (or a generous ¾ cup store-bought mini chocolate chips)
DIRECTIONS
1. Sift together flour, cocoa and baking soda; set aside. 2, Working with a stand mixer, preferably fitted with a paddle attachment, or a hand mixer in a large bowl, beat butter on medium speed until soft and creamy. Add both sugars, fleur de sel and vanilla extract, and beat for 2 minutes more. 3. Turn off mixer and pour in dry ingredients. Drape a kitchen towel over mixer to protect yourself — and kitchen — from flying flour. Pulse mixer at low speed about 5 times, for a second or two each time. If there's still a lot of flour on surface of dough, pulse a couple times more; if not, remove towel. Continuing at low speed, mix for about 30 seconds more, just until flour disappears into dough. (For best texture, work dough as little as possible once flour is added. Don't be concerned if dough looks a little crumbly.) Toss in chocolate pieces and mix only to incorporate. 4. Turn dough onto work surface and divide in half. Shape dough into logs that are 1½ inches in diameter. Wrap logs in plastic wrap and refrigerate for at least 3 hours. (NOTE: The dough can be refrigerated for up to 3 days or frozen for up to 2 months. If you freeze dough, there is no need to defrost before baking. Just slice logs into cookies and bake 1 minute longer.) 5. To bake: Position rack in center of oven and preheat to 325°F. Line two baking sheets with parchment or silicone mats. Using a sharp, thin knife, slice logs into ½-inch-thick rounds. (Rounds are likely to crack as you're cutting them; don't be concerned, just squeeze bits back onto each cookie.) Arrange rounds on baking sheets, 1 inch apart. Sprinkle fleur de sel (¼ to ½ teaspoon) on top of each cookie. Lightly press down on salt, so it doesn't fall off. 6. Bake cookies one sheet at a time for 12 minutes. They won't look done, nor will they be firm, but that's just the way they should be. Transfer baking sheet to cooling rack, and let cookies rest only until just warm, at which point you can serve them or let them reach room temperature. Makes 2 to 3 dozen.

MAPLE GINGER COOKIES
Recipe by Amanda Sever
Harris Bridge Vineyard, Philomath
"I picked up this recipe in a high school home-ec class years ago, so I don't know who to credit with the authorship, but it is an easy recipe and has perfect flavors for this time of year." - Amanda Sever, Harris Bridge co-owner/co-winemaker
WINE PAIRING: Harris Bridge 2007 "Sarah's Stories" Pinot Gris Dessert Wine
INGREDIENTS
2½ cups flour
1 teaspoon baking powder
1 teaspoon baking soda
½ teaspoon salt
¾ cup maple syrup
¼ cup molasses
½ cup oil
5 tablespoons fresh grated ginger
DIRECTIONS
1. Preheat oven to 350ºF. Stir together all dry ingredients. Add syrup, molasses, oil and ginger. Stir gently until just mixed. 2. Scoop by spoonfuls onto lightly oiled cookie sheet. Bake 12 to 15 minutes. Makes 1 dozen cookies.

NO-BAKE CHOCOLATE OATMEAL COOKIES
Recipe by Danielle Peters
Pyrenees Vineyard & Cellars, Myrtle Creek
"My mother, who has five children, used to make these all the time. I see why now. They are so simple, delicious and take hardly any time. With only seven ingredients, you can't really go wrong. I love chocolate, and I love anything that I can make and not mess up. You can make these for any occasion by changing the shape of the cookie with a cookie cutter." - Danielle Peters, Pyrenees Vineyard & Cellars administrative assistant
WINE PAIRING: Pyrenees Vineyard & Cellars 2009 Cabernet Sauvignon
INGREDIENTS
½ cup butter
2 cups granulated sugar
½ cup milk
¼ cup cocoa powder
½ cup peanut butter
2 teaspoons vanilla extract
3 cups quick-cooking oats
DIRECTIONS
1. Line a baking sheet or smooth surface with wax paper. 2. Cut butter into small pieces and place in large saucepan with sugar, milk and cocoa powder. Bring ingredients to a rolling boil while stirring continuously. Boil for one minute and remove from heat. 3. Stir in peanut butter and vanilla until thoroughly blended. Add in quick oats and drop by teaspoonful onto waxed paper. Let cool until hardened. NOTE: To make shaped cookies, spray cookie cutters with non-stick cooking spray and set on waxed paper. Drop cookie mixture into cookie cutter, ensuring the mixture fills in all the gaps. Let cool until hardened and gently remove cookie cutter. Makes 3 dozen cookies.

OREGON PINOT NOIR SHORTBREAD STACKS
Recipe by Jim Seufert
Seufert Winery, Dayton
"As a show of thanks to each vineyard owner, Jim's mother makes jelly from their grapes for the holiday season. In celebration of our new release single-vineyard Pinot Noir from Horseleap Vineyard, she made extra for us to give to our friends and family. We are cooking with it during special events and have incorporated it into this fantastic cookie recipe. It can be made with a wide range of sizes and heights to create fun large towers and/or unique one-bite snacks." - Michelle Wasner, Seufert Winery director of marketing
WINE PAIRING: Seufert Winery 2009 Horseleap Single-Vineyard Pinot Noir
INGREDIENTS
2 sticks unsalted butter
¼ cup sugar
¼ cup brown sugar
1 teaspoon vanilla
1 teaspoon Oregon Pinot Noir Sea Salt from Seufert Winery
1¾ cup of all-purpose flour
1 container of Thelma Seufert's Horseleap Vineyard Pinot Noir Jelly (or any winegrape jelly)
DIRECTIONS
1. Preheat oven to 350°F. Blend together butter, sugar, brown sugar, vanilla and salt. Once blended, mix in the flour. 2. Section small pieces of dough in quarter size rounds an inch high. On every other cookie — or each 'top of the stack' — sprinkle a little sea salt and lightly press into the dough. 3. Bake for 10 to 15 minutes, or until firm and golden on the edges. (Note that these cookies are delicate and will continue cooking once removed from the oven.) Allow to cool completely. 4. Take a salted top or unsalted top cookie and put a dollop of jelly in the center; top with another cookie.

CHRISTMAS BISCOTTI
Recipe by Jim Delfino
Delfino Vineyards, Roseburg
"Every Christmas Eve, instead of milk and cookies, these biscotti are placed on the hearth at our house, along with a glass of red wine in anticipation of Santa's arrival." - Jim Delfino, Delfino Vineyards owner
WINE PAIRING: Delfino Vineyards 2009 Syrah
INGREDIENTS
5 eggs
2 cups sugar
4 cups flour
5 teaspoons baking powder
½ pound butter (2 cubes)
1 grated lemon zest
1 grated orange zest
1 teaspoon vanilla
1 ounce Anisette (liqueur)
1 ounce bourbon
1½ pounds toasted hazelnuts
DIRECTIONS
1. Preheat oven to 325°F. Toast hazelnuts in their shells on a cookie sheet for 30 minutes. Let cool. Crack open and set aside. 2. Cream butter and sugar together. Add eggs and mix well. Stir in lemon zest, orange zest, vanilla, Anisette and bourbon. Set aside. 3. In a separate bowl, sift together flour and baking powder. Gradually add flour mixture to butter mixture to make dough. Knead dough, adding more flour if necessary (dough should be soft but not sticky). 4. Add hazelnuts and form into 2-inch diameter logs long enough to fit on a cookie sheet. Bake logs for 20 minutes at 350°F. Dough will flatten slightly to resemble baguettes. Remove and let cool. Slice into ¾-inch pieces; then toast the biscotti on their sides on a cookie sheet at 325°F until golden brown. Do not overcook. Makes 4 dozen biscotti.

BISCOITES DE MEL (MOLASSES COOKIES)
Recipe submitted by Leslie Dressel
Coelho Winery, Amity
"This is a recipe from the "The New Portuguese Table" by David Leite. We served these cookies at our Portuguese "Lucky Rooster Supper," and they were fabulous — delicious with our Portuguese Port-style dessert wines." - Leslie Dressel, Coelho Winery tasting room manager
WINE PAIRING: Coelho Winery 2010 "Serenidade" Maréchal Foch Port-style Dessert Wine
INGREDIENTS
2½ cups all-purpose flour
1¾ teaspoons ground cinnamon
¼ teaspoon ground cloves
* pinch of ground fennel
½ teaspoon baking powder
½ teaspoon baking soda
½ teaspoon kosher salt
½ pound (2 sticks) unsalted butter, room temperature
1 cup sugar
1 large egg
¼ cup dark molasses
¾ cup walnut halves and/or whole blanched almonds
DIRECTIONS
1. Position rack in middle of oven, and preheat to 350°F. 2. Whisk together flour, cinnamon, cloves, fennel, baking powder, baking soda and salt in medium bowl. Set aside. 3. With a stand mixer or hand mixer in a large bowl, beat butter and sugar until light and fluffy, 5 to 7 minutes. Beat in egg until incorporated, and then pour in molasses. Add flour mixture and mix on low speed until just combined. 4. Roll generous tablespoons of dough between your palms, and place 1½ inches apart on parchment-lined baking sheet. Press a walnut half or almond into each one. Bake until browned around the edges and dry on top, about 15 minutes. Transfer to a wire rack to cool. Repeat with the rest of the dough. Makes 2 dozen cookies.

FENNEL COOKIES
Recipe by Caroline Hamina
Biggio Hamina Cellars, McMinnville
"The anise flavor is not overly sweet, and they are so good with a glass of Pinot Noir." - Caroline Hamina, Biggio Hamina Cellars co-owner/chef
WINE PAIRING: Biggio Hamina 2009 Zenith Pinot Noir
INGREDIENTS
1 cup unsalted butter, softened
1 cup sugar
3 cups all-purpose flour
2 large eggs
1 teaspoon baking powder
½ teaspoon salt
2 tablespoons fennel seeds, crushed
1 tablespoon vanilla extract
* turbinado sugar
DIRECTIONS
1. Beat butter at medium speed until creamy; gradually add sugar, beat until light and fluffy. Add eggs one at a time. 2. Combine flour, baking powder, salt, and add to butter; beat until just blended. Fold in fennel seeds and vanilla. 3. Divide dough into 2 portions; roll each portion in wax paper into a 12-inch log. Freeze 2 hours until firm. 4. Cut into ¼-inch slices sprinkle with the turbinado sugar. Bake at 350°F for 10 to 11 minutes. Cool on pan 1 minute, and then transfer to wire rack. Makes 8 dozen cookies.

GRAMMY QUIGLEY'S MOLASSES SPICE COOKIES
Recipe by Shellie Croft
Firesteed Cellars, Rickreall
"The very thought of my Grammy and the way her home smelled during the holidays make this season so beautiful for our family as I joyfully carry on where she left off. Few traditions made it from generation to generation in my family. Fortunately, this recipe, clove-studded pomanders, the craft of crocheting and busy, busy hands are the gifts that did survive and are now embraced by my daughter." - Shellie Croft, wife of Bryan Croft, Firesteed winemaker, and friend of the winery
WINE PAIRING: Firesteed 2008 Citation W3 Chardonnay
INGREDIENTS
¼ cup unsalted butter
¼ cup brown sugar
½ cup dark molasses (Grammy liked Black Strap)
3 cups whole wheat pastry flour
1 teaspoon baking soda
½ teaspoon salt
1 teaspoon ginger (I suggest fresh)
½ teaspoon cinnamon
¼ teaspoon cloves (I ground fresh)
½ cup wheat germ
½ cup water (approximate)
DIRECTIONS
1. Preheat oven to 350°F. Cream butter and sugar and beat in molasses. Sift dry ingredients; then stir in wheat germ. Mix dry ingredients into wet ingredients, and add enough water to create workable dough. 2. Roll dough out to ¼ inch or thinner. Use your favorite cookie cutter(s); then transfer to a greased baking sheet (or use a baking liner like a silicone mat). Bake for about 10 minutes. Note: For some of the cookies, I made a quick and simple icing using powdered sugar, vanilla bean and milk. Just make sure the cookies are completely cooled before you ice.