How Sweet They Are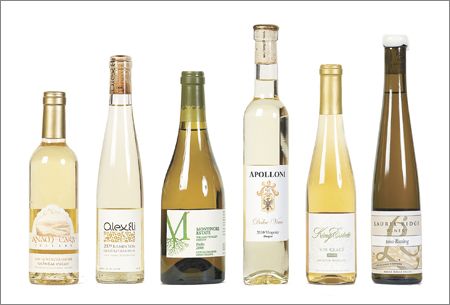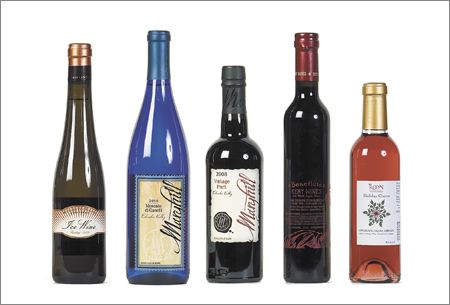 Oregon wineries offer a wide array of tantalizingly delicious, late harvest and fortified dessert wines. Types and styles range from piquantly semi-sweet to lushly sugar-laden. These 11 selections emerged from a much larger group marked by many close contenders. All are in 375-ml bottles unless otherwise indicated.
Anam Cara 2009 Nicholas Estate Gewürztraminer, Chehalem Mountains • $25 (66 cases)
Enticing aromas of orange blossom and wild rose lead to lush viscosity in the mouth. Pumpkin spice is complemented by pear and honey, while good acidity balances high residual sugar.
AlexEli 2009 Blumen Von Gewürztraminer, Willamette Valley • $20 (66 cases)
A cornucopia of fascinating flavors make for an intriguingly interesting and temptingly tasty sipper. Carnations, honey and buttered toast are the yin to the yang of white pepper with hints of herbs, spices and citrus.
Montinore Estate 2008 Frolic Gewürztraminer Sweet Reserve, Willamette Valley • $18/500 ml (173 cases)
The variety is Gewürztraminer, but the intent is obviously light-hearted. From the outset, a zesty, slightly spritzy sense sets the mood for a proprietary wine that's sweet, light and fun. Still, it's serious enough to display flavors of pineapple, pear and burnt, buttered toast. $18/500 ml (173 cases)
Apolloni Vineyard 2010 Dolce Vino Viognier, Oregon • $22 (298 cases)
Floral on the nose, full in the mouth, rich and ripe on the palate. Apple, nectarine and passion fruit define a flavor profile that finishes clean and lingering. Beautifully balanced throughout. $22 (298 cases)
King Estate 2010 Vin Glace Riesling, Oregon • $16 (970 cases)
Riesling grapes frozen post harvest have produced a 14.3-percent-residual-sugar gem whose mouthfeel is lush and viscous. Concentrated flavors of caramel, pineapple and honey can accompany cakes, tarts and pastries or simply enjoyed alone.
Laurel Ridge 2010 Riesling, Walla Walla Valley • $20 (125 cases)
Baked shortbread mingled with tangy notes of apple cider introduces a wine whose sweetness is robed in succulent stone fruit. Luscious apricot plays off piquant peach and lively acidity completes this palate-pleasing picture.
Willamette Valley Vineyards 2009 Riesling Ice Wine, Oregon • $25 (35 cases)
The painstaking process of handpicking and processing frozen grapes has paid off in a lovely wine that exhibits intriguing flavors of tart green apple, grass, pine needle and cinnamon. Sweetness verifies its dessert credentials, but liveliness says it has aperitif potential.
Maryhill Winery 2010 Moscato di Cannelli, Columbia Valley • $12/750 ml (746 cases)
This wine is driven by fresh, lively acidity and just enough sweetness to make it a gentle sipper. The Muscat grape applies its distinctive character lightly but definitively in the company of rose petals, ripe pear and a hint of minerality. The iridescent blue bottle is hard to miss.
Maryhill Winery 2008 Vintage Port, Columbia Valley • $25 (870 cases)
Port-style wine vinified according to Old World traditions reflects serious commitment to authenticity. The still youthful, impenetrably pigmented fortified wine expresses itself with intense flavors of bitter chocolate, sweet tobacco and pepper just beginning to reveal themselves. After 32 months in barrel, it will improve with that much time and more in bottle.
Remy 2008 Beneficio Barbera, Washington State • $19 (42 cases)
Beneficio, which means "benefit" in Italiano, reflects the winery's commitment to community and, in this case, to consumer. Aged for three years in barrel, black currant and pomegranate are complemented by vanilla, cinnamon and honey. The result is soft, supple, savory and satisfying.
Troon NV Holiday Cheers, Applegate Valley • $12 (200 cases)
Winemaker Herb Quady (son of dessert winemakers Andrew and Laurel Quady in California) shares his family recipe for this Yuletide treat. The blend is not identified nor does the light rose color pin it down, but an infusion of clove, cinnamon and citrus — our guess is orange peel — impart their tangy combination of components to the base wine in a most appealing manner.
The Oregon Wine Press tasting panel has selected the following wines based on overall quality and value within their respective categories. To the best of our knowledge, they are currently available in the retail marketplace. But a call to the winery or your favorite wine merchant will best determine where they may be purchased. • The wines have met the following criteria: Produced by an Oregon winery; retail price up to $25 per 750 ml bottle for all still table wines except Pinot Noir, which can be up to $30; $30 per 375 ml bottle for dessert and $35 for 750 ml sparkling wines. • Recommended wines were selected using a double-blind method and a 20-point ranking system for appearance, aroma, taste, balance and finish.