Make the Holidays Sparkle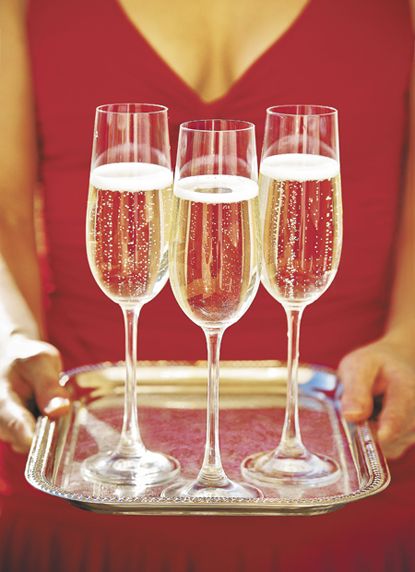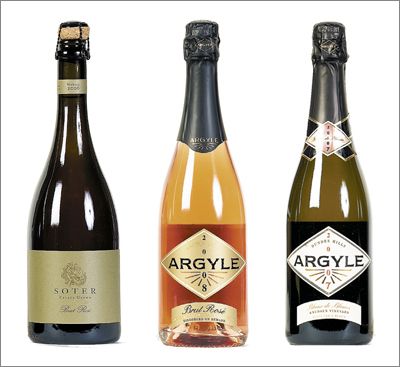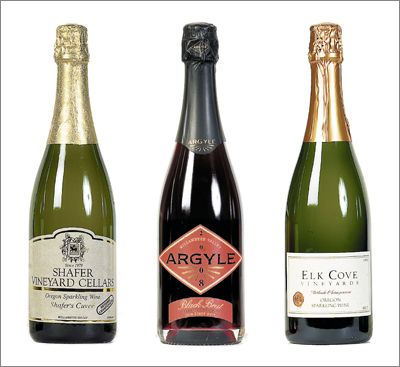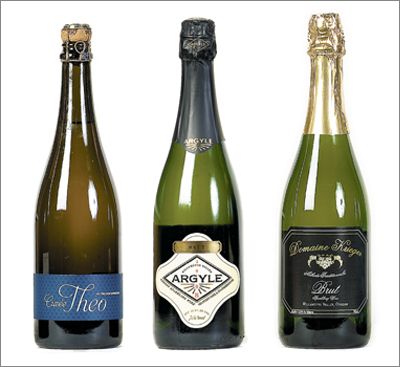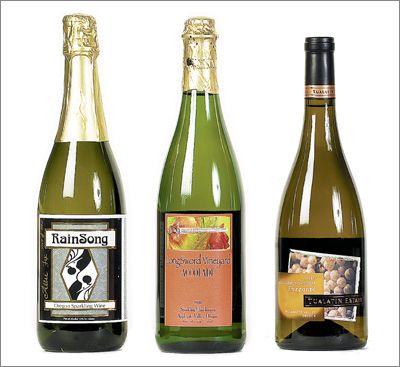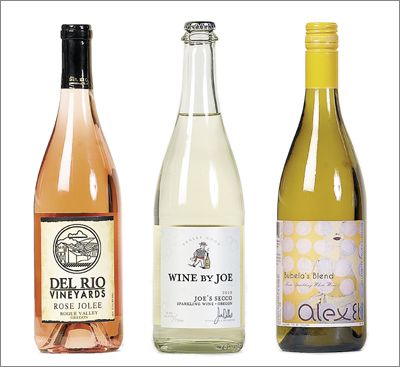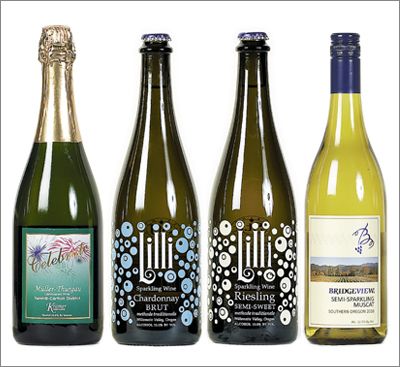 'Tis the season for Oregon-made bubbly
Story & Tasting Notes by Jennifer Cossey
As festivities of the holidays with family and friends are upon us, it is no surprise that our hearts and minds are set toward the wines of the sparkling variety. Soon the bubbles will begin to flow, as they are both celebratory and stress relieving.
Thankfully for us, Oregon has a climate ideally suited for sparkling wine production, in particular for the classic Champagne — that little region of France where bubbly gets its name — grapes of Pinot Noir and Chardonnay as well as Pinot Meunier.
A growing host of producers across the state are developing classic Champagne-style wines with rousing success and more are following in their footsteps every year. Some are even experimenting with other grape varieties such as Muscat, Pinot Gris, Riesling and Müller-Thurgau and using alternative production techniques.
More than 20 producers are now creating either sparkling or semi-sparkling wines from a variety of grapes from both the Blanc and Rosé families, with wines ranging from the extra dry to super sweet.
When the topic of bubbles comes up, producers like Argyle, Soter and Domaine Meriwether instantly come to mind, but other names such Laurel Ridge, Joe Dobbes, Capitello, Elk Cove and R. Stuart are also getting into the game.
Some wineries — St. Josef's, J. Albin, Kramer Vineyards — have released multiple products, while others are releasing their first sparkling wines just in time for the New Year's celebration — like King Estate's brand new Blanc de Gris and Blanc de Noir.
Other producers from the Gorge and across the Willamette Valley and into Southern Oregon are discovering ways to call sparkling wine their own in styles that are uniquely Oregonian, with a taste for every palate and a price for every budget.
In many places — Oregon included — the fruit used for sparkling wine is slightly under-ripe and harvested early for its lower sugar content and higher acids as winemakers are looking for a lower alcohol potential. Oregon is perfect for this type of farming, particularly since 2010 and 2011 have been cooler in temperature.
The problem with making sparkling, especially in the traditional Champagne method, is an investment in time and money. Most wineries don't have the capital, equipment or experience to make the move.
"The economics are difficult," said James Cahill, winemaker for Soter Vineyards. "Great wines require great grapes, and it is a mistake to think that underripe fruit farmed for quantity would be adequate for the process. Add to this the expense of the process and the fact that the wines take years before they are ready to go to market, and the investment adds up quickly."
This is why several winemakers look to others for guidance as well as equipment and expertise. At Laurel Ridge Winery, where they make traditional-method sparkling wines, they have extended a hand to others to help them make their products and are currently working with nine producers to do just that.
It would be remiss to discuss Oregon sparkling wine and not mention one of the great pioneers of the industry: Argyle's Rollin Soles.
Soles started producing sparkling wines under the Argyle name in 1987, and the business has found esteemed success in the quality of their wine, with an enormous market growth locally and nationally.
Soles, who moved to Oregon in the late '70s, came here not with the intention of making sparkling, but because he loved the Willamette Valley. When he observed the similarity in climate with Champagne, he began his pursuit.
"Our Pinot Noir and Chardonnay ripen when the leaves on the trees are changing color," Soles said. "There is just enough heat and sunlight in the growing season for these two cool-climate varieties."
Though he has been called "brilliant" and "visionary" by his industry peers, Soles is far from the only player in the game, yet undoubtedly, he was one of the first to change the rules of where sparkling can be made successfully.
"Rollin's story is powerful because he was here so early on," Cahill commented. "His commitment right from the start brought a very high level of technical expertise to a young industry."
Several approaches to production are experimented here in Oregon, such as Méthode Champenoise, Charmat, carbon dioxide injection and a technique that involves capturing bubbles at primary fermentation. The traditional, Méthode Champenoise, also known as Méthode Traditionnelle, is used in the production of Champagne, a Spanish sparkling wine known as Cava and other international sparklers.
Using this method, the base wine, or cuvée, is bottled, and several grams of yeast and sugar, called liqueur de triage, are added to instigate secondary fermentation. Once it is achieved and the happy bi-product of carbon dioxide gas (bubbles) are created, the bottles are turned ever so slightly to reposition the sediment in a process called riddling. This movement is geared towards re-depositing the lees into the neck of the bottle for their eventual removal.
Once done in wooden A-frame stands with holes just big enough to fit the neck of a bottle, called riddling racks, this time-consuming method is now often done by a machine called a gyropalette; it riddles the bottles at prescribed intervals.
Some producers like Soter, Laurel Ridge and Domaine Meriwether still perform riddling by hand; others, like Soles, use the gyropalette.
"It used to take me three weeks to turn the wine. The machine does it in five days. The bottles don't know the difference," Soles said.
Once the lees have moved into the neck of the bottle, the wine is left to age, anywhere from six months to 15 or more years, depending on the complexity the winemaker is seeking and the financial capabilities of the winery — most cannot afford to leave their profits sitting in bottles for too long.
After the wine has aged, the neck is frozen, and the cap is removed with pressure from inside the bottle forcing out the lees in a process called disgorging. This procedure aids in clarifying the wine. At this point, varying amounts of sugar are added, called dosage, mostly to balance out acidity rather than to create a sweet wine. The bottle is then corked to maintain the carbon dioxide.
Producers like Argyle, St. Josef's, Shafer, King Estate, RainSong, Kramer, J. Albin, Laurel Ridge and Soter make their wine in this traditional and time-honored style.
The Charmat method, also called Metodo Italiano, is a slightly more cost-efficient method. In this process, wine goes through secondary fermentation in large stainless steel tanks and is bottled under pressure. Small long-lasting bubbles are produced, like those found in the Italian sparkling wine Prosecco. Joe Dobbes, who entered the sparkling arena with his 2010 vintage, uses this technique for his Secco to maintain a higher quality and lower price.
"It was a natural fit for the Wine by Joe lineup and a number of people over the years have suggested we need to make a sparkling wine," Dobbes said. Other producers like St. Josef's also use this method. The East Valley winery calls their bubbly Lilli.
Another technique for crafting sparkling wine is carbonation, which is the injection of carbon dioxide (like in soda pop production) directly into the wine. This action produces large, short-lived bubbles and is the least expensive and least time-consuming method. Producers like AlexEli and Kramer Vineyards use this approach to create their fun and easy-drinking bubbles.
Finally, a technique sometimes called Frizzanté, in which carbonation is captured at the end of a cooler-than-normal primary fermentation and bottled at low temperatures while carbon dioxide is still in the wine, creating a natural, semi-sparkling effervescence. Many Oregon producers employ this method, including LongSword Vineyards, Tualatin Estate and Del Rio Vineyards.
"[This method] allows us to pick the fruit much riper than is usual for sparkling wines, hence a difference in flavors," said Matt Sorensen, LongSword's winemaker.
Not only is sparkling wine the classic celebration beverage, it is now taking on the role of an everyday, every occasion drink. The variety of styles and prices offer a bevy of options and their bright, racing acidity makes them excellent pairings with a wide array of foods such as hard and soft cheeses, oysters, lobster and steak. For the slightly sweeter styles, try pairing with fare of the spicier variety such as Thai food, and for those who come across a bit drier bottle, pair with hard cheeses, charcuterie or a chicken dish.
As more and more producers dip their toes into sparkling production, you can be certain that over the next five to 10 years, the market will see an influx of both great and not-so-great wines; but as producers learn more about the processes and what works in Oregon, the quality and consistency will increase.
Thank you, Oregon, for your climate and your soil and for making sparkling wines possible for our empty glasses; and thank you, winemakers for constructing them with such beauty, finesse, charm and personality to capture our attention and hearts. A toast to you, the stress relief is much appreciated.
TASTING NOTES
Soter Vineyards 2006 Estate Brut Rosé, Willamette Valley ($58)
This luscious and seductive pink bubbly (60% Pinot Noir, 40% Chardonnay) exudes aromas of cranberries, young white cherries, strawberries and shortbread, with hints of rhubarb and a slight nuttiness reminiscent of toasted hazelnuts. Rich with depth and complexity, the mouthfeel and finish won't let you soon forget it.
Argyle 2008 Brut Rosé, Willamette Valley ($50)
The blend (50% Pinot Meunier, 40% Pinot Noir and 10% Chardonnay) gives this elegant pink sparkler incredible depth and dimension. Notes of strawberry, white cherry and orange blossom along with a touch of vanilla and fresh herbs give way to a long, pleasurable finish.
Argyle 2007 Blanc de Blanc, Willamette Valley ($50)
This tantalizing bubbly (100% Chardonnay from Knudsen Vineyard) reveals baked yellow apples with notes of white flowers and honeysuckle blossoms coating the mouth with a slight lemon meringue viscosity.
Shafer Vineyard Cellars NV Shafer's Cuveé, Willamette Valley ($38)
Notes of fresh baked bread, with a touch of Pink Lady apple, apricot, white peach, honey, sweet tree sap, hay, cardamom and white flowers highlight this well-balanced wine that is slightly sweet on the palate with a refreshing acidity.
Argyle 2008 Black Brut, Willamette Valley ($30)
Made of Pinot Noir, this sparkling spends three to four weeks on its skins, leaving it with a rich red color highlighted by generous bubbles. Notes of black cherry, cassis, plum and dark chocolate are highlighted by an elegant balance of tannin and acid.
Elk Cove Vineyards 1999 Brut, Oregon ($30)
This classic sparkler (50% Pinot Noir, 20% Chardonnay) has great mousse (foam) and notes of apple, Bosc pear, lemon and yellow rose, with a little fresh toasted bread on the palate, giving it a luscious mouthfeel and elegant finish.
Cuveé Theo NV, Oregon ($28)
This traditional bubbly (80% Pinot Noir, 20% Chardonnay) is beautifully woven with notes of Bosc pear, quince, lemon, chamomile tea, white pepper, yellow flowers and brioche. A soft, creamy mouthfeel balances friendly acids and an enduring textured finish.
Argyle 2008 Brut, Willamette Valley ($27)
A classic brut (63% Pinot Noir, 37% Chardonnay), this wine has tasty notes of apple, Anjou pear, lemon, buttered toast and peanut skin. Creamy and bright on the palate with a supple, long finish.
Kramer Vineyards NV Domaine Krieger Brut, Willamette Valley ($24)
A blend of Chardonnay and Pinot Noir, this traditional method sparkler is characterized by hints of Granny Smith apple, pear, lemon pith, slightly yeasty brioche with approachable but noticeable acids.
RainSong Vineyard NV Sparkling Wine, Oregon ($23)
With a beautiful mousse, the wine (Pinot Noir, Chardonnay and Pinot Meunier) comes through with touches of fresh baked yellow apple, underripe nectarine, lemon zest, white flowers and herbed focaccia bread.
LongSword Vineyard 2010 Accolade, Applegate Valley ($20)
This off-dry semi-sparkling Chardonnay was made first in 2003. Showing notes of apple juice, lemon, red pear, quince, tuber roses and a slight savory spice.
Tualatin Estate 2010 Frizzanté, Willamette Valley ($19)
Inspired by semi-sweet Italian Moscato d'Asti, Willamette Valley Vineyards' second label's semi-sparkling Muscat has an approachable mouthfeel with notes of flower nectar, white roses, peach, apricot, candied lemon and sweet tea.
Del Rio Vineyards NV Rose Jolee, Rouge Valley ($15)
Muscat and Riesling are co-fermented with a little Syrah and Cabernet Franc for added color and depth of flavor. Slightly sweet (6% residual sugar), this low-alcohol, (9.3%) semi-sparkling wine refreshes the palate with notes of rose petals, pomegranate and old-fashioned strawberry candy.
Wine By Joe 2010 Joe's Secco, Oregon ($16)
A blend of Pinot Gris, Pinot Blanc and Muscat and inspired by the Italian sparkling wine, Prosecco, Joe's Secco tastes of green and yellow apple, chamomile, slight honey and toasted almonds with hints of lemon verbena. Dry and tart on the palate with more apple and lemon in the finish.
AlexEli NV Bubela's Blend, Semi-Sparkling White Wine, Willamette Valley ($15)
This bubbly (90% Chardonnay with a balance of Riesling and Müller-Thurgau) gives a slight effervescent tickle to the tongue with succulent notes of applesauce, poached pears, chamomile and honeysuckle.
Kramer Vineyards NV Celebrate, Yamhill-Carlton ($15)
A carbonated Müller-Thurgau, this wine expresses white peach mingling with quince and baked yellow apple and is highlighted by essences of yellow flowers and dried herbs.
St. Josef's Wine Cellar NV Lilli Brut Chardonnay, Willamette Valley ($15)
Named after the founding mother of the winery, the Lilli sparkling Chardonnay has notes of Bartlett pear, apple, lemon peel, carnation, chamomile and raw almond with a gentle creaminess on the palate.
St. Josef's Wine Cellar NV Lilli Semi-Sweet Riesling, Willamette Valley ($15)
Slight peach and nectarine mingle with notes of lemon bar, straw with a touch of spicy apple cider and honeysuckle.
Bridgeview 2010 Semi-Sparkling Muscat, Southern Oregon ($12)
A pretty floral nose with classic Muscat traits of rose petal, orange zest and honeysuckle blossom with traces of peach, nectarine and lemon zest.
NOT PICTURED
King Estate 2008 Blanc de Gris, Oregon ($30) Expressive fruit notes of peach, lemon zest and Asian pear along with toasted nuts and peanut skins, this soon-to-be-released sparkling Pinot Gris is easy to drink and very enjoyable. King Estate 2008 Blanc de Noir, Oregon ($30) Yellow plum, golden raisin, Golden Delicious apple and almond with touches of tannin to balance out the acidity create a lasting finish.
A SPARKLING VOCABULARY
Crown Cap: Also known as crown cork, it is used commonly for beer and soda bottles but is also used in the production of sparkling wine prior to corking.
Disgorge: The removal of dead yeast cells after riddling from the neck of a bottle in classic sparkling wine production by freezing the neck and releasing the cap, causing the pressure inside the bottle to forcibly remove the sediment.
Dosage: A mixture of sugar and wine that is added to the bottle following disgorgement and prior to final corking, replacing wine that was lost in disgorgement and adding a small but varying amount (depending on the intended style of the wine) of residual sugar to the wine.
Gyropalette: An automated mechanical piece of equipment used in sparkling wine production, replacing riddling racks for the removal of yeast sediment left in the bottle after secondary fermentation. See above photo.
Mousse: The foam that forms on the surface of wine when it is first poured.
Lees: The deposit of dead yeast cells, sugar remnants and grape byproducts such as skins and less often stems. During secondary fermentation, the lees usually consist exclusively of dead yeast cells and contribute to yeasty aromas and tastes.
Liqueur de Tirage: A blend of yeast and sugar added to wine after primary fermentation and blending to instigate secondary fermentation in the bottle.
Riddling: Invented by Madame Nicole-Barbe Clicquot (of the famous bright yellow-labeled Champagne, Veuve Clicquot), riddling is used to clarify a wine and redeposit the lees into the neck of the bottle for later removal. Bottles are placed at a 45° angle, necks down, in a specially built "A-frame" riddling rack, also called a pupitre. A worker grabs the bottom of each bottle, giving it a small shake, an abrupt back-and-forth twist, and while slightly increasing the tilt, drops it back in the rack. Riddling recurs every one to three days over a period of several weeks.