Calendar Home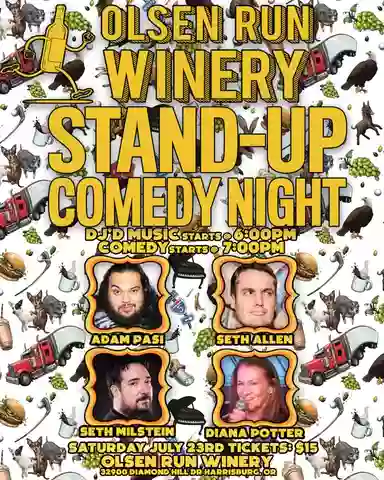 Stand-up Comedy Show at Olsen Run Winery!
Saturday August 13th! Amazing stand-up comedy show at Olsen Run Winery!
We have comedians you've seen on Comedy Central, Sirius XM, Fox and FX! It's going to be an incredible evening of top notch comedy!
Tickets are $15.
Click link to purchase:
https://www.eventbrite.com/.../stand-up-comedy-tickets...
DJ'd music starts at 6pm with the comedy show starting at 7pm.
18+ only for this one folks. Some of the comics will be talking about stuff you're not ready to explain to your kids 😂
Food truck kitchen open until 8pm.
Olsen Run beer and wine available all night.
Plenty of parking at venue.
Pets are welcome!
No outside food or drink.
We are located off I5 at Exit 209 in Harrisburg just outside of Eugene.
Fee: $15