Calendar Home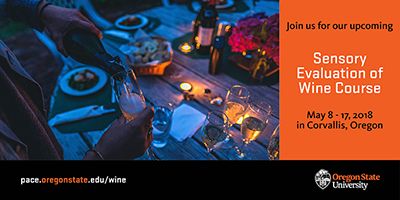 Sensory Evaluation of Wine
Designed for novice and advanced wine connoisseurs, as well as industry professionals, this course will give you insights into advanced aspects of sensory evaluation of wine.

This intensive four-day workshop covers:

* An in-depth introduction to wine-making.
* How to evaluate taste, smell and mouthfeel.
* How to effectively evaluate wine and communicate that experience to others.

Join Oregon State's internationally renowned wine expert Dr. Elizabeth Tomasino and you'll gain everything you need to thoroughly evaluate and appreciate a variety of wines like never before.
Fee: $299