Calendar Home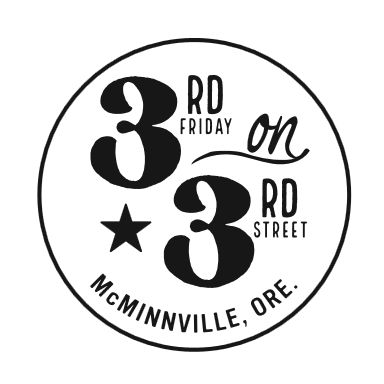 Location:
3rd Street Between Baker and Galloway
Map:
310 NE Evans St, McMinnville, OR 97128
Email:
artwinewalk@gmail.com
Website:
http://www.3rdfridayon3rd.com
All Dates:

Apr 20, 2018 4:00 pm - 8:00 pm
May 18, 2018 4:00 pm - 8:00 pm
Jun 15, 2018 4:00 pm - 8:00 pm
Jul 20, 2018 4:00 pm - 8:00 pm
Aug 17, 2018 4:00 pm - 8:00 pm
Sep 21, 2018 4:00 pm - 8:00 pm
Oct 19, 2018 4:00 pm - 8:00 pm
Nov 16, 2018 4:00 pm - 8:00 pm
Dec 21, 2018 4:00 pm - 8:00 pm
Jan 18, 2019 4:00 pm - 8:00 pm
Feb 15, 2019 4:00 pm - 8:00 pm
Mar 15, 2019 4:00 pm - 8:00 pm
Apr 19, 2019 4:00 pm - 8:00 pm
May 17, 2019 4:00 pm - 8:00 pm

3rd Friday on 3rd Street
3rd on 3rd will offer the unique opportunity to taste wine, beer, mead, and cider, from more than thirty local beverage producers on a six block stretch all while viewing some of the best art that our county has to offer, and meandering from one carefully curated local business to another.
Participants will start by going by the admission booth (The Paragon Room at Hotel Oregon), having their i.d. checked, and paying $10. That fee will get them five taste tickets (more available at $1 each), a reusable wine bag, a stem-less tasting glass, and a map of all the participating businesses and their beverage producing partners. 100% of the proceeds of these sales will go to our non-profits. The first of these will be Art Conspiracy, a wonderful group that provides an affordable creative arts camp for school aged kids in Yamhill County (full scholarships available.)
We look forward to seeing you downtown 4-8 p.m. at 3rd Friday on 3rd Street every month.
Fee: $10