Wedge & Wine
Toasting Oregon cheese with expert pairings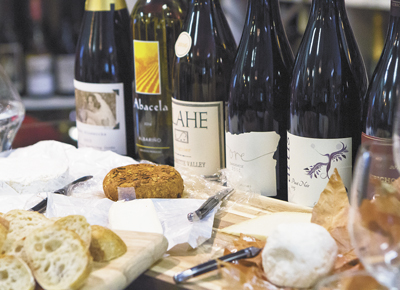 As Oregon's once-nascent cheese scene matures into adolescence, the state's quality, artistry and evolving curd culture remains remarkable. In the 12 years since the March 2006 founding of the Oregon Cheese Guild, producers have come and gone, but for those who've stayed, some have advanced into local and regional staples while others have earned national and international acclaim.
What's clear as the state's cheesemakers converge on the historic Rogue Creamery in Central Point for the 14th Annual Oregon Cheese Festival, March 17–18, (see listing in OWP Calendar) is how the appetite for local cheese is growing along with the creativity and consistent quality.
In advance of the two-day festival, let's take a look at some exceptional Oregon cheeses paired with an array of wines from around the state.
Though I regularly write about and photograph fine cheese, rarely do I have the opportunity to appreciate a selection of beautiful cheeses alongside an expert-guided tasting of notable wines. What a treat to sit down with local wine expert Erin Palmer, owner/instructor at Portland Wine Cellar.
This little gem of a meeting place boasts numerous carefully selected wines, many from the Pacific Northwest, from a knowledgeable staff known for finding the perfect selection to pair with your menu. The exterior in a suburban shopping complex belies the lovely space for locals to mingle, enjoying a glass of wine or beer and, on select nights, small plates created by their in-house chef in the well-appointed catering kitchen.
Considering the adage, what grows together goes together, we embarked on a rather epic pairing of 10 Oregon cheeses, from the widely available to the season-specific jewels. To pair, Erin curated seven bottles in a variety of styles from the Willamette Valley, Southern Oregon and Eastern Oregon.
As we tasted, truly unique combinations emerged. Some proved sublime; others fell flat. The unexpected, unconventional pairings that worked were as illuminating as the howling incongruities. More often than not, our match-making instincts held true, with a few surprises.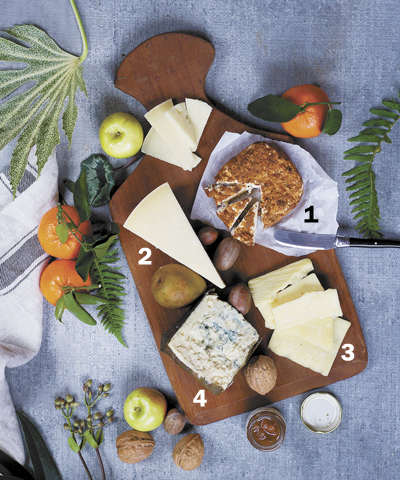 1) Mt. Chanterelle Chèvre Round comes from a farmstead herd of Alpine goats grazing at Ferns' Edge Goat Dairy in Lowell, near Dexter Reservoir. This cheese — and its twin, Mt. Chanterelle Pyramid — expresses the local landscape in spring and fall, with bright, tangy notes and a crust of dried, wild chanterelles offering an earthy flavor and toothsome texture. Crafted by Shari Reyna and her partner, Fred Warner, from the milk of the herd she's carefully developed over 35 years, this chèvre is an unforgettable Oregon treasure.
Wine Pairing: This cheese was a natural with Ore Rogue Valley Sangiovese. The pairing captured soft, smoky notes, opening up the fruit on the wine and complementing the savory mushroom. Superb with Woven Wineworks Sparkling Cuvèe, as well.
2) Brindisi Fontina, an aged, natural-rind cheese, has been made for over a decade by the team at Willamette Valley Cheese Company, north of Salem. It remains a stalwart in Oregon-focused tastings and pairings owing to its versatility and easy-eating qualities. Named for the cheesemaker's mother, this Fontina, drier than traditional Italian Fontina Val d'Aosta, features a pleasant earthiness from extended aging in a cave-like environment on the farm. The rich, buttery paste has a pleasant dose of salt boosting the caramel-like notes, making it an excellent partner with a number of the wines.
Wine Pairing: Our favorite accompaniment to this cheese was also the Ore Sangiovese, a truly versatile wine. We also enjoyed it with Ram Cellars Tempranillo. Bold flavors of wine and cheese matched perfectly.
3) Tillamook Two-Year Aged White Cheddar, a cheese that graces most Oregon refrigerators on a regular basis, deserves a spot on this plate of Oregon icons. Do not overlook this savory, rich and consistently tasty cheddar as a workhorse on the cheese platter. It might be easy for the nay-sayer to bypass this popular cheese, but tasting it alongside a range of wine and realizing the versatility as a pairing partner will convince you. Both the black and red labels are selected from the finest batches, then held for extra-long aging, which refines and concentrates the flavor. Accessible, affordable and memorable.
Wine Pairing: The cozy roundness and consistency of the flavor profile of this dynamo tastes approachable with whatever wine you've got, from fruity whites to elegant reds.
4) Rogue River Blue from Rogue Creamery in Central Point, a short-season siren to be enjoyed in its ethereal moment of seasonality, stands as the most-decorated of Oregon cheeses, winning top honors in national and international competitions over the last 14 years. Made since the 1950s, the wheels are produced in early- to mid-fall, with rich, late-season milk from the creamery's herd of Brown Swiss cows. Toward the end of aging, the wheels, wrapped in Rogue Valley Syrah leaves and macerated in local pear brandy, impart the final, magical layer of flavor.
Wine Pairing: Yet again, Ore Sangiovese was up to the task. Rogue Valley grapes and Rogue Valley cheese: a superb idea. Also a wonderful match, Illahe Viognier, a white that goes tropical with this cheese.
Brand New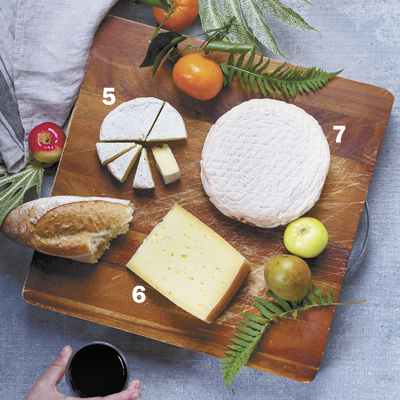 5) Named for a ghost town in the Little Applegate Valley, Buncom in Bloom is a small Camembert-style cheese made by Johnny Steiger and husband Tyson Fehrman at By George Farm and micro-creamery, using milk from their herd of grass-fed Jersey cows. After interning on a goat farm in Southern Oregon in 2009, the couple leased an 85-acre farm, raised cows and made a lot of cheese in their kitchen before building a creamery in 2015. Though relatively new on the scene, they began making noteworthy cheese immediately.
Wine Pairing: The perfect pairing was Woven White Sparkling Cuvèe, an elegant effervescent blend of Chardonnay, Riesling and Pinot Gris from Banks. The rich, buttery cheese unveiled lovely stone fruit notes in the wine.
6) Bergkäse, a traditional Swiss Alpine-style cheese made by Helvetia Creamery, has the distinction of being historic, commercially produced here until 1937, reimagined by the state's newest cheesemakers: Jackie and Dave Grossen, the sixth generation to farm this land. After the cheese ceased production, the recipe was lost to antiquity. Several years ago, the Grossens returned to Berner Oberland, their ancestral home in Switzerland, to learn about the cheese they now produce with milk from their small herd of Brown Swiss cows. Firm and aged, the bold cheese has a rind washed with hard cider.
Wine Pairing: A solid partner with many selections, the cheese paired best with Artem 2015 Artis Pinot Noir. The combination, a duet of flavors, tasted clean and balanced with a lengthy unfolding.
7) Maia, a soft-ripened and slightly funky cheese is one among a new line of stunning cow's milk cheeses from Sarah Marcus of Briar Rose Creamery. Since 2010, Marcus and her small team have crafted a range of memorable, award-winning goat milk cheeses inspired by her food-focused family and extensive cheese training in California, England and North Carolina. Her latest offerings, introduced in 2016, are made with cow's milk from a family dairy near Woodburn. Marcus works her magic, coaxing amazing nuances from the cloud-like paste. The oozy layer just beneath the rind of the wheel is absolute perfection.
Wine Pairing: We loved the Artis Pinot Noir, an equal partnership with both standing up but never overpowering the other. Abacela Albariño is also a bright, happy pairing with a long, lingering finish.
Showstoppers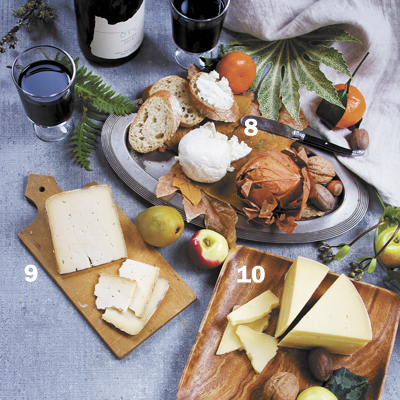 8) After all these years, Up In Smoke still remains one of my favorite cheeses for its wow factor, its natural beauty and unexpected yet not over-the-top smokiness. Made by mother-daughter team Pat and Astraea Morford of Rivers Edge Chèvre on their farmstead operation in the Coast Range near Newport. Their cheeses are among the finest examples of edible art in the country; several feature leaves and fern fronds gathered from the farm. This fresh chèvre is wrapped in maple leaves that have been smoked and spritzed with bourbon. Tasting of mountains and fall, Up in Smoke belongs in the center of the plate.
Wine Pairing: A bold cheese like this calls for a bold wine, such as Aubichon Cellars 2015 Grenache Reserve. The wine takes the smoke, doesn't fight it, but goes to work beneath it. Sublime.
9) True to its name, Tomette Rustique is a rustic cheese reminiscent of the Savoie, the French Alpine region where cheesemaker Carine Goldin of Goldin Artisan Goat Cheese grew up. After years of smuggling wheels inside her luggage and a fortuitous move to Oregon from the high desert of New Mexico, suddenly, her dream became a reality. She attended Oregon State cheesemaking classes in the early 2000s, and her farm in Mollalla was licensed in 2009. Since then, her range of cheeses has been honored with multiple Good Food Awards. The tomme-style cheese's earthy, savory flavors contain nuances of nuts and brown butter with a satisfying finish.
Wine Pairing: It's no surprise how a cheese inspired by the Savoie would pair well with Pinot Noir. The Grenache proved another fine match.
10) No star Oregon cheese plate would be complete without Clothbound Cheddar from Face Rock Creamery, produced in the coastal town of Bandon. This traditional, drum-shaped cheddar is made from the milk of cows grazing along the Coquille River, an area with a storied dairy history. These special cheeses are wrapped in strips of muslin coated in house-made butter made from the same milk. This traditional technique produces a breathable rind, allowing a slow and careful maturation, concentration of flavors and crumbly, flaky texture.
Wine Pairing: The earthiness of the cheese was a bit of a task with the more reserved wines, but the Ram Cellars Tempranillo rose to the top yet again. A pleasing combo revealing eucalyptus notes in the wily red.