Historic Harvest
Vintage delivers exceptional fruit quality
Report by Oregon Wine Board
Once again, the Oregon wine industry experienced another extraordinary, nearly ideal growing season. The 2015 vintage began with warm weather conditions in the winter that continued through spring and summer. Yet, light scattered showers in late August and a return to normalcy in September gave a break to what was an intense growing season. The result was concentrated, balanced fruit throughout the state.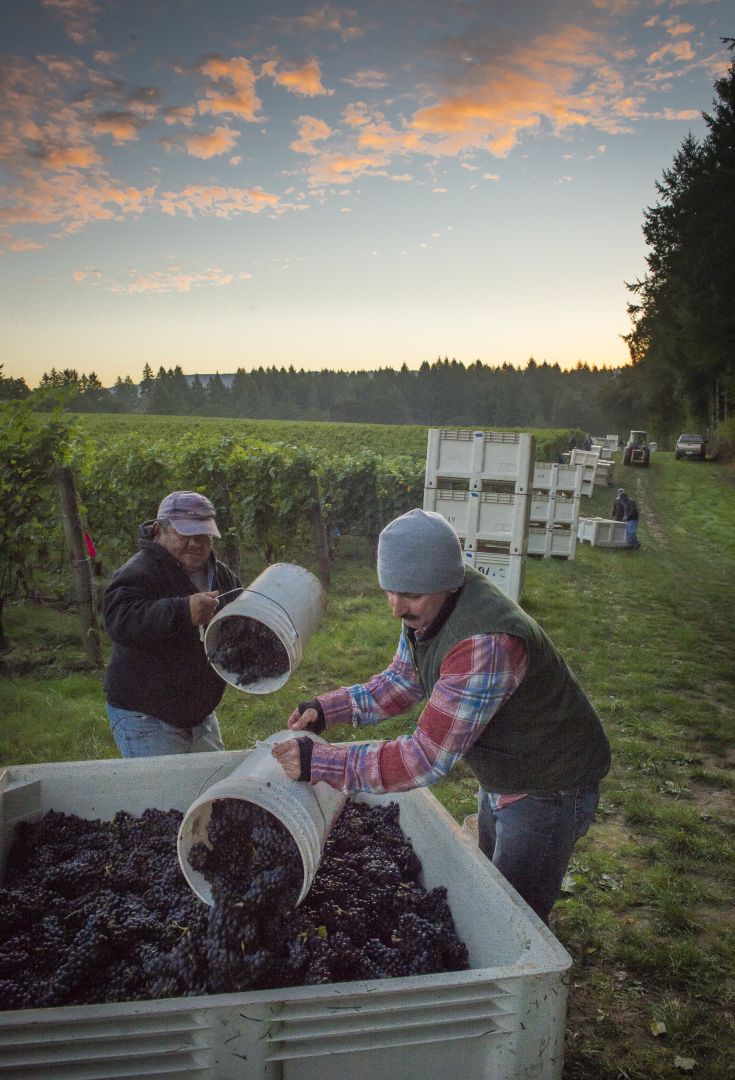 The 2015 vintage started with bud break in March, two to three weeks early depending on the region and vineyard site. The early trend continued with higher than normal temperatures through spring, which created exceptional conditions for bloom, flower and fruit set. As spring gave way to summer, conditions continued to be warmer than usual and, consequently, grape clusters were far larger than typical. Most growers chose to slow ripening by leaving extra fruit on the vine. As September gave way to standard weather patterns, the decision to hang extra fruit allowed it to mature more gradually and develop extraordinary flavors that harmoniously balanced against acids.
Throughout the state, harvest started around Aug. 26, making 2015 one of the earliest harvests on record. The growing conditions from bud break through harvest paved the way for virtually pristine fruit with minimal signs of disease and no fear of pest or bird effects. Some sites, however, did experience sunburnt grapes. Wineries in the Willamette Valley were finished with harvest by the end of September to early-October, while wineries in other regions carried on through mid-October based on late-ripening varieties. Most wineries reported higher-than-normal yields resulting from decisions made in the vineyard and larger-than-normal clusters. However, a deep freeze in November 2014 impacted some regions and sites, resulting in some bud and vine damage and, therefore, a smaller crop.
Columbia Gorge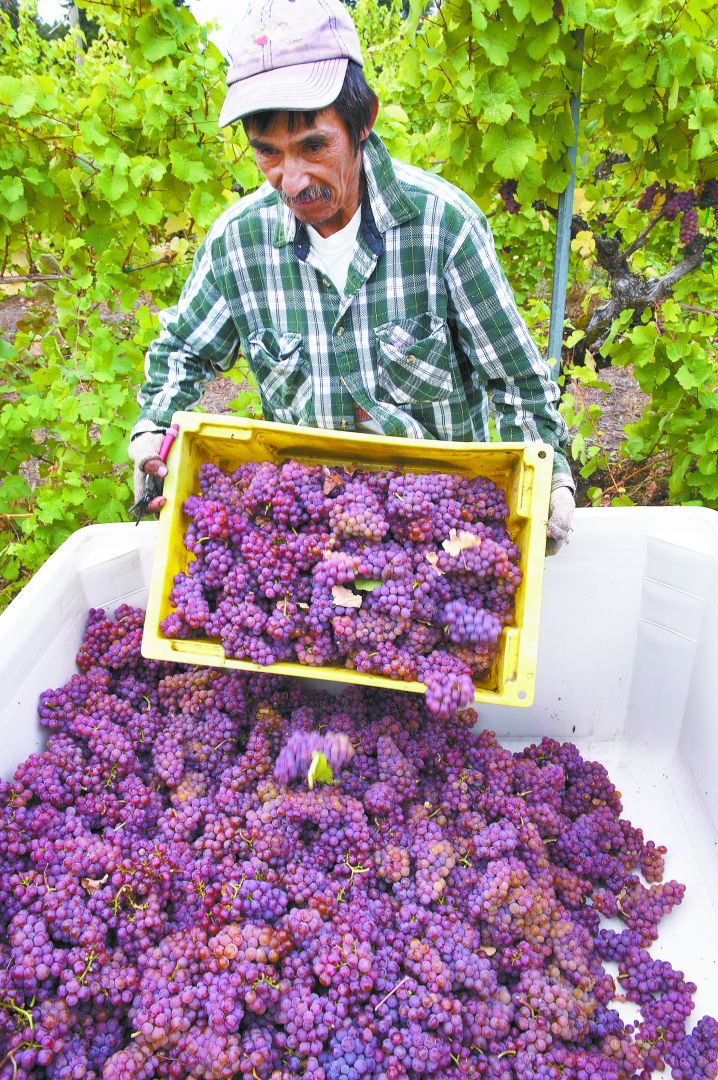 "The 2015 season was early, hot and dry. "Early" at bud break became even earlier as the growing season progressed. Yet in spite of the unbelievable growing weather spring through harvest, the biggest challenge in the Columbia Gorge and Valley was the killing cold we experienced in November 2014. On plants that survived to harvest, all components of yield were affected: bunch count, berry number and berry size were reduced in many varieties and at most sites. On the crush pad fruit was unapologetically delicious. Harvest began on Aug. 26 and the latest variety on the latest site was brought in on Oct. 9, though everything else — of the twenty-some varieties we grow — was in by Sept. 26."
Brian McCormick, Memaloose Winery / Idiot's Grace Vineyard
"Weather this vintage was extreme. The warm spring created a very early season that we sensed was three to four weeks earlier than normal. In the end, at harvest it turned out to be only one week early for some varietals (late ones) and three weeks early for others (early ones). But, the effect of last fall's freeze caused some bud death and wood damage. Any vineyard that was affected by this freeze, including ours, most likely experienced reduced yields if they had any crop at all. That said, we are very pleased with this year's quality. Fortunately, everything concentrated including the acids so the chemistries remained conducive for making great wines."
Steven Thompson, Analemma Wines
Southern Oregon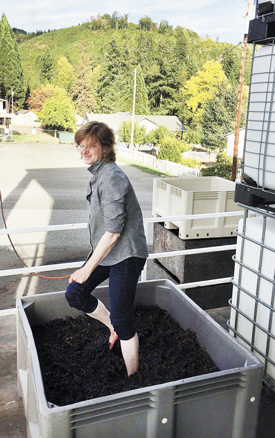 "It was nothing short of a spectacular year down here in the Umpqua Valley. A warm and dry winter led to very early bud break and almost ideal conditions through bloom. It basically stayed warm and very dry throughout the entire season, resulting in anywhere from three to four weeks ahead of normal the whole time. The result was excellent grapes, perhaps the best I have seen top to bottom."
Pat Spangler, Spangler Vineyards
"In these last two warmer years, the harvest window has gotten shorter and more intense. In 2015, we started on Sept. 8 with Gamay from the Roseburg area and ended on Oct. 6 with Tempranillo from Abacela. Up until 2012, we hardly ever saw any fruit in until Oct. 1. Fruit was very clean overall. Quality looks very good. Despite the warmer year, perhaps because of the higher crops and cooler September nights, sugars have not been over the top."
Terry Brandborg, Brandborg Winery & Vineyard
Eastern Oregon
"This was an extremely hot, dry year with many new records set in the Columbia Basin, and the Walla Walla Valley was no exception. Early spring was very warm, moving bud break up a couple of weeks over average. Mid-spring temperatures moderated slightly, but not enough to slow down growth. From early summer on through harvest, temperatures were above normal. Harvest started for us with early whites coming in the last week of August, followed by Merlot the first week of September, about 10 days ahead of an early normal vintage. There was some loss in the Walla Walla Valley at low elevations from last November's severe cold event. Mid- to high-elevation sites experienced little loss of crop level. At Seven Hills, we crushed our last fruit on Oct. 19. I expect the vintage to be concentrated and accentuating ripe fruit characters. I see strong color and tannin, which will form the basis of aging well in these wines. Acids are softer, leading to a plush palate."
Casey McClellan, Seven Hills Winery
Willamette Valley
"All in all, this has been one of those all too rare vintages resulting in high yields and exceptional quality. We knew it would be a different kind of year when we had bud break in March and bloom by the end of May, a full three-and-a-half weeks ahead of the norm. When we did our vineyard survey and crop forecasting, we were shocked at the size of the clusters at that stage of growth. We had near perfect weather for the balance of the season, and we were able to hang the fruit until it was as close to perfect as possible. Overall, the quality has been very good to excellent, with plenty of sugar and enough acid to balance it and, thankfully, lower-than-average pH levels."
Rudy Marchesi, Montinore Winery
"To sum it up — a very early, hot growing season but a thankfully cooler final ripening. We had pristinely clean fruit, bountiful yields, moderate to high alcohols, lower acids and no rain — a twin to 2014 in many ways. Despite being slightly different from 2014 in early growing season timing, the final effect was the same with big heat, big crop and big expectations. We see the same color, beautiful fruit, concentration and suppleness as we saw in 2014. Whites again look fully ripe, texturally rich and yet balanced. We just had twins, one year apart!"
Harry Peterson-Nedry, Chehalem Wines
"The 2015 vintage was another vintage of high yields and high quality, the second in a row. When I came to Oregon in 2001, two to two-and-a-half tons per acre in the Willamette Valley was the rule. Now, we are seeing yields of three to four tons per acre. We started harvest on Sept. 8, the earliest in our 36 years, and finished on Oct. 20. Overall, the 2015 vintage is another great vintage all across Oregon. Red wines are very dark and concentrated, far away from what was typical when I came for the first time to Oregon."
J.P. Valot, Silvan Ridge and Elizabeth Chambers Cellar