Calendar Home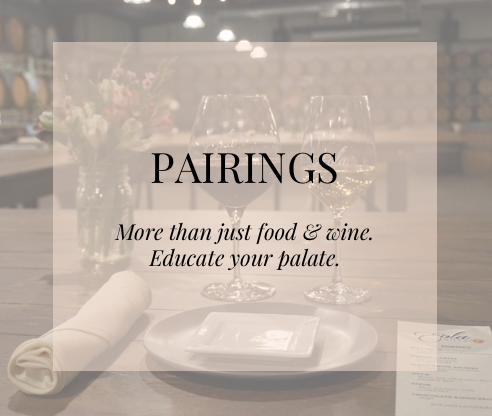 Location:
Eola Hills Wine Cellars
Map:
501 S. Pacific Hwy 99W, Rickreall, OR 97371
Phone:
 5036232405
Email:
paige@eolahillswinery.com
Website:
http://eolahillswinery.com
All Dates:

Feb 11, 2018 3:00 pm - 4:30 pm
Feb 18, 2018 3:00 pm - 4:30 pm
Feb 25, 2018 3:00 pm - 4:30 pm
Mar 4, 2018 3:00 pm - 4:30 pm
Mar 11, 2018 4:00 pm - 5:30 pm
Mar 18, 2018 3:00 pm - 4:30 pm
Mar 25, 2018 3:00 pm - 4:30 pm
Apr 1, 2018 3:00 pm - 4:30 pm
Apr 8, 2018 3:00 pm - 4:30 pm
Apr 15, 2018 3:00 pm - 4:30 pm
Apr 22, 2018 3:00 pm - 4:30 pm
Apr 29, 2018 3:00 pm - 4:30 pm

Pairings
Eola Hills is excited to launch a new educational program with that will bring real meaning to "Wine & Food Pairing." Now, we know this isn't a new concept, but Eola Hills has taken it to a new level…experience a very intimate setting, coupled with interactions from our winemaker, founder, the chef or other executive staff. You will be given an education on not only the wines, but why they pair well with the food choice. In the words of Chef Jim himself, "it's not about the food. It's about the wine, and how food and wine go together." Check out our Facebook for more pictures of what your night could look like at Pairings! There is very limited seating, so make your reservation today!
There will be a $15 online reservation fee, followed by a $30 in-person fee at the Pairing.
15% off of featured wine for general public, 25% off of featured wine for Wine Club
*Mother's Day, Father's Day and Easter there will NOT be a Pairing, stay tuned for other festivities on those Sundays!
Fee: $15