Calendar Home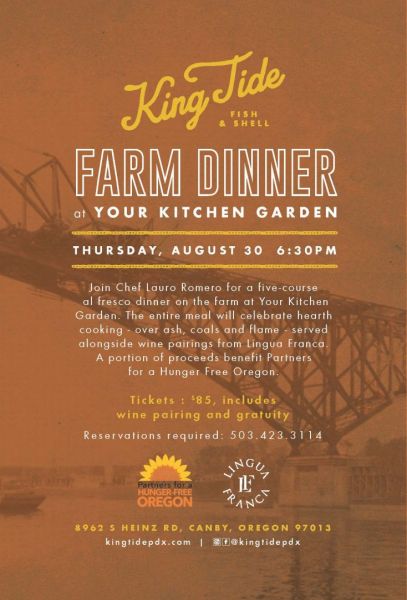 Farm Dinner with Lingua Franca
Join Chef Lauro Romero for a five-course, al fresco dinner on the farm at Your Kitchen Garden in Canby. The entire meal will celebrate hearth cooking - over ash, coals and flame - served alongside wine pairings from Lingua Franca. A portion of proceeds will benefit Partners for a Hunger Free Oregon.

Chef Lauro has worked with notable local farmer and owner of Your Kitchen Garden, Sheldon Marcovitz, for years. Though this is the first time they'll open up the table for guests to enjoy Oregon's summer bounty, fresh from the farm and right in the field. A truly intimate, Oregon experience.

Tickets: $85, includes wine pairing and gratuity. Call 503-423-3114 to reserve a seat.
Fee: $85