Calendar Home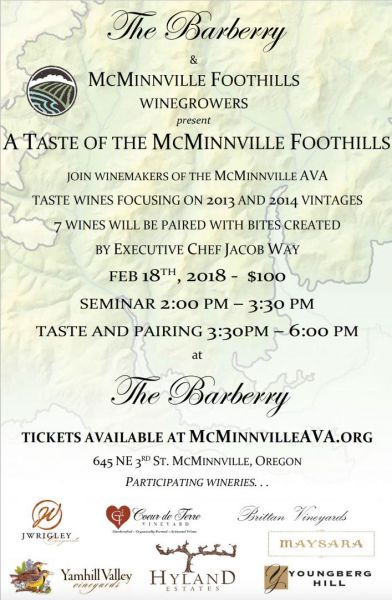 A Taste of the McMinnville Foothills
Join us on Sunday, February 18, 2-6pm for A Taste of the McMinnville Foothills

The McMinnville AVA (American Viticultural Area) is located just southwest of the city of McMinnville in the Coast Range foothills. Vineyards thrive on the slopes of the eastern edge of the foothills and enjoy a climate exclusive to the McMinnville AVA, resulting in distinct Oregon grapes and wines. As part of Taste McMinnville Month, seven wineries of the McMinnville AVA join together to showcase their wines at the Barberry Restaurant for an informative afternoon seminar and wine tasting.

The seminar will be presented by winemakers of the AVA and will include a specialized tasting of the 2013 and 2014 vintages. Additionally, the geology of the AVA will be explored and you will discover how different soils impact the aromatics and flavors of Pinot Noir specific to this area.

Following the educational seminar, you will have the unique opportunity to sit down with the winemakers themselves and taste more wines paired with 7 small bites prepared by the Barberry Restaurant. This seminar and tasting is a perfect introduction to the wines of the McMinnville AVA as well as an educational deep-dive into the effect of climate, soil and vintage on Pinot Noir.
Fee: $45