Chinese and Christmas
The deliciously popular American holiday pairing
Most Americans possess at least one fond memory wherein Chinese food played a starring role. Perhaps not the decidedly authentic food available on the streets of Shanghai, Shenzhen or Beijing, but an Americanized cousin nonetheless. There is something deeply satisfying about even the most-farfetched and unhealthy adaptations of classic Middle Kingdom dishes. Given that there are now nearly 45,000 Chinese-American restaurants in the U.S., that type of satisfaction is rarely far from home.
But it wasn't always that way. Chinese food as we stereotypically know it represents a fairly recent genre. America's breakneck Western expansion in the mid-19th century brought with it thousands of exploited peoples, including the Chinese. Overworked immigrants tweaked original family recipes with what was available in places like the Bay Area. Before long, items like beef with broccoli and chop suey were born.
The reprehensible U.S. Chinese Exclusion Act essentially accomplished what the title mandates from 1882 to 1943. After riding on their shoulders during the Gold Rush and in the construction of the transcontinental railroad, the U.S. no longer felt the need for Chinese immigrants and suspended their entry. The end of World War II sparked slow but steady legal —and moral, for that matter — change.
In 1972, President Nixon famously munched on Peking duck while in China. Immigration and interest in Asian cuisine again surged; this time, it was here to stay. Yet, the mashup of Sichuan, Hunan, Taiwanese, Hong Kong and many more cultures further adjusted ancient Chinese recipes. This, coupled with the growing need to satisfy American palates, gave rise to Chinese-American cuisine as we know it.
Chinese food's ascension to the Christmas table may be the best proof that dumplings and chow mein are now ingrained in the American experience. Many restaurants close Dec. 25, but the tradition — involving hundreds of thousands of diners, and counting — cannot be overlooked. And, on top of the deeply satisfying makeup of the dishes, it also sends a certain siren song to fellow discriminated peoples.
The Jewish community has long enjoyed a Chinese meal on Christmas day. Part of the food's persuasive powers lie in its agreement, for the most part, with Jewish dietary laws. Couple that with the Hanukkah calendar and a certain camaraderie resulting from a history of oppression, and you have something of a ritual. What started in New York a few generations ago is now common holiday practice from Borough Park, Brooklyn, to the many towns across Oregon.
Domestic food culture's relatively recent popularity and attention to detail means that, in addition to the many booth-ridden Chinese-American spots and offshoot chains like P.F. Chang's, there are spots intent on recovering some of the authenticity. Portland's Danwèi Canting is one such example, an eatery inspired by traditional offerings in the crowded streets of Beijing.
While the year-old restaurant is not technically open Christmas Day, the food is creative and comforting, the perfect answer to a dreary December day in Portland. "A lot of the stuff on the menu right now, it's like somebody's mom made it," said Danwèi chef Kyo Koo. "We have a pan-seared soup dumpling that's a really nice warm-up dish."
Koo describes the cuisine as Chinese, but the type you'd find on the streets abroad. He and co-owner James Kyle — who lived in China for more than 15 years — visited Beijing multiple times to get things right. A year of pop-ups led to the opening of Danwèi Canting on S.E. Stark last January. There, less expected dishes, like a cumin and chili braised lamb burger and pomelo salad with pomegranate, bamboo shoots, pickled radish and pine nuts join wonton noodle soup and La Zi Ji Chicken.
"Beijing is so large, there are literally hundreds of types of people and ethnic groups in one city," Koo added. "There is so much regionality in one city, it's incredible." Unsurprisingly, a city of 22 million within a country of 1.4 billion people boasts quite a variety of food styles. And while the wine scene there is only budding — and presently obsessed with the expensive French bottles — such a broad culinary spectrum spells endless pairing options here in the wine-soaked Pacific Northwest.
Resident white wine jumps to mind when considering complementary pours, but there's more to it. A good dumpling, like the Shanghai Soup Dumpling at north Portland's XLB restaurant, goes exceptionally well with a dry rosé. Gamay Noir contains the body to stand up to heartier proteins (beef) and the finesse to not overpower poultry and pork. Meanwhile, a dry Oregon Chardonnay is perfect for General Tso's or some rendition thereof.
Winemaker Matt Berson of Love & Squalor Wine in McMinnville seeks out places like Szechuan Chef and Ocean City in Portland around the holidays. "We often find ourselves converging on a Chinese restaurant over the Christmas holiday," he said. "They are usually the only places open, and they are convivial with the big family tables and the Lazy Susans for the kids to play with."
Berson adds how the noodles and fried food, all-too-familiar during Hanukkah, might have something to do with the fixation.
Moreover, the typical Chinese restaurant is unlikely to go overboard with the Christmas decorations, a draw for those who prefer a good egg roll to an animatronic reindeer.
As people are increasingly interested in dining out, the Chinese-American restaurant becomes about as eclectic as its origins. Who can say no to a perfectly made dumpling, let alone a homey dollop of chop suey? It's the kind of fusion that doesn't have to advertise as such at a restaurant because it simply is, and those who go, know.
Mark Stock is a freelance writer. More of his work can be found at www.markastock.com
Egg Foo Young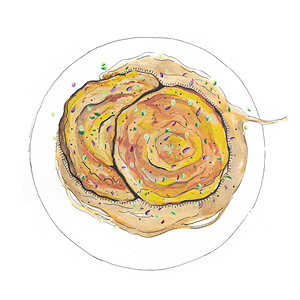 Essentially an omelet, egg foo young translates to "hibiscus egg" and generally involves diced ham, pork or even crab meat with spring onions, mushrooms, cabbage, bean sprouts and bamboo shoots or chestnuts. With the consistency of a dense pancake, the flavors are a rich mix of sweet and savory.
It is believed to be the fusion of a Chinese recipe and the popular American diner scene from the mid-20th century, blending Asian produce with America's addiction to the greasy spoon. As such, it's approachable and filling just about any time of the day, even breakfast.
Wine: Go with sparkling if you feel so inclined to have the dish for breakfast. Otherwise, Pinot Noir's medium body offers an ideal accent to this fulfilling menu item.
Pork Egg Rolls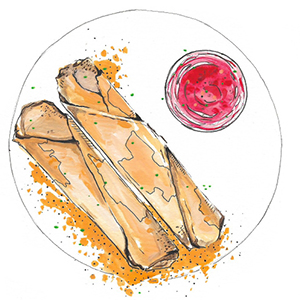 The egg roll remains one of the more satisfying items in the wide world of food. Likely invented in the 1930s by a Chinese restaurant in New York, the deep-fried column is most often filled with bits of meat and cabbage. A younger sibling of the spring roll — forged by the dim sum cooks of Hong Kong — egg rolls have grown to become virtually implied when it comes to a Chinese takeout order.
Of course, the egg roll is made all the better with complementary sweet and sour sauce. The cherry-red liquid we've grown to love generally blends vinegar, pineapple juice, ketchup and soy sauce to create the perfect palate-stretching bonus.
Wine: Try an Oregon Pinot Blanc to round out the pork flavors and brighten the other ingredients, while standing up to the fried goodness of it all.
General Tso's Chicken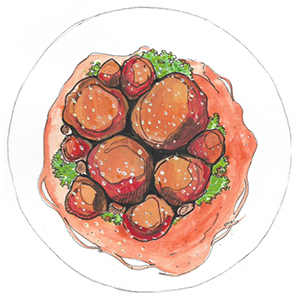 This sweet, ever-popular dish gets its name from Qing dynasty military leader Zuo Zongtang. Yet, the name is mostly nostalgic as the dish is relatively new; the version we know today first served at Peng's restaurant in the early 1970s.
Today, the dish, or something very close to it, is practically a fixture at every supermarket prepared foods counter. A hard-to-resist combination of breaded fried chicken, soy sauce, rice wine, sugar, garlic and dried red chili peppers, General Tso's offers a caramelized, molasses-like flavor with a kick of spice. It's the stuff a healthy bed of white rice begs for.
Wine: For the spicier incarnations, try a Melon de Bourgogne, which offers the perfect counterpunch. Otherwise, a dry Chardonnay works with both the poultry and its breaded surroundings.
Chop Suey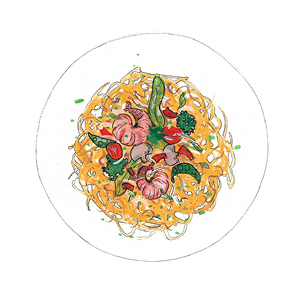 Arguably the dish we associate most with Chinese-American cuisine, chop suey fills the plate with eggs and meat — often chicken, beef, shrimp or pork — joined by bean sprouts, cabbage, carrots and celery in a starch-enhanced sauce served atop fried rice or noodles.
There are multiple riffs on its history, including a 19th century creation for hungry Chinese laborers working on the transcontinental railroad. Another prominent story suggests the dish was established by Chinese diplomat Li Hongzhang's chef during an 1896 visit to the States, aiming for a happy balance between Chinese and American tastes. The best theory, however, is that chop suey was created in San Francisco in the 1860s with leftovers and a wok to appease inebriated miners.
Wine: Albariño isn't the easiest to find in Oregon, but this dish adores it, especially if there's a seafood element. The wine's acidity and salinity play beautifully with the earthy, stem-y flavors at hand.
Fortune Cookies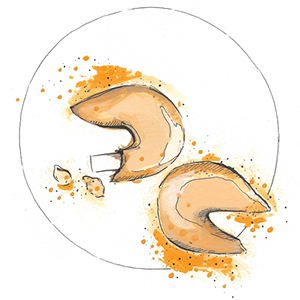 About the only thing genuinely Chinese about the fortune cookie is its prophetic nature. Hundreds of years ago, during the Ming Dynasty, the Chinese used mooncakes to send secret messages about their Mongolian overlords and how to overcome them. Many believe these pastries paved the way for the fortune cookie.
The cookie itself is an American invention, borrowed from Japanese culture and rooted in early 20th century California. Dubbed the "fortune tea cake" until after WWII, these sweet, simple desserts are rarely more than vanilla, flour, sugar and sesame oil, and contain a clairvoyant message — or lottery numbers — folded within its golden-brown hollow body.
Wine: Try an Italian Vin Santo, traditionally served with biscotti post-meal in Italy. For a more local selection, try a late harvest Gewürztraminer, but don't go overboard with the residual sugar, as the fortune cookie is sweet and straightforward on its own.