Vinyl & Vino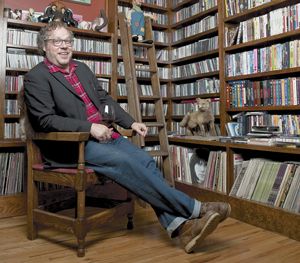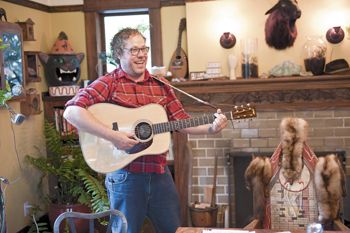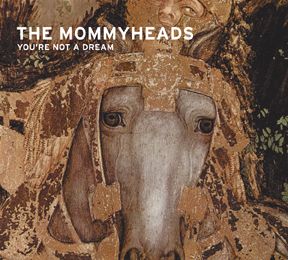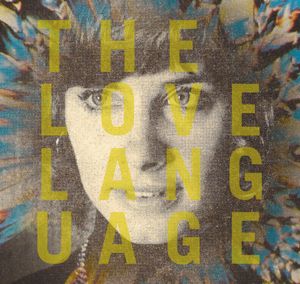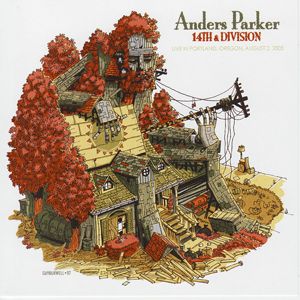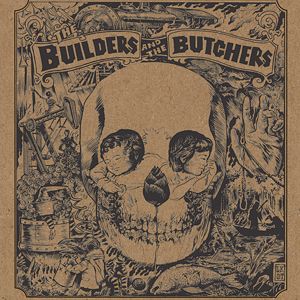 Story by Theodora Karatzas | Photos by Andrea Johnson
Oh, god. I think Norson just ate an animal, and he's covered in ... oh, god."
Matt Brown is sitting at his living room table, simultaneously laughing and cringing at the sight of his roommate's cat, Norson. The ferocious feline had just sauntered in, moments after killing some unfortunate bird, flaunting his bloodstained fur. Brown, however, is more nauseated than impressed.
"Oh, that's gross. Whatever that bird was, he got it."
He leans back, takes a few deep breaths and composes himself, ready to unleash the history of his time working with wine, music, restaurants and how he has learned to juggle all simultaneously.
Brown, who owns Portland music label Bladen County Records, is more than your typical label owner. Behind his mischievous smile and nonchalant swagger lurks a plethora of knowledge on wine, both domestic and international, and a hunger for quality, simplicity and accessibility in what he drinks.
Before moving to Portland almost a decade ago, Brown was living in North Carolina, where he was born, raised and spent a fair amount of his adult life. After graduating from high school, he studied zoology at North Carolina State University in Raleigh. He still deems zoology as being "hard as s*@% and made for no real future."
Brown started in the music business playing in bands around Raleigh for 12 years. One of these bands, Ashley Stove, eventually was signed to major indie label Merge Records, and from there, Brown and his band mates toured and put out an extensive collection of studio albums.
For ten years, Brown played with Ashley Stove, all the while working for a software company and living in North Carolina with his then girlfriend. At the age of 31, however, everything changed. He simultaneously left his job, broke up with his girlfriend and quit the band he had done so much work with.
"I didn't know who I was anymore, so it was basically, like, 'how far away can I get and still be in America?'." Brown said. "I was running."
In 2001 - after a failed six-month stint in San Francisco - he moved north to Portland and found himself working in restaurants. This was when he started inching his way into working more with wine and taking on some of the projects he has worked on in the past with the local wine industry.
"One of the owners at Tabla, [his second job in Portland] and I became really great friends; I started learning about wine working with him," Brown said. "I was the bar manager there, and he had been a bartender for his whole career, so we had fun together drinking wine, doing wine lists, talking about it and that got me into it. I had a rudimentary knowledge before that. In the South - it's catching up now - it was very simple selection of [wine]."
After working as a bar manager at several restaurants and running various wine programs, Brown had the good fortune of meeting Phil Smith, the man behind P.S. Wines. P.S. has a small book of wines it represents.
The two struck up a friendship.
"I met him tasting wines at different restaurants, and he's just one of those guys that stands out as a real Oregon freak," Brown said. "A lot of fun and sincerely weird."
Slowly, Brown transitioned from bar managing to bartending, complementing his time with a side job selling wine for P.S. The job offered him the freedom to select his own accounts to work.
"I could make it as much fun as I wanted."
While selling wine for Smith, he soon found himself being drawn into the business, for better or worse.
One of the skills Brown picked up early was a talent for creating comprehensive wine encyclopedias. The format entailed compiling basic information about a wine - like its region, what grapes went into it and the style - and coupling it with some kind of story about the wine itself, the producers or both.
"I had this really demanding chef at a restaurant early on who would make me build these wine encyclopedias for the servers," Brown said. "It's so rare to find that at a restaurant, and to do it is painstaking. This allowed [the servers] to be able to jump in and really talk about a wine.
"You need a story. The whole goal of it was to be able to spout out a little bit of basics and then have a story you could talk about."
Brown used his talent for research and attention to detail to craft encyclopedias for P.S. as well as a number of restaurants. It proved an invaluable tool in selling wine.
"I would challenge anyone trying to run a good wine program to do something like that," Brown said. "Servers in restaurants aren't going to go out and do it for themselves. [The research] just makes it really easy for people, and every once in awhile you get the wine geek that's going to freak out over that."
After his last full-time job as a bartender in Portland with Rontoms, Brown is now moving on to open his own place, Bunk Bar, with Tommy Habetz and Nick Wood of the wildly popular Bunk Sandwiches in Southeast Portland.
Don't expect to see too much in the way of a wine list there though. The self-described "low brow" bar will indeed serve wine, in addition to a wonderful selection of other drinks and sandwiches, but Brown is looking to keep things simple for the time being.
"It's my goal not to have wine keys in this bar. I think I can pull it off."
This need for simplicity can be found in his personal wine choices as well. While recent years have seen the issue of screw tops versus corks hotly debated for many reasons, Brown feels there can be a time and a place for either-just not for the same reasons a lot of other people might consider.
"If I'm at home, with a chick, busting out bottles of wine and 'heading towards Graceland,' I want corks because it's fun and sexy to uncork bottles of wine," Brown said. "With the screw top, it's not an aesthetic choice or a matter of saving cork trees. It's a 'screw it,' I just want to make it easy. I have this fantasy of [the bar] being the simplest thing ever."
Despite holding down several demanding full-time and part-time jobs, Brown still managed to start up a successful indie label four years ago called Bladen County Records with friend and former roommate Joe Bowden. Bowden and Brown started the label as a way to release an album for the band they were playing in at the time, Montauk Ghost. The name Bladen County came from an area in North Carolina near Brown's hometown.
"I grew up on the coast," Brown said. "Bladen County is one county away from the ocean. It has ridiculously small towns, really agricultural, poor..."
Eventually, Bladen County became a home for friends to release work. One of these friends, the Builders and the Butchers, were a driving force behind launching the label into the spotlight.
"When the Builders exploded, it forced us to really - well it didn't force us, it asked us - if we wanted to try and figure out how to launch a band onto the national scene and how to build a great architecture of partners to do that kind of stuff," Brown said.
Since then, the Builders and the Butchers have moved on to a bigger operation, signing to Gigantic Music in 2009. Other bands Bladen County has signed have had similar success stories, as seen with The Love Language - a band that Brown nurtured out of its infancy and into the portfolio of Merge Records.
"When I found them, they'd only played like three shows together. They didn't even really know how to be a band." Brown said. "The fun part of doing it is to find a completely unknown band and launch them onto the national scene."
Brown takes his role as label owner seriously, much the same way a parent might foster children into adulthood, letting them out into the wide world and hoping for the best after careful planning and much advice.
"[Music] is something I definitely identify as a pure connection to the universe that makes sense to me ... Part of it - when you're doing what Joe and I do - is to help figure out the future path, and the future path always involves-at least at the level we're at right now - moving [bands] up to bigger and better pastures."
Some of their limitations as a record label come from the fact that Brown and his partners support the label with their day jobs, working full time to release quality music and give these bands a boost.
"Joe and I are just bartenders," Brown said. "A lot of the best labels that are our size are owned by trust fund kids, so they're able to just throw money at anything and everything they love.
"We both can't put all of our fuel behind [the label], so it means just doing a couple here and there that we really believe in. Typically, on a good release, Joe and I will both be working three or four jobs apiece, just busting our [butts] to pay for it."
Besides the necessity of making money to fund the label, Brown genuinely enjoys his time working in the wine and restaurant industry.
"I think the best thing about slinging drinks and selling wine is the best part about anything I do: meeting a lot of great people," Brown said. "It's just fun to meet people. I literally have an addiction to meeting people."
Brown's taste in music and selection of bands has produced many successes - especially for a label so young. Similarly, his taste in wine has run in a selective and distinct direction.
"My taste in wine is definitely Old World," Brown said. "Big, bold California wines aren't my deal; I like subtle wines. I got sucked into the whole idea of a pretty little French wine when I was younger and appreciating that for what it is."
Similarly, Brown has seen the Oregon wine industry as possessing a unique, independent spirit, much like the D.I.Y. vibes in the local music business. Even winemakers working for larger operations, he says, are striking out on their own to create unique wines with a special kind of energy and care put into them.
"I think there's an indie spirit down there," Brown said. "I think there's people that are doing things the way they want to do them, and I think anytime a business reflects your personality, then that's what creates the indie ethos."
This indie spirit is something that has keeps Brown invested in both wine and music - as a consumer, proprietor and all-around enthusiast. His energy and passion for both have allowed him to become one of the best-kept secrets behind the local music industry, as well as a solid fixture in local wine. Brown may not be the snobbiest of wine industry workers, but he has a knack for sniffing out good things and an ability to speak freely to any and all interested in what he's doing.
Theodora Karatzas is a freelance writer from Portland.
BLADEN COUNTY RECORDS
The Builders and The Butchers | Self-titled
"These guys legitimized the label. Our first big seller. They were complete unknowns who were basking outside shows, wishing they were playing. They are a powerhouse live band. Songwriter Ryan Sollee is humble, brave and a pleasure to have gotten to know."
Anders Parker | 14th and Division, Live in Portland
"Anders is a songwriting hero of mine. His first album, Man of Sin (1994) blew me away. Through a bizarre series of circumstances, he ended up living with me for a year in 1999 in Raleigh. This record is a show he played in my old basement in Southeast Portland."
The Love Language | Self-titled
"This is the kind of record I was looking for when I started a label. The Love Language is a lo-fi indie pop band from Raleigh whose first release is the story of one man's redemption. Everything you hear on the record was written, performed, recorded and mixed by Stu McLamb."
The Mommyheads | You're Not a Dream
"I played some shows in the early '90s with this San Francisco cult pop band. They were the kind of band that college radio station DJs freaked out about - underground, mystical, dorky. They were the first band that convinced me that a dose of hippy can be a great element in indie pop. I touched base with them after they'd been broken up for 10 years, and it turned out they were working on a new record. It was an absolute privilege to be involved with this one."
Check out these artists and more at BCR's website, www.bladencountyrecords.com.
For a list of Live Summer Music, click on these links: