Red, White and Blues
Tess Barr blends foot-stompin', satisfyin' music and wine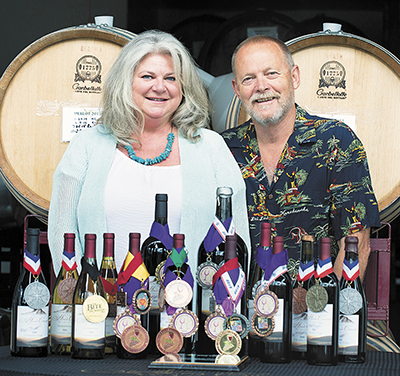 By Stu Watson
For someone who grew up with country music, took a detour into rock 'n' roll and settled into sultry, soulful blues, Tess Barr has remained remarkably true to her beverage of choice.
"I've been a professional musician for 35 years, but I've always made wine off and on," she says, relaxing on the deck outside the garage that was the first production facility for her Hood Crest Winery.
"My husband told me I could [make wine] for five years and see how it did," says Tess.
Fairly well, by her estimation, and that of contest judges and people who are increasingly finding their way to the 7.5 acres where she and Patrik make wine, beautiful music and a whole lot more:
They play, record and mix hard-rockin' blues albums in their home studio; they import and sell gel caps to the nutraceutical industry; they make pizzas in a wood-fired oven they built behind their house, next to a koi pond they created themselves, next to the woodshop that never was because of the wine barrels stacked to the ceiling.
As guests trickle in from the Fruit Loop tour route on Memorial Day Monday, Tess and Patrik pair up to pour tasting flights. The deck affords visitors a view of Mount Hood and the ridgeline east of the Hood River Valley.
On days when the Barrs have extra hands to help, they will move from pouring tastes, grab their guitars and play some blues favorites at the edge of the patio.
"I have my own record label and production company," Tess says. "I play rhythm guitar."
ALSO: See the summer music schedule throughout Oregon wine country
Patrik, who has a past life as a commercial fisherman in the Puget Sound, started his musical life in Seattle string bands. "It wasn't until we got together that I started playing electric, slide guitar and harmonica," he says.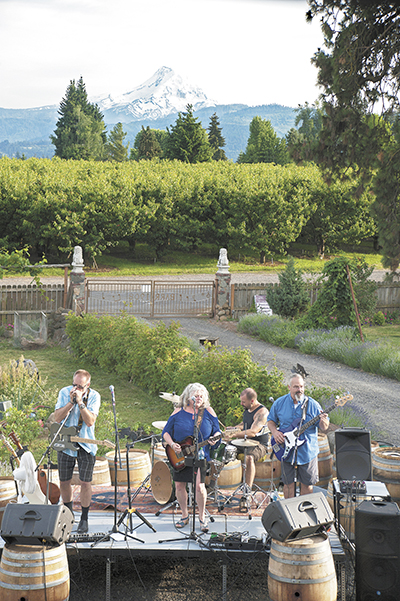 As they prepare to release the Tess Barr Band's next album, "Trouble's Comin'," Tess points to the visibility and acclaim for her current release, "Do What You Want."
Strongly influenced by blues greats Koko Taylor, Janis Joplin, Muddy Waters and Hound Dog Taylor, Tess says she has moved beyond covering other people's music to composing her own and writing her own lyrics.
"I want to play my own songs," she says, which avoids the bookkeeping of tracking and paying royalties through ASCAP and BMI, the two major music licensing organizations.
She and the Tess Barr Band will travel to performances around the Northwest, although Tess admits she prefers playing closer to home.
"I'd much rather stay here," she says. "I get annoyed when I have to go anywhere."
Travel, after all, takes her away from a pretty loaded punch list.
She and Patrik are hoping for Hood River County approval to build a 5,000-square-foot winery on the north side of their 7.5 acres, which would return the garage to use as a … garage.
"We released our wines to the public as soon as we quit drinking it all," she jokes.
That would be three years ago. Strolling past barrels stacked inside the garage, Tess points to medals from wine competitions. In the most recent San Francisco Chronicle Wine Competition, Hood Crest took home a silver medal for its 2012 Merlot ($25 to $29.99 category), and a bronze for its 2012 Cabernet Sauvignon ($40 to $49.99).
"That was a big deal for me, because there are a lot of Merlots in California," Tess says. "We're known for our big reds."
Taking that to a patriotic tilt, Tess says she's trademarking the tagline "It's the reds, the whites and the blues."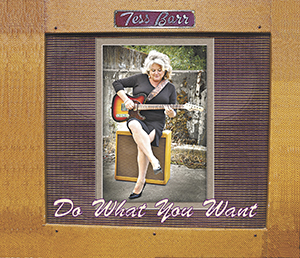 With just a hint of sass and a sidelong nod to the market impact from the movie, "Sideways," Tess says, "I'm bringing Merlot back, baby."
And several other varietals, as well. For a small producer of under 1,700 cases a year, Hood Crest offers an ambitious list that includes Chardonnay, Riesling, Gewurztraminer, Merlot, Malbec, Zinfandel, Cabernet, Sangiovese, Pinot Noir, Grenache and Petite Sirah, as well as rosé.
As if that weren't enough, they bottle four red blends: A super Tuscan built around Sangiovese, the Syrah-driven Raptor River, a Bordeaux-style blend labeled 5,215 Miles — from Bordeaux to Hood River — and the Brooklyn Red.
They harvest Pinot Noir and Chardonnay from their own vines, and source everything else from vineyards Raptor River near Wishram, Washington, and Waving Tree near Maryhill Winery — both in the Columbia Valley AVA of Washington.
Once the new facility reaches full production, Tess hopes to bottle about 5,000 cases a year. In addition to more production space, the facility — to be clad in wood milled from several beetle-killed pines cut from the site — will allow Hood Crest to develop a full-fledged tasting room.
"We do everything from the crush to the bottling here," Tess says.
That's a far cry from her early years, growing up in Oak Grove, south of Portland, attending Rex Putnam High School, then migrating north for seven years aboard a sailboat in the Puget Sound and 18 years in Port Townsend.
She and Patrik met at a Halloween party in Friday Harbor, on San Juan Island.
"That's when it took off," Patrik recalls. "Tess was dressed up in an unbelievable mermaid costume. I was a captain home from the sea, dressed as a California raisin, who spots this mermaid in this voluptuous costume."
It was love at first tail-flick, something Tess had orchestrated with fishing line strung from her wrist to her extended derriere. The creativity that went into the costume is the perfect example of the entrepreneurial spirit that underlies her myriad other interests.
"I really love science, and 30 years ago, I started making skincare products and formulating products for other people," she says. "I've developed and filed 125 patents for other companies. Twenty-five have been turned into products."
She and Patrik still spend several hours a day serving that industry with gel capsules that they source and import from China. The wine business, however, is the 800-pound gorilla in the room.
"The winery has taken on a life of its own," Tess says.
She had no idea, when they decided to move to the Hood River Valley 13 years ago, that this is where that journey would lead. They thought at first that they would take apple juice from local growers, and produce apple in the Champagne style.
On reflection, Tess says it was far too much work, all the racking and riddling. Still, what they produced impressed their neighbors at Pheasant Valley Winery. Scott and Gail Hagee suggested they try making grape wines.
Advice taken, and fast-forward to their emerging presence on the wine scene of the Columbia Gorge AVA.
"We'll go back to the sparkling once we get into the new building," says Tess, who oversees winemaking, and is proud she's just one of two women running wineries in the Gorge.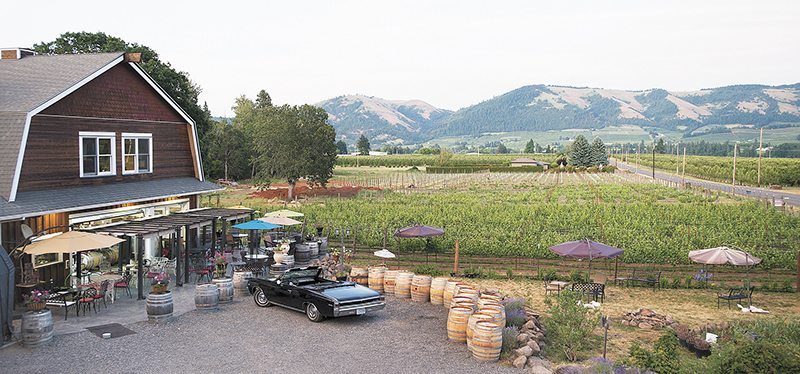 Hood Crest dipped its toes into the marketplace in 2013, opening to visitors by appointment only.
"We were known as the 'secret winery' for the first couple of years," Tess says.
This year, they have adopted regular hours — 11 a.m. to 5 p.m., Wednesday through Sunday, and holiday Mondays — and are pairing their pourings with a selection of pizzas from the wood-fired oven. The Hood Crest special — wine jelly, goat cheese, caramelized onions and dried cranberries — and pepperoni are their most popular.
The Barrs have created a space anticipating a broad mix of needs, from families with kids, to pet owners, to smokers, to designated drivers. "We serve espresso, juices, sodas, teas and sparkling water," Tess says.
Surrounded by flowers that attest to another of her passions, guests can just enjoy their wine and the view, or hope the Barrs will take some time for an impromptu performance.
Tess says the winery's growth plans reflect their homebody lifestyle, which includes having raised their children, Chyna and Otis, here — now, they have their grand-daughter, Brooklyn, to enjoy.
"We like it, and wine is a good product, and it's a fun industry to be in," she says.
She jokes, as well, how the three most important elements to a business plan are "an exit strategy, an exit strategy and an exit strategy."
Until she formulates one for Hood Crest Winery, Tess figures she might as well ride the wave.
"Hood River just felt like coming home," she says. "The winery has been pretty fun. We're in the right place at the right time."