Elkton Oregon AVA becomes state's 17th appellation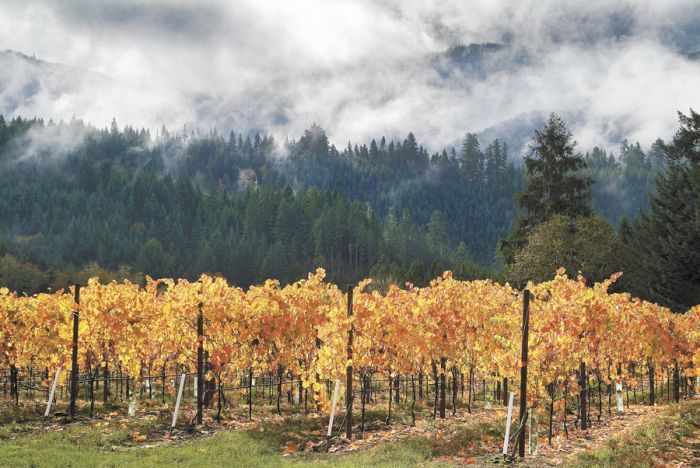 By Janet Eastman
It took years for the new Elkton Oregon AVA — the state's 17th American Viticultural Area — to be federally approved in February.
The delay wasn't caused by squabbling among grapegrowers, winemakers or neighbors living in the tiny town of Elkton or its surrounding area, declared the coolest and wettest wine region.
"Everyone was on board," says Michael Landt, a Pinot Noir producer who owns two vineyards and a winery in the new AVA. Time was needed, say experts, not only to prepare the AVA petition and its supporting documents, but to establish a growing history.
A few years ago, Landt, whose 40-year-old vines are some of the oldest in the state, introduced the idea of letting wine buyers know how special is this area, about 40 miles from the coast between Eugene and Roseburg. Its distinctive maritime, temperate climate makes it suitable to grow cool varieties such as Pinot Noir, Pinot Gris, Gewürztraminer, Baco Noir and Riesling. Wine styles, too, are unlike less isolated areas in the larger Umpqua AVA.
Landt says when the group started the process, none of the eight commercial vineyards — now there are 12 — and none of the four wineries — one more has been approved — doubted how distinguishing AVA would benefit everyone.
"Collaboration reflects our community here," he says. "We're a gregarious, cooperative bunch. We loan each other equipment and buy each other's grapes."
They quickly determined a name for the proposed AVA. But, adds Landt, they didn't have many options. U.S. Alcohol and Tobacco Tax and Trade Bureau rules require that the name be geographically recognized. "Elkton" was the obvious choice, says Landt, but then his group learned there are 27 similarly named cities in the U.S. So they clarified the name as "Elkton Oregon."
Still, it was a 3½ year-long paperwork process for approval, according to Greg Jones, the Ashland-based climate specialist who contributed research, mapping and descriptions of the 74,900-acre area. Jones was asked to help by Terry Brandborg, an Elkton grower and winemaker, and Landt is pleased Jones offered his expertise.
"The directions given on the TTB website are deceptively simple," says Landt. "They invite you to write a letter, which I did."
He showed his draft to Jones, who has contributed to several AVA petitions and wrote the documentation for the Southern Oregon AVA, which was established in 2004.
Since then, Jones says there are more growers who truly understand the differences of climate, soil, elevation and physical features. This information makes it more likely to document and then receive a unique designation, as does a developing history, which Elkton has.
Ken Thomason planted grapes in 1972 on a west-facing site east of Elkton. That vineyard was purchased by Landt, who then became the first in the area to open a winery, Rivers Edge Winery, in 1998.
Vineyards now are planted on river terraces and foothills with elevations that rise, like Terry and Susan Brandborg's Ferris Wheel Vineyard, to 1,000 feet.
Says Jones, "The pioneers who are successful open other people's eyes and palates to know that quality fruit and wine can be made in the region."
After the Elkton petition was submitted, the TTB staff asked questions on many occasions over several months, says Landt, and his team made necessary modifications. This protocol is typical of most applications, according to the TTB website. Then someone at the TTB retired, says Landt, and the application sat on a desk for six months. After the petition was reviewed again, it traveled through "a hierarchy from labeling to counsel that needed time to review it," he adds.
When the Elkton growers first assembled the data, there were only 75 acres of grapes. Currently there are 100 acres. And growing.
"Vineyards are expanding 10 percent a year," says Landt, with new land buyers and existing landowners planting grapes.
At this time, the new AVA includes four tasting rooms. A fifth was granted a license in January.
"We are all celebrating now," says Landt. "We are getting lots of interest and inquiries, nationally and within the state, and we intend to exploit interest to bring focus to our area."
Jones says he spent 30 to 40 hours preparing the petition and there were countless hours from Elkton grapegrowers discussing it to create a united proposal.
"Rightfully so," says Jones. "Rigorous work produces something that has good boundaries, good definition."