'Shark Tank' Twice: Copa Di Vino appears again on ABC show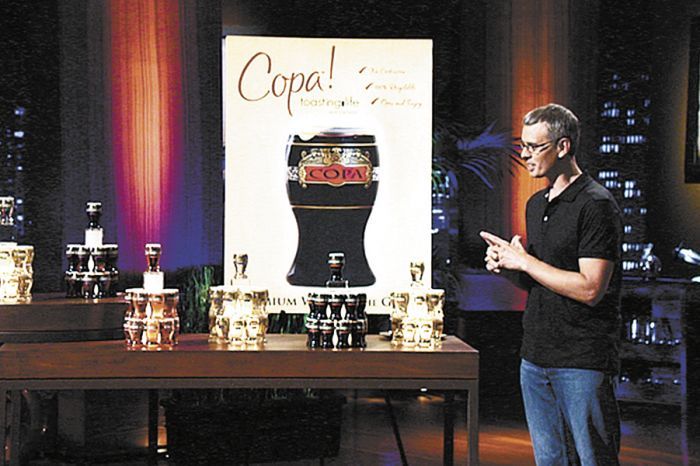 By Stuart Watson
James Martin took no money and sold no share of his Copa Di Vino wine enterprise during an unprecedented two appearances on ABC's hit reality show "Shark Tank." But the visibility of those appearances helped the entrepreneur from The Dalles chomp a chunk out of the latent appetite for quality wines in single-serving containers.
After rejecting — twice — investment offers of $600,000 in his company, Martin says the huge television exposure led to a flood of contacts from other interested investors and potential business partners. As a result, he says, he has secured more than $4 million of investment since the initial show aired in the spring of 2011, about a year after he first contacted producers about possibly participating.
That funding helped boost sales from retail outlets in seven states to more than 35. Annual revenues have tracked that same trajectory, rising from around $500,000 before the first show, to roughly $12 million now.
"The exposure's been phenomenal," Martin says. "Very few wine brands get that kind of primetime exposure."
Not bad for a guy who didn't know what "Shark Tank" was until customers visiting Copa's tasting room at the Sunshine Mill complex on the east side of The Dalles suggested Martin consider the reality show hit.
He did, inquired, produced the requisite audition tape, and the next thing you know, he was down at the studios of Sony Pictures Television in Culver City, Calif., taping his first show. He says it's a pretty hardball operation, going head-to-head with people who have banked millions — and, in some cases, billions.
The "sharks" include Mark Cuban, Barbara Corcoran, Daymond John, Kevin O'Leary, Lori Greiner and Robert Herjavec, all willing to grill owners of growth companies, and possibly invest if the candidates adequately defend their business models.
On Martin's first visit, four of the five sharks dropped out, leaving Martin to duke it out with brash Canadian entrepreneur Kevin O'Leary, former owner of The Learning Company and Storage Now. Martin offered 20 percent of his company for $600,000.
O'Leary wasn't interested in selling wine, but admired the bottling technology. He offered to split the patented packaging system from the wine brand, in exchange for $600,000 and a 51 percent stake. Martin rejected the offer. O'Leary called him a "dead man walking."
He and the other sharks were visibly surprised when Martin returned during the third season for the first repeat appearance by any of the show's investment candidates. That time, three of the panelists agreed to offer $200,000 each ($600,000 total) for a 30 percent share of the company.
Martin rejected that offer, too, saying they "weren't attractive offers."
He says he didn't really expect to get a deal on the show. The payoff was in the 4 to 6 million viewers for each show. Global distribution has bumped total viewership past 35 million, Martin says. The investment generated by that exposure has helped Copa Di Vino triple capacity and move the production operation into a remodeled building at the Sunshine Mill site.
Martin, who until now has purchased grapes from other growers, is also developing his own vineyards. He has purchased 500 acres of land east of The Dalles where he hopes to plant about 400 acres in vines.
He says the response to Copa Di Vino around the country has been fantastic, from major sports venues, to Vegas hotels serving pedestrians who want to sip while they stroll the Strip.
Beyond his own wines, Martin is eager to introduce his packaging to other Northwest wineries. "We want to put out higher quality wines that have more value," he says. As one such example, he cites his own Copa Di Vino Pinot Grigio, which won Best in Show White Wine at the Northwest Food & Wine Festival last November.
"We're just starting to reach out to industry," he says. "We have some large wines coming on line this spring and summer. Stay tuned and watch for it."
A veteran Northwest newspaper and magazine reporter and editor, Stu Watson owns Watsonx2 Communications in Hood River.