Southern Oregon AVA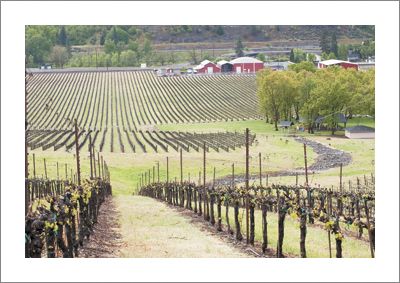 History: Grapegrowing dates back to 1852 when pioneer Peter Britt operated a winery in Jacksonville. Post-prohibition, in 1961, Richard Sommer migrated from UC Davis and founded HillCrest Vineyards in the Umpqua Valley; others followed in the '70s.
Location: The AVA extends from 125 miles south of Eugene to the California border and is 60 miles at its widest between the Cascade Mountain Range to the east and the Coast Range to the west. It encompasses Umpqua Valley, Rogue Valley, Red Hill Douglas County and Applegate Valley AVAs.
Climate: This region provides the warmest growing conditions in Oregon, yet cool microclimates exist within varied hillsides and valleys. It receives significantly less rainfall than other Oregon AVAs and is generally a warm, sunny, arid climate. The lofty southern coastal mountains provide a barrier to the west, blocking marine air and casting a rain shadow to the area's south and east.
Soils: Varied and complex, the soils are mostly derived from bedrock, specifically from the 200-million-year-old Klamath Mountains — made of sedimentary rock.
Topography: Southern Oregon vineyards are typically situated in high mountain valleys at 1,000 to 2,000 feet.
SOUTHERN OREGON WINERY ASSOCIATION
Focus? SOWA is a marketing organization. Its purpose is to promote Southern Oregon wineries and the Southern Oregon region as a premier wine destination.
Identity? Southern Oregon is an emerging wine market that also offers world-class culture such as the Oregon Shakespeare Festival and the Britt Festivals, unparalleled scenic beauty like Crater Lake and immense outdoor adventure opportunities such as skiing, zip-lining, hiking, fishing, golf and more. Visitors can easily complement their wine tasting experience with much, much more when they visit Southern Oregon.
Varieties? With more than 15 popular varieties, including Albariño, Viognier, Roussanne, Tempranillo, Malbec, Cabernet Franc, Syrah, Zinfandel, Cabernet Sauvignon, Pinot Noir and more — along with an array of eclectic blends — the selection of wines available in Southern Oregon is now more diverse than ever.
Collaboration? Southern Oregon has fast become a region of substantial breadth in terms of wineries and vineyards. From the early days to now, being collaborative and sharing a collective drive to promote the region has been paramount for attracting attention and a piece of the spotlight that shines so brightly on our neighbors to the north. With events like World of Wine (WOW) and the continued effort of individuals spread across more than a thousand square miles, the region has gained attention.
Challenges? Our challenges are rooted in a few basic issues: a lack of a varietal identity, large geographic expanse and lack of a large population center nearby. It is our opportunity to change these perceived weaknesses into strengths.
Marketing? We promote through traditional marketing such as print promotion, advertising, public relations, community outreach and digital marketing. Social media is important, and we'll continue to rely less on print and more on digital marketing and social media, as this is the wave of the future. But before we launch into these forms of new media, we first have to build the foundation.
SOWA recently received a USDA grant to conduct a feasibility study and business and marketing plans to determine the most promising markets and methods to promote our AVA and bring more people here. Once the planning phase is over, and we begin to execute the marketing plan, you are going to be hearing a lot more about the Southern Oregon AVA.