Snake River Valley AVA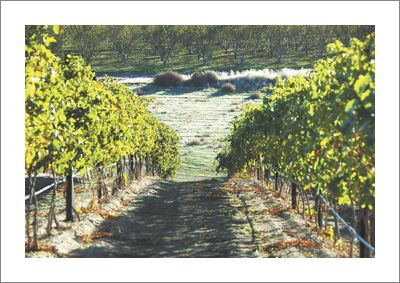 History: Pre-Prohibition wine history of the Snake River Valley dates back to the late 1860s. In 1919, however, Prohibition shut down the wineries. It wasn't until 1970 that wine grapes were planted again in Snake River Valley.
Location: The area is a massive 8,263 square miles with 1,500 acres planted and is located in Southwest Idaho and substantial parts of Baker and Malheur counties in Eastern Oregon.
Climate: Located inland, and in the rain shadows of the Cascade, Sierra Nevada and Owyhee ranges, the AVA receives 10 to 12 inches of annual rainfall, most occurring in winter. Growing season is short, 142 days on average. Hot days and cool nights in the summer help balance natural acids and sugars in the fruit.
Soils: Predominantly sand, mud silts, loess and volcanic detritus on top of sedimentary rock, the soils are so diverse they are not distinguishing factors in this AVA.
Topography: With elevation between 2,165 and 3,412 feet, this basin area appears sunken compared to the surrounding mountains, which exceed 7,000 feet. Most of the vineyards are at 1,500 and 2,500 feet.
IDAHO GRAPE GROWERS & WINE PRODUCERS COMMISSION
Focus? Our mission is to market and promote all Idaho wineries and growers. We are a self-governing state agency, funded by the liquor tax and industry assessments. We help promote the industry through consumer events, educational opportunities to members, changing legislation to make it better for the industry, and traveling the country to promote our wine.
Identity? The Snake River Valley AVA is a high mountain desert that is proving to be an excellent AVA to grow grapes. Idaho's grapegrowers and winemakers are working hard to establish what grape Idaho will be known for. Currently, they are having much success with Rhone varieties and Riesling.
Varieties? Snake River Valley is known for producing great Syrah, Viognier and Riesling.
Collaboration? The Idaho wine industry is collaborative. The growers and wineries work together because they understand if one succeeds, they all do. If you visit any of the wineries they will also tell you to go check out their fellow winery down the street.
Challenges? Idaho is still learning what it can grow best and where. Canopy and water management are currently areas of focus.
Marketing? We promote the entire state of Idaho by getting involved in the community, planning events, developing a mobile website, being active on Facebook and traveling to spread the word about Idaho wine.