McMinnville AVA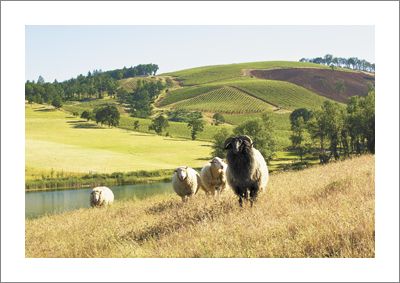 History: In 1970, David Lett bought an old turkey processing plant in town to house his winery. Soon after, winegrowers began planting vineyards and establishing wineries in the area.
Location: The region is located west of the town of McMinnville, extending 20 miles south-southwest
Climate: Vineyards are protected by a rain shadow cast by the Coast Range. Primarily east- and south-facing vineyards receive less rainfall than sites only 12 miles to the east. Foothills also protect from cold winds in the spring and fall.
Soils: The oldest and most complex of any Oregon AVA, McMinnville's soils contain uplifted marine sedimentary loam and silt with alluvial overlays; beneath is a base of uplifting basalt.
Topography: McMinnville elevations range from 200 to 1,000 feet, and the area encompasses the east and southeast slopes of the Coast Range foothills.
MCMINNVILLE WINEGROWERS ASSOCIATION
Focus? Our focus is on promoting the vineyards and wines of the McMinnville AVA, and on educating wine consumers about what makes our wines unique. We have conducted blind tastings to develop a list of characteristics common throughout the wines from our area. This year we are planning a blind tasting of the 2009 vintage in order to provide feedback to the winemakers utilizing McMinnville AVA fruit.
Identity? Our wineries are family-owned and devoted to making estate-driven wines. We tend to have large properties in the early stages of development. Generally, the area is significantly underdeveloped when compared to the AVAs closer to the Portland and Salem areas. Our red grapes produce intense, structured wines with more black fruit and mineral characteristics, while our whites are known for their brightness and vibrancy.
Varieties? Pinot Noir and Pinot Gris are the dominant varieties. In addition, there are limited plantings of Pinot Blanc, Chardonnay and Syrah. While Pinot Noir will continue to be the dominant variety, we expect to see more plantings of Chardonnay as this category continues to grow.
Collaboration? Our members have shown a strong desire to collaborate in an effort to improve wine quality and raise the awareness level of the McMinnville AVA. Our member tastings, where more experienced winemakers share insights and suggest ways to improve their neighbors' wines, is an example of the collaboration we maintain within our group.
Challenges? The remoteness of our area creates difficulties for the daily wine tourist from the Portland area; they typically don't travel past Dundee and Carlton wineries. Some wine tourism occurs during the summer from the coastal areas, but we compete with the Mid-Willamette Valley wineries for those tourists. As a result, our area tends to be more of a destination for visitors coming out specifically to see our vineyards and wineries. Events such as IPNC in the town of McMinnville are important to attract visitors to our area.
Marketing? In addition to our annual tasting event, we have a well-designed, regularly updated website (see below), which has links to all our members' individual sites. Traffic on the website remains consistent and benefits from events such as IPNC and Pinot Camp. In addition, our members have access to the AVA's Facebook page, so individual wineries can post their current activities, events and reviews.