Dundee Hills AVA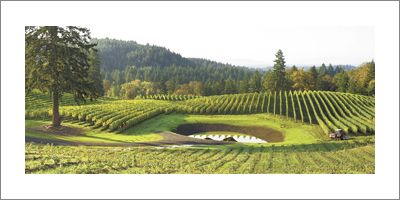 History: Dundee Hills is home to some of Oregon's most beloved wine pioneers — "Papa Pinot" David Lett, Dick Erath and Bill Blosser and Susan Sokol Blosser. With the firm belief that cool-climate grapes would thrive, these winemakers and others cleared south-facing slopes to plant many of Oregon's early vineyards in the region — the first was Lett in 1965.
Location: Dundee Hills is 28 miles southwest of Portland and 40 miles from the Pacific Ocean. It is situated within an irregular circle of about 6,490 acres.
Climate: The Coast Range to the west helps weaken effects of the Pacific's heavy rainfall and windstorms, and casts a rain shadow over the area, resulting in only 30 to 45 inches of annual precipitation, most of which occurs outside the growing season. Slope and elevation benefit vineyards with warmer nights and less frost and fog than nearby valley floors.
Soils: The AVA is known for its rich, red volcanic Jory soils, which were formed from ancient volcanic basalt and consist of silt, clay and loam.
Topography: The AVA is a single, continuous landmass that rises above the surrounding Willamette Valley floors and is defined by the 200-foot contour line to the AVA's highest peak of 1,067 feet. The area forms a north-south ridged spine with small valleys on its east, south and west sides.
DUNDEE HILLS WINEGROWERS ASSOCIATION
Focus? The DHWA is made up of more than 50 members, including wineries, vineyards, restaurants, B&Bs and retailers within the Dundee Hills AVA. Our goal is to attract visitors to the Dundee Hills and to showcase the wines and vineyards from which they were produced alongside the restaurants and wonderful hospitality provided by our inns and B&Bs. The DHWA is also dedicated to sharing the story of this special place to regions outside ours. Members of the DHWA also meet informally to share and collect knowledge and best practices on a range of winemaking and viticulture topics.
Identity? Our identity is "The Heart and Soil of Oregon Wine." The Dundee Hills are the epicenter of Oregon Pinot Noir. Quality wine production was initiated nearly 45 years ago, when pioneers such as David "Papa Pinot" Lett of Eyrie, Dick Erath and the Sokol Blossers cleared south-facing slopes to plant many of Oregon's first vineyards.
Varieties? We are known primarily for Pinot Noir. However, this AVA is also the home of Pinot Gris — in 1966, Pinot Gris was introduced in Oregon when David Lett of The Eyrie Vineyards planted 160 cuttings obtained from UC Davis. By 1970, he had produced the first Oregon Pinot Gris. Additionally, you can find small amounts of Chardonnay and Riesling within the Dundee Hills.
Collaboration? The Dundee Hills is not only an AVA, it is also a neighborhood — and the vineyard, winery, restaurant, B&B and retail owners act that way. There are stories too numerous to share of members lending equipment to one another; helping supplement crews and staff; owners of our inns and B&Bs helping one another when an illness or death occurs.
DHWA has also come together for other causes. During the last few years, DHWA has produced a special auction for ¡Salud! at its annual Dundee Hills Experience in Portland. Members have contributed wine, special tastings, dinners, accommodations, etc., to raise thousands for ¡Salud!, an organization that provides access to healthcare services to Oregon's vineyard workers and their families.
Challenges? With the maturity of the Oregon wine industry, our biggest challenge is keeping on people's radar given the increased amount of awareness and activities in other AVAs, and the development of wine events in general. Because our AVA is made up of many well-established businesses open most of the year, and most days during the week, it is just as important for our group to field questions about where to visit and what to do once someone is here, as it is to introduce ourselves.
Marketing? We market through our website, as well as on Facebook. Periodically, the DHWA uses print, online and radio to promote specific events.