Winegrowers Association of Central Oregon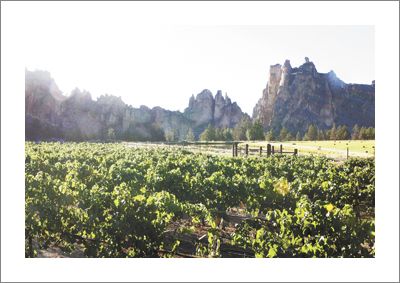 While only six vineyards are planted, winegrowers in Central Oregon have already organized. Winegrowers Association of Central Oregon (WACO) was founded just last year with the goal to promote and improve the unique wine region. When Maragas Winery was established in 1999, there was considerable skepticism on the part of many people about the prospects of growing grapes and making wine in Central Oregon. It hadn't been done before, and the growing season was shorter than most West Coast wine regions.
The southern part of the Central Oregon growing area, with its cooler microclimates, is best suited to hybrid grapes; while in the warmer microclimates, ranging from just north of Terrebonne, where Maragas Vineyard is located, to areas just north of Madras, vitis vinifera grapes — Pinot Noir, Pinot Meunier, Pinot Gris, Riesling, Muscat, Gewürztraminer, Cabernet Sauvignon, Cabernet Franc, Merlot, Malbec and Zinfandel — are options.
Focus? Our mission is to foster high quality winemaking from the region and to get the word out to consumers that our area, with its volcanic soil, abundant sunshine and cool nights, has a unique environment to grow world-class winegrapes. To this end, WACO also dedicates part of its mission to sharing ideas and methods to help one another successfully grow great winegrapes.
Identity? We are currently the newest wine region in Oregon, which we have termed "Central Oregon." The Oregon Wine Board recently recognized us as a region, which is a major step for us on our path to become an AVA.
Like the Willamette Valley's inception during the '70s, we are now at the birth of a wine region that promises uniqueness and excellence. And, like the Willamette Valley and its association with great Pinot Noir, we will carve out our reputation for the type and style of great wine released from Central Oregon.
Varieties? In the Southern part of the region, we're becoming known for hybrid wines. For example, Maragas Winery Beat Red — a blend of four hybrid grapes: Frontenac, Marechal Foch, La Crescent and St. Croix — were blended with one vitis vinifera, Muscat. Beat Red won a silver medal in the 2012 San Francisco Chronicle Wine Competition. In the northern region, blends of Merlot, Cab and Zin, along with Chardonnay, promise to do very well.
Collaboration? Yes, we collaborate regularly. Many of the scheduled topics in our meetings get sidelined by sharing our experiences in the vineyard and by the time the meeting is over, we've gone hours past our scheduled ending time.
Challenges? Our first challenge is to continue identifying the best grapes to grow in each of the area's different microclimates. Our second challenge is to get Central Oregon marketed as a world-class wine growing region.
Marketing? We're promoting ourselves through traditional advertising venues, individual websites and social media. Since social media is relatively new and certainly new to us, we are only beginning to understand the means of using it effectively and its power to generate awareness.
Also, a website will soon be launched for WACO.
CLICK TO RETURN TO THE GENERAL WINE REGION PAGE.